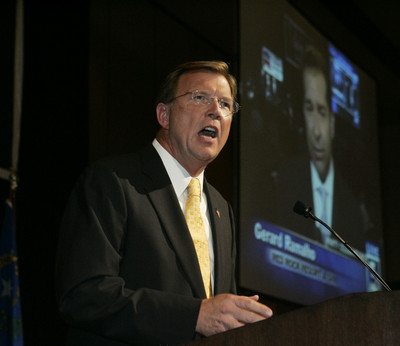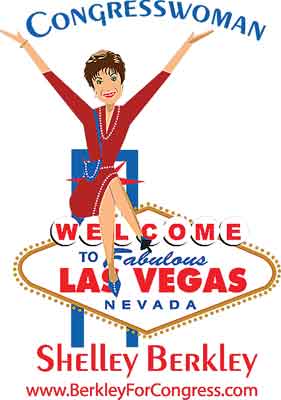 Not only does she support gay marriage and gays in the military, she has a campaign logo that shows off her legs and a Web site that can only be navigated with a hot-pink high-heeled shoe.
Could Rep. Shelley Berkley, D-Nev., be the Bette Midler of Congress?
When a gay veterans group marched on the U.S. Capitol last week, Berkley was with them. Eleanor Holmes Norton, the nonvoting representative of Washington, D.C., was the only other member of Congress featured at the event.
Berkley spoke in favor of a bill to repeal the "Don't Ask, Don't Tell" policy at the Friday morning rally of the Servicemembers Legal Defense Network. She is a sponsor of the bill, which would allow gays to serve openly in the military.
"Lesbian, gay, and bisexual Americans have important contributions to make and no American who sacrifices so much for our country should be forced into the shadows," Berkley said at the event, according to her prepared remarks. "It is unconscionable that two people are fired under 'Don't Ask, Don't Tell' every single day. These troops — who are linguists, pilots, medical personnel and combat engineers, among others — are doing some of the most critical jobs in our armed forces."
Berkley has been an outspoken proponent of gay marriage and welcomes gay staff members, including District Director Tod Story, an activist who is on the board of the Gay and Lesbian Community Center of Southern Nevada.
She consistently gets a 100 percent rating from the Human Rights Campaign, the only member of the Nevada delegation to get that score in 2006.
Berkley walks the walk when it comes to gay issues, said Las Vegas journalist Steve Friess, author of the "Gay Vegas" guidebook.
"When I got married to my partner last year, Shelley called and left a message on my voice mail congratulating us and saying she was making a donation to the synagogue of the rabbi who married us to show her support," Friess said.
Then there's her persona, which practically defines "fabulous."
Last week, Friess posted enthusiastically on his blog the new campaign logo, which shows a cartoon Berkley in a red dress, legs crossed, arms in the air, perched atop the "Fabulous Las Vegas" sign.
Politics aside, Friess wrote, "few outside of our area are aware of just how perfectly Rep. Shelley Berkley fits as the sole member of Congress to represent the Las Vegas Strip."
He pointed to the former cocktail waitress' over-the-top glamour, her lack of shame about everything from her marriages to her plastic surgery, and that hot-pink pump: the icon that follows the mouse cursor around the screen when you're on her campaign Web site.
Friess agreed wholeheartedly with the idea that Berkley has gay-icon potential.
"I wouldn't be surprised if there's a drag queen somewhere in Vegas who does Shelley Berkley," he said. "She has all the elements of a great diva."
NEVADA POWER
When it comes to power on Capitol Hill, Nevada's two senators and three House members received the highest average score of any congressional delegation, according to a recent study released by a company that provides data and software to lobbyists.
The rankings, compiled by Knowlegis of Fairfax, Va., are based on tenure, committee positions, party membership, money contributed to congressional candidates through leadership PACs and the effectiveness of members to shape legislation through amendments.
Nevada ranked higher than any other state primarily because of Senate Majority Leader Harry Reid, D-Nev., who was listed as the most powerful member of the Senate.
But perhaps even more significantly, Sen. John Ensign, trailed only Lamar Alexander, R-Tenn., as the senator whose power grew the most in 2007.
Alexander's rise derived from his election to Senate Republican conference chairman, the third highest leadership position among GOP senators.
Ensign was appointed last July to the Senate Finance Committee, one of the most coveted panels in Congress, after becoming chairman of the National Republican Senatorial Committee in November 2006.
That helped Ensign zoom from 86 in last year's rankings to 42 this year. Among the 49 Republican senators, Ensign ranked 11th. But he said last week he wasn't about to let it go to his head.
"I don't pay attention to that kind of stuff," Ensign said. "Those rankings, to me, are meaningless."
Brad Fitch, chief executive officer of Knowlegis, said the study showed Nevada's congressional delegation is a "very valuable asset" to the state's residents.
"When you look at cumulative power, you look at California because it has the largest population and the most members of Congress (55)," Fitch said.
"But California ranked 18th based on our survey of average power," he said. "Nevada has an advantage because both of its senators are in leadership and the state is not dominated by one party."
Fitch also noted the ascent of Rep. Shelley Berkley, D-Nev., who finally realized her years-long quest for an appointment to the House Ways and Means Committee in December 2006.
Berkley ranked 77th among the 435 members of the House and 73rd among the 231 Democrats. Last year, Berkley's ranking was 121 among all House members.
Nevada's two Republicans in the House, Jon Porter and Dean Heller, were ranked much lower because they are in the minority party and are relatively new.
Porter, who joined Berkley on Ways and Means last year, ranked 244.
Heller, who finished his first year in the House in 2007, ranked 420. Last year he was No. 435, last in the House.
BRUSH UP
One is a political expert, another specializes in fundraising and the third is an up-and-coming lobbyist.
Now these three veterans of Nevada Democratic politics — Alison Schwartz, Steve Redlinger and Dylan Shaver — have come together, joining their complementary skills in a consulting firm called Sagebrush Nevada.
The firm will be a general public affairs and marketing shop.
Schwartz, a former executive director of the Nevada Democratic Party, was political director of Barack Obama's campaign in Nevada.
Redlinger, who is married to Schwartz, did some fundraising for Obama and for a number of Democratic candidates in the 2006 election cycle, including County Commissioner Chris Giunchigliani and state Treasurer Kate Marshall.
Shaver also has done campaign fundraising, including work for Jill Derby's 2006 congressional campaign. During the 2007 Legislature, he worked for AMS Government Relations, whose lobbying clients included gas-station operators and the Cigar Association of America, a group with obvious appeal to lawmakers.
Shaver said the three worked together frequently and, given their different talents, it "made a lot of sense" to make a formal and lasting alliance.
TO THE VICTOR …
Republican presidential nominee John McCain returns to Nevada later this month for the first time in nearly a year.
On March 28, McCain is scheduled to drop by Las Vegas for a luncheon fundraiser at The Venetian. It's $1,000 for lunch, $2,300 for a photograph with the candidate.
Chairing the event are Sands Corp. Chairman Sheldon Adelson; MGM Mirage CEO Terry Lanni, normally a sworn enemy of Adelson; and Republican consultant and longtime McCain ally Sig Rogich, who has good relations with both Republican corporate titans.
Lanni followed Rogich onto the McCain bandwagon early on, while Adelson was behind former New York Mayor Rudy Giuliani until Giuliani quit the race and endorsed McCain in January.
McCain's last trip to Nevada was May 5, 2007, when he held a town hall in Reno and a fundraiser in Las Vegas. That was before his campaign went broke and he no longer had the luxury of campaigning in states not named New Hampshire.
Contact reporter Molly Ball at mball @reviewjournal.com or (702) 387-2919.