Berkley greets constituents in wake of Arizona shooting
January 14, 2011 - 11:01 am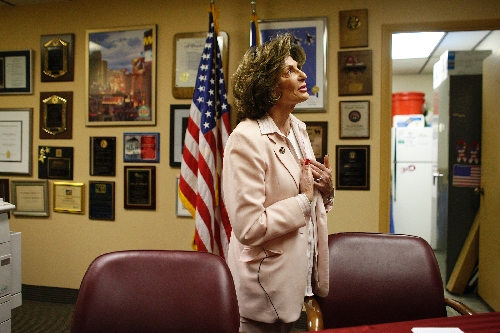 More than 50 constituents lined up for "Congress on Your Corner" at the office of Rep. Shelley Berkley on Friday, many in a show of support following the shooting last week at a similar event that killed six people and wounded Rep. Gabrielle Giffords and others in Arizona.
While the Giffords event was outdoors at a supermarket, Berkley's was at her Las Vegas office, 2340 Paseo Del Prado, where she occasionally holds office hours for the public.
People could freely access the Nevada Democrat's office. They lined up in an atrium outside the door. Four police officers and a sergeant stood nearby.
Constituents crowded around the entrance, eager to talk about everything from the deadly shooting rampage to health care to biotechnology business opportunities and said they didn't fear being part of a public gathering despite the attack in Tucson.
"I don't care about some nut job out there," said Walter Goldstein, an engineer and biotechnology consultant from Las Vegas. "Hell no, no one is going to stop me from going to a meeting."
Cheryl Burton, 40, of North Las Vegas, said she had seen Berkley in a couple of parades and was attending the event Friday to meet her in person.
Burton is an American government teacher and planned to share her experience meeting with the congresswoman with her students.
She said a high-profile public meeting was a good way to respond to the shooting of Giffords, D-Ariz.
"We have to show others we are not going to back down, you can't chase us away," Burton said.
Retired Air Force Chief Master Sgt. Joe Alvarado, 73, a Vietnam War veteran, went to the event to talk to Berkley about his health benefits.
Alvarado said he had been exposed to Agent Orange in Vietnam and was concerned about potential cuts to benefits.
He said the Arizona shooting shouldn't deter people from interacting at public events.
"I don't want that business to get us all so scared of each other," Alvarado said.
Berkley spokesman Tod Story said 52 people signed cards to meet with the congresswoman, but many more stopped by just to wish her well. He said about 200 people stopped by during the roughly two-hour event that started at 9 a.m.
At one point, Berkley ducked out of a meeting with constituents to address the crowd outside the door.
"Is there anyone who just wanted to say hi, shake my hand, give me a smooch," Berkley said, before hugging and chatting with several well-wishers.
Typically, Berkley holds office hours for constituents to visit, ask questions and provide input.
After the shooting, however, Berkley announced she would hold an event Friday and call it "Congress on Your Corner," in honor of Giffords, her close friend who was hosting just such an event at the time of the shooting.
In 2006, Giffords held the first fundraiser of her congressional campaign in Berkley's Washington, D.C., home. Last summer, Berkley went to Tucson to campaign on her behalf.
Story said Friday's turnout was gratifying, but it didn't match the turnout of the best-attended Berkley event in recent memory. That distinction goes to a public meeting Berkley held in 2009 that drew about 400 people, he said.
The 2009 event was fueled by angst over the economic and foreclosure crises and debate over the Patient Protection and Affordable Care Act.
Contact reporter Benjamin Spillman at bspillman@reviewjournal.com or 702-477-3861.