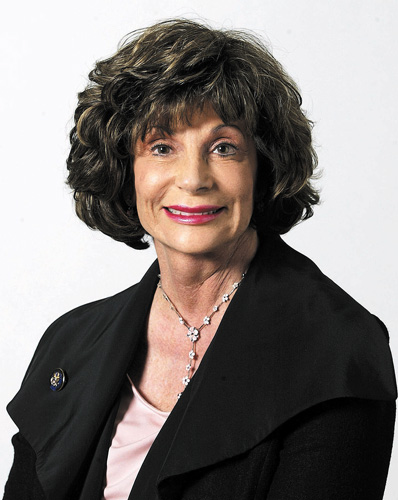 WASHINGTON — Rep. Shelley Berkley on Tuesday defended Muslims planning to build a mosque near ground zero in New York, saying they are protected by the Constitution and should not be driven off by "religious intolerance."
"Given the fact that my family and people in my religion have suffered so much from religious persecution, I cannot see how I can speak out against other minority religions in this country and their free exercise of their own religion," said Berkley, D-Nev., whose Jewish grandparents emigrated from Europe to escape the Holocaust.
Berkley became the only member of Nevada's congressional delegation to speak in favor of Cordoba House, the Islamic community center planned in a neighborhood two blocks from the site of the World Trade Center, which was destroyed in the Sept. 11, 2001, attack by radical Islamic fundamentalists.
"I've been down to the site of the terrorist attack in downtown Manhattan on a number of occasions," she said. "The proposed mosque, which is on private property, is a few blocks away. It is in the same area as tattoo parlors and souvenir shops and bars. How far away should this mosque be located that would satisfy people who are so upset about the location?" she said. "As long as it is zoned properly and funded properly, the government has no business interfering with this.
"Do I feel sensitivity for those families that suffered horrible losses and unspeakable crimes (in the Sept. 11 attack)? Of course," Berkley said. "Is this the best location on the planet for this mosque? Probably not.
"But doesn't the Constitution permit the free exercise of religious beliefs? How many synagogues have been burned to the ground with Jews in them because of religious intolerance?"
In some of the protests against the mosque, Berkley said she sensed echoes of Kristallnacht, the anti-Jewish pogrom in Nazi Germany that was a precursor of genocide. "So before we have a situation on our hands which is the complete antithesis of what the United States of America is all about, we better take a step back and start appreciating each other for our differences," she said.
Berkley said the matter was "handled terribly" by President Barack Obama, whose remarks at a Ramadan dinner on Friday that were seemingly supportive of the mosque triggered the controversy.
"The president of the United States had no business getting into this," she said. "This is an issue for the people of New York to determine. "
Berkley stopped short of criticizing Sen. Harry Reid, a fellow Nevadan who came out on Monday against the mosque . "He's entitled to his opinion," she said.
Sen. John Ensign, R-Nev., and Rep. Dean Heller, R-Nev., also came out against the mosque. Rep. Dina Titus, D-Nev., said it was a New York matter and not one for her to consider.
Contact Stephens Washington Bureau Chief Steve Tetreault at stetreault@stephensmedia.com or 202-783-1760.