Berkley says ethics complaint won't make or break Senate campaign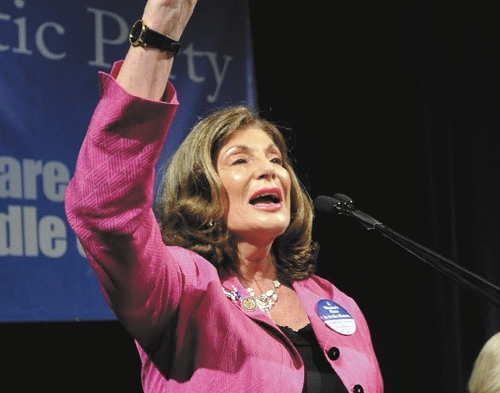 U.S. Rep. Shelley Berkley said Saturday she doesn't think her U.S. Senate race will pivot on an ethics complaint that questions her role in helping save a kidney transplant center in Southern Nevada.
Berkley, D-Nev., defended her successful effort in 2008 to save the University Medical Center's program, where her husband's partnership, Kidney Specialists of Southern Nevada, held a six-figure contract for clinical and administrative services.
She noted that she worked closely with two House colleagues at the time to save the center, including her current opponent, U.S. Sen. Dean Heller, R-Nev., who was serving in Congress at the time. Then-U.S. Rep. Jon Porter, R-Nev., also joined Berkley to save the center.
"I think it was the right thing to do to keep that program open," Berkley said in an interview with two reporters on the sidelines of the Nevada Democratic Party Convention in Las Vegas.
Berkley said she, Heller and Porter were interested in only one thing when they lobbied to keep the center open: patient care. If the center had closed, Nevadans would have had to travel out of state for kidney transplants, leading to higher costs and separation from families.
She said it never occurred to her to stay out of the affair because her husband, Dr. Larry Lehrner, might benefit if the center survived. At the time she didn't fully disclose her spouse's relationship to the facility, but later said she thought it was well-known.
"I wasn't thinking at all about myself," Berkley said Saturday.
Asked if she thought the ethics complaint was a political "witch hunt," Berkley skirted the question and insisted that she and her House colleagues were only trying to do what's best for everybody.
"I know what happened," Berkley said.
Asked whether the ethics complaint shadowing her might distract her from focusing on the hotly contested Senate race, Berkley suggested the campaign wouldn't rise or fall on the matter.
"The campaign isn't going to pivot on that," she said. The campaign will be about "what are we going to do to get people back to work."
Berkley emphasized how she wasn't acting alone to save the center when asked whether she's confident she'll be cleared.
"I'm confident that the three of us worked closely together to make sure the kidney transplant center stayed open," she said.
Berkley's campaign has long maintained that the ethics panel will find no wrongdoing in the end and the Senate race won't be affected.
After the Centers for Medicare and Medicaid Services threatened to revoke the UMC certification of the kidney center in 2008, Berkley, with then-Reps. Porter and Heller, signed a letter to CMS in support of the hospital's appeal. Berkley and Porter met with federal officials to help broker an agreement that saved the certification.
In March, the House Ethics Committee announced it was reviewing allegations against Berkley after the complaint she may have violated House conflict rules by advocating on kidney health matters that appeared to help her husband's medical practice.
Committee leaders said they expected to announce a course of action before July 9. It could range from dismissal of the complaint to the convening of a subcommittee to conduct a full investigation.
The review "does not itself indicate that any violation has occurred, or reflect any judgment on behalf of the committee," the panel said.
The ethics complaint followed a New York Times story published last September, reporting on Berkley's advocacy on kidney care.
The Nevada Republican Party filed a House complaint that Berkley "used her office to enrich herself" in violation of rules that forbid members of Congress from using their positions for personal gain.
The Office of Congressional Ethics referred the case to the Ethics Committee on Feb. 9.
The referral came after an OCE review that concluded there was "substantial reason to believe" the allegations.
The Senate race between Berkley and Heller is one of the tightest in the country and it's one of a handful that could determine whether Democrats maintain control of the U.S. Senate. Most public polls show the race in a dead heat or with Heller slightly ahead.
U.S. Sen. Harry Reid, D-Nev., told reporters Saturday that his pollster recently conducted a survey on the race and it shows Berkley ahead of Heller by two points.
Reid pointed out the pollster, Mark Mellman, was the only one who correctly predicted Reid's 2010 victory margin – more than five percentage points – while most other public polls showed Reid several points behind his GOP challenger, Sharron Angle.
Reid, the majority leader, suggested Democrats will keep control.
"I feel fairly confident about what's going on and I'm normally a pretty pessimistic guy," Reid said on the sidelines of the convention.
Contact Laura Myers at lmyers@reviewjournal.com or 702-387-2919. Follow @lmyerslvrj on Twitter.