Berkley's Senate bid makes 2012 a political hot race for Nevada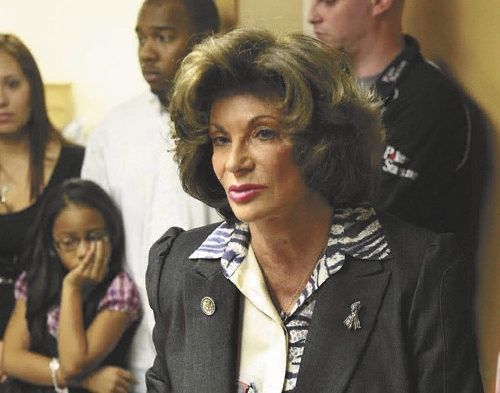 Apparently, political lightning can strike the same place twice.
U.S. Rep. Shelley Berkley's entry Thursday into the open U.S. Senate race one month after U.S. Rep. Dean Heller dived in gives Nevada the nation's most competitive Senate contest for the second election cycle in a row.
Led by U.S. Sen. Harry Reid, the political titan who swamped Sharron Angle last year, the Democratic Party quickly endorsed Berkley and put the GOP seat held by retiring U.S. Sen. John Ensign at the top of its takeover targets.
Berkley, 60, said she wasn't feeling the pressure, though she advanced her announcement by a couple of months in part to quash rumblings that she was wavering as Democratic leaders interviewed other potential candidates.
"The only pressure I feel is to do good for the people of Nevada," Berkley said from Washington, D.C., where she is in her seventh term in Congress. "People know I am relentless."
BERKLEY LOOKS NORTH, HELLER SOUTH
Berkley's energy and popularity in her safe Democratic district in Clark County — home to 70 percent of Nevadans — are her strong suits. Her challenge will be in Northern and rural Nevada — GOP-leaning territory where she is less well-known. Heller, in turn, must campaign heavily in Southern Nevada to overcome the Democrats' 60,000 registered voter edge statewide.
With the Berkley-Heller matchup, the 2012 election in Nevada becomes a blockbuster with more open seats than ever: one Senate and three House, including a new seat dictated by population growth. Freshman Rep. Joe Heck, R-Nev., is expected to run for re-election in the 3rd Congressional District, which, like others, will be redrawn.
Nevada also will play an early role in choosing the GOP presidential nominee with a February vote, the first test of strength in the West after the Iowa caucus and the New Hampshire primary.
It's too soon to say if having President Barack Obama on the ticket will help or hurt Berkley, said Jennifer Duffy of The Cook Political Report. That depends on the economy and whether independents swing to the GOP, as they did in 2010 to help Republicans take control of the House, or toward Democrats, as they did in 2008 to help elect Obama.
The Heller-Berkley battle will hinge on nonpartisan voters, about 17 percent of Nevada's electorate.
"This race will be about independents, but I think it's too early to know which way they are swinging," Duffy said.
Duffy and the Democrats think the Nevada Senate race is the party's best chance to take an open seat, though Republicans will fight hard to keep it.
"It's the race we always knew it was going to be, which is incredibly competitive," Duffy said. "Nevada gets two in a row, which is pretty unusual. It may not be full of the antics of the Reid-Angle race, but it's going to be a great race."
'JOBS, JOBS, JOBS'
Berkley announced her bid with a statement — an echo of Heller's low-key email to supporters. Her campaign also plans a more formal event in Nevada in coming weeks.
She portrayed the contest as a choice between Tea Party conservative ideology and her push to improve the economy as Nevada suffers the nation's highest jobless, home foreclosure and bankruptcy rates.
"As I talk to Nevadans across our state I hear one priority: jobs, jobs, jobs," Berkley said in her statement. "And that has been my focus, whether it is fighting to prevent more layoffs of teachers, police and firefighters or getting loans for small businesses that want to grow, or helping Nevada become the clean-energy capital of the world."
She then took aim at Heller.
"The problem in Washington is that Republicans like Dean Heller are clinging to extreme ideology rather than working on solutions that address the challenges facing our state," she said. "This race is about a clear choice for Nevada's future."
Heller, 50, also has portrayed the election as a clear choice, but he didn't go on the attack.
"This race is about the future of Nevada and our country," Heller said in a statement. "Do we continue down the same path that led to record unemployment, high gas prices, and maintain the status quo, or do we chart a new direction that makes government accountable and responsible to the people?"
Berkley and Heller are at opposite ends of the political spectrum, and both nearly always vote along party lines.
In an interview, Berkley argued that she understands the problems of all Nevadans. Whether it's an unemployed person in Reno seeking work, a mother in Elko who wants quality education for her children or a senior citizen in Las Vegas worried about losing Medicare or Social Security benefits, she said she can represent them.
"It doesn't matter where you live in Nevada," said Berkley, who noted she comes from a working-class family that lived paycheck to paycheck with her father working as a waiter. "I understand what it's like."
Berkley's decision to get into the race came after she met last week with Reid for what one Democratic insider described as "a good meeting" that settled questions about her viability as a candidate. The congresswoman then traveled last weekend to her native New York state to talk to her family.
"They were unanimous in encouraging me to do this," Berkley said, adding that it finally drove her to get in. "That, combined with what we're doing here in Congress at this moment and realizing there's very much at stake right now."
DEMOCRATS RALLY TO BERKLEY
Reid praised Berkley, saying he has known her for more than 40 years and has "watched her become one of Nevada's most respected leaders and one of our state's fiercest advocates."
The Democratic Senatorial Campaign Committee endorsed her. DSCC Chairwoman Patty Murray said the Senate seat is one of six the party is targeting.
"Our polls show her up and winning," Murray said. "We expect that to be a Democratic blue seat in 2012."
Several weeks ago, a poll conducted for Berkley showed her leading Heller 42-38, though within the margin of error.
Both members of Congress are expected to win their respective primaries. Heller, already endorsed by Gov. Brian Sandoval, faces no real threat.
Berkley will face at least one strong primary opponent. Las Vegas businessman Byron Georgiou last month bucked party officials to enter the race. The millionaire is expected to spend a lot of his own money.
On Thursday, Georgiou released a quarterly fundraising report showing $1.1 million cash on hand, including a $500,000 loan to himself. And he declared he's not about to go away.
"I won't be so presumptuous as to take Nevada voters for granted," he said. "This is an election, not a coronation."
Having him in the race could trouble Berkley, but Reid brushed him off.
"He stands no chance," the Senate majority leader said bluntly.
As for Berkley, Reid said, "I'll do anything for her. President Obama is going to be there. And I have my organization."
Money will be no problem for Berkley or Heller. He reported $1.4 million in cash on hand after raising more than $670,000 in the past quarter.
She reported raising about $700,000 from January to March. She had a total of $1.6 million cash on hand.
Stephens Media reporter Peter Urban contributed to this story from Washington, D.C. Contact Laura Myers at lmyers@reviewjournal.com or 702-387-2919.