Bidding a fond farewell to Clarkin … err, Schroeder
January 8, 2016 - 7:22 am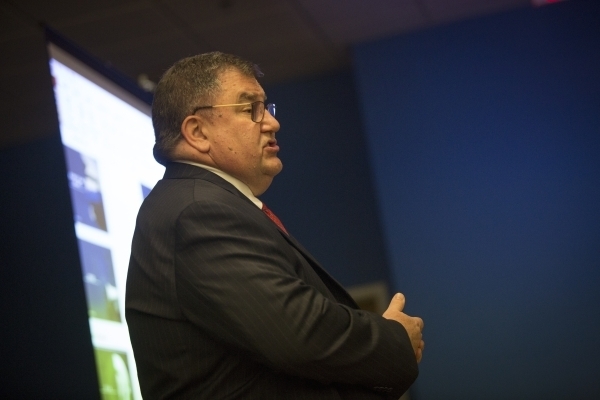 It's only a rumor that an early version of News + Media Capital Group shill Michael Schroeder's stammering apology to subscribers this week began, "It is a far, far better thing I do than I have ever done."
It wouldn't have been original — not that our correspondent in Bristol, Conn., would lose much sleep over that — but it would have sounded more heartfelt than the 10 paragraphs of equivocation he churned out in a "note to our readers" published in his Connecticut newspapers. Just to show how sincerely repentant he was for violating the trust of the readers and the ethics of the craft, he declined to place the "apology" online. But it didn't stay in Connecticut long.
Excerpts of Schroeder's dog-ate-my-homework drivel were published this week in the pages of the Review-Journal as part of a news story that also pointed out that he failed to explain how he became so integrally involved in all the intrigue.
While acting as a public front for the new owners of the Review-Journal, Schroeder cobbled together a hit piece on Clark County District Judge Elizabeth Gonzalez and slipped it into the Dec. 2 edition of his New Britain Herald newspaper under the pseudonym "Edward Clarkin."
Alas, poor Clarkin. We knew him as Schroeder right from the start.
When Review-Journal reporters identified News + Media as a limited liability company controlled by the Adelson family, they also ran to ground details of the Gonzalez story, an inaccurate piece riddled with questionable sourcing. The Schroeder-Clarkin clip job reads like a gift to casino mogul Sheldon Adelson, who is mired in a contentious wrongful termination suit in the judge's court.
That's part of the problem with the Schroeder apology. It slobbers all over itself, but it fails to offer details that would add a little journalistic justice to the story.
Although he stopped short of admitting plagiarism, Schroeder acknowledged that his sourcing was shabby and that he had a conflict of interest. "In this case, a part of the story involved a matter concerning the buyer of the Las Vegas Review-Journal," he wrote. "There should have been a tagline indicating that I had a business relationship with that person."
That's true, but that also makes it sound as if Schroeder didn't write the story as a favor to a friend.
"As editor and publisher, I take full responsibility for the assignment, publication and editing of the story and for these failures," he wrote. "It was a combination of writing and reporting from multiple sources, with anonymity promised, in this case, inappropriately."
What he didn't admit is whether he reported and crafted the Gonzalez story himself or, as I suspect, had more than a little help behind the scenes.
Perhaps he ran out of space.
Now Schroeder is out as manager of News + Media, and good riddance. The Review-Journal put an adult foot forward Wednesday when it announced the appointment of longtime Senior Editorial Writer Glenn Cook as interim editor. Cook has the intellect, work ethic and fully developed backbone to take on the difficult duty.
But if Schroeder imagined the "note to our readers" would absolve all sin and remove the story from the national headlines, he was mistaken. The New York Times took him to the journalistic woodshed in its Thursday edition with a long article under the headline, "A Publisher Puzzles Staff With His Role in Las Vegas."
Turns out Connecticut journalists aren't just upset because the publisher didn't bring them any "I Lost My Ass in Vegas" T-shirts back from his calamitous sojourn West. They're appalled.
Good grief, Schroeder. You lost more than your pseudonym in Vegas.
— John L. Smith's column appears Sunday, Tuesday, Wednesday, Friday and Saturday. He can be reached at 702-383-0295 or jsmith@reviewjournal.com. On Twitter: @jlnevadasmith