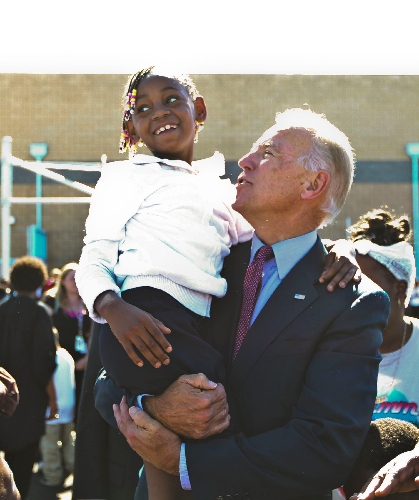 Rallying union workers in Las Vegas, Vice President Joe Biden on Thursday slammed GOP presidential candidate Mitt Romney for proposing an "Etch A Sketch-y" $5 trillion tax cut plan that would hurt the middle class, and for promoting policies that would reduce women's rights.
"You, the unions, built the middle class," Biden told a crowd of 450 people inside The Events Center at the Culinary Training Academy. "When the middle class does well, we create a lot of millionaires. It's a way in which to grow the country. It's how we've always done it."
Biden's visit to Nevada came two days before early voting starts here Saturday and continues for two weeks ahead of the Nov. 6 election. President Barack Obama is counting on a big turnout from Democrats to help him win Nevada a second time, four years after he easily picked up the Silver State.
First lady Michelle Obama plans to campaign in Las Vegas on Oct. 26, 11 days before Election Day.
Union members, female voters and Hispanics, who packed the crowd with another 130 people in an overflow room, are all-important constituencies Obama needs behind him at the ballot box to win.
Polls show Obama leading Romney by several points in Nevada. And Democrats have a 90,000 registered voter advantage over Republicans, yet the state remains a battleground in play that could decide the presidency.
The dismal economy makes Nevada a prime opportunity for Romney, who argues its 12.1 percent unemployment rate is a symptom of Obama's failure to revive the economy.
Biden urged union workers to get voters to the polls starting Saturday to ensure Obama's re-election.
"We win Nevada, we win the election," Biden said to cheers and shouts of "Four more years!"
The vice president also made a pitch for other Democrats on the ticket, including U.S. Rep. Shelley Berkley, D-Nev., state Sen. Steven Horsford, D-Las Vegas, and former Rep. Dina Titus, D-Nev. They shared the stage with Biden and U.S. Sen. Harry Reid, the Democratic leader of the Senate.
"We need this woman in the Senate to keep this man majority leader," Biden said, referring to Berkley and Reid and calling the entire Democratic ticket a "team" that needs to be sent to Washington together.
Berkley is locked in a close race with U.S. Sen. Dean Heller, R-Nev., who has been leading in public polls. She is counting on Obama's coattails and a strong Democratic turnout to unseat Heller.
Horsford is running for Nevada's new 4th Congressional District against Republican Danny Tarkanian. Titus is running to replace Berkley and faces Republican Chris Edwards, a long shot.
In his remarks, Biden recalled that Obama this week criticized Romney's proposed budget plan as "sketchy" because it includes few details about how he would cut taxes by $5 trillion.
"I don't think they were just sketchy. I think they were Etch A Sketch-y," Biden said, drawing laughter and applause from the crowd. "It's time to stop hiding the ball."
Biden said Obama wants to let expire Bush-era tax cuts for the wealthy, which Romney wants to maintain. Biden said $800 billion in continued tax cuts would go to people who make $1 million or more a year. Meanwhile, Romney's plan would add $2,000 a year in taxes for middle-class families, he said.
"They don't tell you how they're going to pay for these tax cuts," Biden said.
He also slammed Romney for telling a private fundraising audience that
47 percent of Americans are dependent on government. Biden took offense, telling the audience of laborers that they keep Las Vegas working.
"They are not takers. They're makers," Biden said of the 47 percent.
Biden said Romney's running mate, Rep. Paul Ryan, R-Wis., has helped write a book called "The Young Guns" that lays out how Americans are becoming too dependent on government.
"Unfortunately, the bullets are aimed at you," Biden said.
The Romney campaign criticized Biden for the comment.
"Today's over-the-top rhetoric by Vice President Biden is disappointing but not all that surprising," said Brendan Buck, a Romney-Ryan spokesman. "In the absence of a vision or plan to move the country forward, the vice president is left only with ugly political attacks beneath the dignity of the office he occupies.
"Mitt Romney and Paul Ryan will bring serious leadership to Washington that will focus on an agenda of job creation and economic growth that benefits all Americans," he added.
Biden, however, said Romney and Ryan have been talking too much gloom and doom about America.
"We are not in decline," Biden said. "This is not a dependent nation. And it's never, never, never been a good bet to bet against the American people."
On women, Biden slammed Romney and Ryan for not backing free contraceptive health care and for their views on abortion.
He said Romney has said he would allow exceptions in the case of rape, incest or when the health of the woman is at stake. But Biden suggested a Romney administration would appoint conservatives to the U.S. Supreme Court who might reverse Roe v. Wade.
"Romney and Ryan made it very clear that they're willing to impose their private views on women," Biden said, calling the two men "out of touch" with society.
Biden also called the GOP ticket out of touch on immigration with Romney saying he would veto the DREAM Act if elected president. The proposed act would provide a path toward U.S. citizenship for young immigrants brought here by their parents illegally if they go to college or serve in the military honorably.
"He's out of touch with the vast majority of people," Biden said of Romney. "These kids didn't choose to come to America. But they've done right by America. And it's time America does right by them."
Thursday was Biden's fourth visit to Nevada this year, including for a rally in Reno the day before. The vice president has traveled here eight times since he took office, about half as many times as Obama.
Contact reporter Laura Myers at lmyers@reviewjournal.com or 702-387-2919.
Follow her on Twitter @lmyerslvrj.