Biden, Dodd backers won't endorse others
January 7, 2008 - 10:00 pm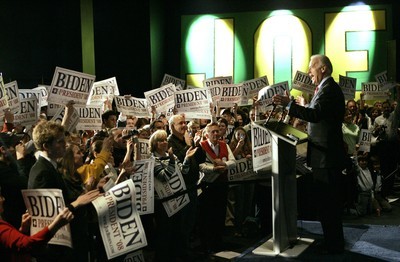 State Sen. Bob Coffin was at Disneyland when he heard his favorite candidate had dropped out of the presidential race. The news put a bit of a damper on an otherwise delightful vacation.
The Las Vegas Democrat was the only Nevada legislator to endorse U.S. Sen. Joe Biden of Delaware, who bowed out after getting slightly less than 1 percent of the vote in Iowa on Thursday night.
"I sent an e-mail of condolence to the team," Coffin said. "It wasn't as bad as it looked. That 1 percent is an extraordinary number because they stuck with him" though the caucus format gives voters an opportunity to make a second choice.
Coffin on Friday said he already was being approached by other campaigns asking for his endorsement, but he was telling them no and plans to remain uncommitted through the Nevada caucus.
"I'm paying more attention to the colossal blunder that's currently occurring in the governor's budget," he said. "I have more at stake there."
Coffin said he believed Biden's candidacy had been worthwhile because the candidate's centrism and know-ledge of world affairs had affected the Democratic field. Some have speculated that if a Democrat is elected in November, Biden will be named secretary of state; asked whether he could benefit from such a development, Coffin speculated jokingly that he might.
"He could make me an ambassador," Coffin chuckled. "I'll be the American ambassador to Nevada when it secedes from the rest of the country because of the mess the governor has made."
The other Democrat to drop out after Iowa, U.S. Sen. Chris Dodd, also had a single supporter in the Nevada Legislature. State Sen. John Lee, D-North Las Vegas, said he was disappointed — Dodd received less than one-tenth of one percent in Iowa — but had no regrets.
"I felt that he was the man who shared my values and the man I thought could run the country," Lee said. "He did the best he could and ran a clean race. There's no use beating your head against the wall."
Lee had been considering running for mayor of North Las Vegas but said Friday he had evaluated his priorities and decided to stay in the Senate, if voters let him. He is up for re-election in November.
Lee also said he doesn't plan to endorse a different Democrat in the Jan. 19 Nevada caucus.
"I think I'm going to just hide and watch and see what goes on," he said. "I've decided the Senate is where my heart lies right now. My support is for John Lee for Senate District 1 from now on."
LOCAL DEMS SEEING SIGNS
Clark County might be the only place in the nation where the deaf are, pardon the pun, making their voices heard in Democratic politics.
The Clark County Democratic Party has chartered a group for the deaf, which will take its place beside caucuses for youths, military veterans and gays, to name a few.
The party's chairman, John Hunt, said he has been holding more meetings than the county party had held before he took the reins, and at one, Denny Voreck introduced himself.
"I had a friend come in to do the interpreting because I appreciated him being there," Hunt said. "He talked to me about it, and I really wanted to promote it, so we have had interpreters at all our meetings, and I said, 'Why don't you start your own caucus?'"
Hunt said as far as he knows, the Clark County Democratic Deaf Caucus, of which Voreck is president, is unique. It had 30 charter members and is picking up more, with an estimate that as many as 2,200 people could be interested. The group was scheduled to hold its first meeting Sunday.
"It is historic in nature, and I think it's fantastic," Hunt said. "What we're trying to do is bring as many people as possible into the tent."
A spokesman for the Democratic National Committee said he knew of many local Democratic clubs for people with disabilities that include the deaf but was unaware of any group just for the deaf.
According to Gallaudet University, about 0.2 percent of Americans have no hearing at all, and nearly 9 percent have hearing problems.
Hunt said he thought deaf people ought to be drawn to the Democratic Party because of its support for the rights of people with disabilities. Asked whether Clark County would consider forming a broader caucus for the disabled, he said, "That'd be great. I'd be all ears for that too." Pun apparently unintentional, he continued, "Everyone should band together so their voice can be heard louder."
'HISTORIC' OPPORTUNITIES
The Democratic National Convention is coming to Las Vegas this week, and you're invited.
But wait, you say, isn't the convention scheduled for late August, in Denver?
It is. But convention organizers on Wednesday will hold a forum, hosted by Senate Majority Leader Harry Reid, to help Nevadans learn about the upcoming convention and what they call the "historic regional opportunities" for Democrats in the West.
Convention CEO Leah Daughtry has held several such Q-and-A sessions, but this is the first one outside Colorado.
"We're looking at this almost like bookends," convention spokeswoman Natalie Wyeth said. "The nationally televised debates and early caucus are putting Nevada in the spotlight, and then in August we're coming to Denver. Our CEO talks about making this a regional convention. Much more than a host city or a host state, we have a host region."
Wednesday's event with Reid and Daughtry is scheduled for 1 p.m. at the Plumbers and Pipefitters union building at 760 N. Lamb Blvd. It is open to the public, but RSVPs are requested by e-mail to rsvp@demconvention.com or by phone to (720) DNC-2008. That's 720, a Colorado area code, not 702.
Democrats recently have achieved electoral victories in Western states that had been thought of as staunch Republican redoubts, such as Montana. They hope to extend the trend and put the region, with its growing population and changing demographics, in play for the Democratic Party.
It all goes back to Democratic National Committee Chairman Howard Dean's 50-state strategy, which Wyeth described as "the idea that if we work hard and show up, we can win, regardless of where we are."
Thanks to Reid and Nevada's early caucus, the Nevada delegation will be getting some of the sweetest accommodations at the August convention. They've been assigned, with Iowa, to the downtown Courtyard by Marriott, located right on the charming 16th Street pedestrian mall and within walking distance of the convention site.
Contact reporter Molly Ball at mball@reviewjournal.com or (702) 387-2919.
2008 ELECTIONSGet more news, voter information