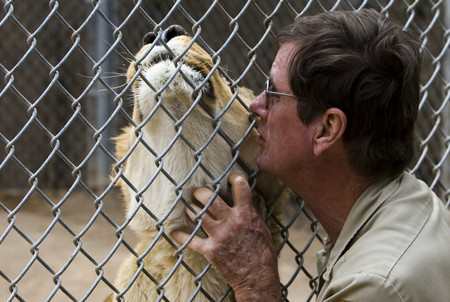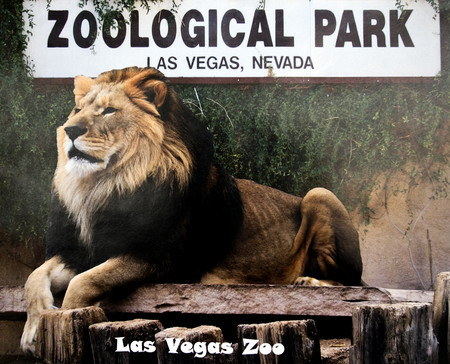 On Friday, Pat Dingle took a few minutes to recount the last few hours of Midas the lion's life.
What stays with him most isn't the image of Midas, unconscious from anesthesia on an operating table. Instead it's Midas' sister, Maniac Girl, alone in the lion exhibit, growling deeply, in what sounded to the zoo director like a lament.
Midas, a 10-year-old lion at the Southern Nevada Zoological-Botanical Park on North Rancho Drive, had been in exploratory surgery after becoming severely ill in the span of a few days.
The surgery proved unsuccessful — Midas' blood was anemic and his abdomen a gory crimson. The big cat had to be euthanized, veterinarians and zookeepers agreed Thursday.
Then, he remembers, Maniac Girl became silent.
What troubles Dingle, with the zoo 29 years, isn't so much that Midas died. It's the circumstances.
The week before, zookeepers discovered a half-eaten rubber football in the lion exhibit. Dingle believes the lion died as a result of eating the ball.
The exhibit's fence borders the back lot of a Catholic Charities of Southern Nevada thrift store. Dingle said store employees have a history of tossing unwanted items into the exhibit and dumping waste next to the fence. "They (the lions) dig up the ground right by that fence, trying to get at the stuff those guys dump," he said.
Once he discovered a pool of bubbling chemicals that had drained into the hole, which he said has to be refilled with dirt constantly.
After securing the lions and removing the chemicals, Dingle confronted a thrift store employee to ask if he'd dumped the waste.
"He said, 'Yeah, we always dump it there.' I gave him a piece of my mind about that, and they stopped," he said.
Although Dingle said he's complained many times to store employees, Leslie Carmine, community relations coordinator for Catholic Charities, said the information hadn't gotten back to executive management.
Catholic Charities is conducting its own investigation into the matter, including complaint history.
"We don't know the truth yet," she said. "That's part of the investigation. … It is a real unfortunate tragedy."
Carmine said there's been a history of trespassing at the store, and employees have had to contact police.
"People break in and go through our dumpster, which is near the corner where the lion cage is located," she said.
Because no one saw the rubber football tossed into the exhibit, Dingle can't pinpoint a particular person.
But because of the history, he said he's sure.
"I don't believe in coincidences," he said.
Lori Alva, who lives near the zoo and has seen the lions many times, said she was disgusted when she learned of Midas' death.
"I'm an animal lover. I don't have any children," Alva said. "If I ever hear someone talking about it, I'd turn them in. After giving them my opinion of them."
Dingle said he doesn't blame Catholic Charities for Midas' death. His concern right now is the safety of Maniac Girl, now the only lion on exhibit.
Maniac Girl was aloof for a few days during Midas' illness, but there are positive signs she's doing better. On Friday, she approached the fence and allowed Dingle to pet her.
The two lions, who Dingle bottle-fed as cubs, used to compete for his affection by the fence.
"Now it's just her," he said.
Contact reporter Mike Blasky at mblasky@reviewjournal.com or 702-383-0283.
Slideshow