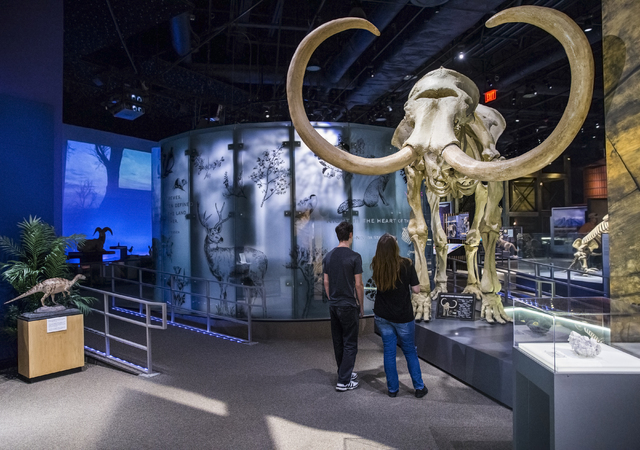 Make no bones about it: National Fossil Day is not a major holiday. But it has proven pretty important for three local children and the specimens they got to name at the Nevada State Museum in Las Vegas.
For the third year in a row, the museum marked Wednesday's celebration of paleontology with a contest to name one of the fossils on display. This year's winning entry was Iris the ichthyosaur, submitted by Mellifluous Dafinone, a third-grader at McMillian Elementary School.
Museum officials picked Iris because the ichthyosaur had large eyes it used to find its prey, but they said Mellifluous apparently chose it because she thought a weird creature deserved a weird name.
The museum at the Springs Preserve has a two-thirds-scale model of the marine reptile, which swam the oceans of what is now central Nevada some 225 million years ago — a whale-sized fish among dinosaurs.
The museum's model is of a female ichthyosaur that was declared the official state fossil of Nevada in 1972. She was unearthed in a remote mountain range in Nye County, about 350 miles northwest of Las Vegas, where 36 more of the fossilized creatures also were found in the 1950s and '60s. The site is now a state park.
Paleontologists know that ichthyosaurs breathed air, weighed 20 to 35 tons, fed on squid and fish, and gave birth to live young. On-going research using the latest gadgets is shedding new light on the creatures.
"New technology like 3-D printing is bringing to life damaged, incomplete, and distorted fossil remains so that we can see them in their three dimensional glory," said Sali Underwood, the museum's curator of natural history.
For her winning entry, Mellifluous will receive several prizes and her name and her fossil's name will be displayed at the museum.
The two previous contests resulted in Christopher Columbian Mammoth and a giant ground sloth named Molasses.
Contact Henry Brean at hbrean@reviewjournal.com or 702-383-0350. Find him on Twitter: @RefriedBrean.