Big sign planned for casino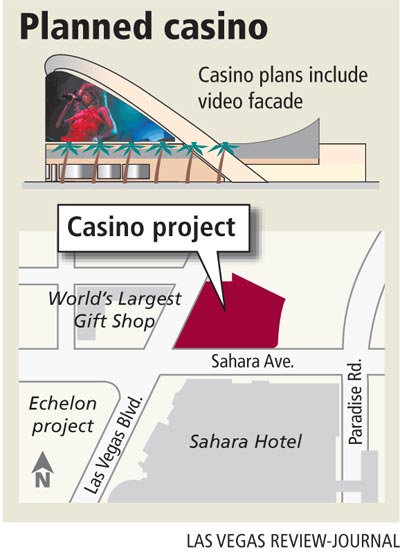 A developer now has preliminary approval to build a huge video screen and a new casino at the corner of Las Vegas Boulevard and Sahara Avenue, a development backers hope will be an eye-catching attraction at the entrance to the city of Las Vegas.
"This is exactly what we think the city of Las Vegas wanted on that corner," said Chris Kaempfer, an attorney representing the developer, Aspen Highlands Holdings.
Plans call for a 37,100-square-foot, two-story building with casino and retail space, but no hotel. In front would be a 98-foot-tall, 11,210-square-foot sign/video screen facing the heavily traveled intersection.
The north side of Sahara is in the city of Las Vegas, while the south side is in unincorporated Clark County.
Mayor Pro Tem Gary Reese represents that part of the city.
While Reese said he supports the project, he's not sure if it will be viable because it doesn't have a hotel attached to it.
"I have my doubts about just a casino," he said. "It won't be a good draw."
The Holy Cow! casino and brewery, which formerly occupied the site, struggled to bring in people before it closed.
"That corner right there, it seems like the souvenir shop across the street does pretty good; but the Sahara, they've always had a problem, too," Reese said. "I don't know if it's just too far north, or what it is."
Through a spokesman, Mayor Oscar Goodman said he would have "very specific requests" of the developer "that they will have to meet on that site" to get his support. He did not elaborate on what those requests would be.
Originally, the developer proposed a 507-foot-high sign. Either way, he needed a variance, because city code says signs in that area can be no more than 8 feet high.
"We were, in essence, told to do something special," Kaempfer said. "You really can't do something special, really iconic … and keep it under eight feet."
The city Planning Commission gave its blessing last week, and the plans go before the City Council Aug. 5.
The project comes during a rough time for both gaming and construction in Southern Nevada. Other Strip projects have seen delays or all-out stoppages, and as of May state gaming revenue had fallen for 17 straight months.
The developer, Arizona businessman Steven Johnson, was not available for comment Friday.
Kaempfer described the plans as "a real project," and Lee Haney, a spokeswoman for Johnson, said, "My understanding is that they intend to build as soon as possible."
The property is now home to an empty building. Holy Cow! closed in 2002.
In 2004, the City Council approved plans for a 73-story building with 960 condominiums, but the land was back on the market in 2005. Johnson bought it in 2007.
The two-story building would have a 9,000-square-foot casino, a 6,000-square-foot restaurant and 4,000 square feet of retail space, including a Walgreens.
Also, Las Vegas Boulevard would get an additional lane and Sahara would be two lanes wider on the blocks immediately adjacent to the project.
The north end of the Strip has the distinctive Stratosphere tower about a quarter of a mile north of the project's site and the new Allure high-rise condo building on Sahara. But it's also home to aging casinos such as the Sahara and the Riviera, as well as the stalled Echelon project.
Besides the Stratosphere, Las Vegas Boulevard to the north of Sahara has a motley collection of small, older hotels, gift shops and nondescript storefronts.
Planning Commission member Steve Evans said he hopes the project helps change that, and that one day the video sign can be even bigger.
"In the future, I hope it is 507 (feet)," Evans said. "The bigger, the better. I think a Times Square kind of vibrancy is exactly what that corner needs."
It would be nice to see more development on that corridor, Reese said.
"I'd like to see a continuation of the Strip all the way down to Fremont Street. But it won't happen in my time."
Contact reporter Alan Choate at achoate @reviewjournal.com or 702-229-6435.