Big UFC match might draw Jack
November 14, 2008 - 10:00 pm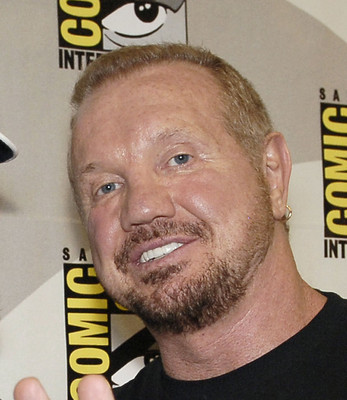 Maybe it's on his "bucket" list.
Jack Nicholson, a ringside fixture for decades at the biggest boxing matches in Las Vegas, is rumored to be making an appearance at Saturday's big UFC battle between Randy Couture and former pro wrestler Brock Lesnar.
The Hollywood icon, the Los Angeles Lakers' No. 1 fan, played a hard-boiled CEO in "The Bucket List," a 2007 movie about things you want to do before "kicking the bucket."
Rapper 50 Cent will be taking in his first UFC event. His new single, "Get Up," soared to No. 10 on Billboard's Hot Rap Tracks. It's from his upcoming album "Before I Self Destruct," which also includes a free full-length feature film by the same name that 50 Cent wrote, directed and stars in.
UFC regulars David Spade, Rob Schneider, Mandy Moore and Laura Prepon are showing up.
MY NEW WINGMAN
It was wall-to-wall eye patches Wednesday at the Palms' Playboy Club during the launch of my new book, "Vegas Confidential: Sinsational Celebrity Tales," and I came away with the souvenir of the night: the patch worn by Donny Osmond.
He was the surprise guest of the night, but we had to meet at Nove Italiano restaurant because the Playboy Club is off-limits for one of us.
His out-of-character rakish appearance looked like he had just finished shooting a "Man in the Hathaway Shirt" campaign.
Any time he wants to go rogue, or mavericky, he would be the perfect wingman.
I'll be signing copies at the sports book at Red Rock Resort on Saturday from 11 a.m. to 1 p.m.
THE SCENE AND HEARD
The high-energy Zowie Bowie lounge act has just signed a deal to headline on New Year's Eve at Monte Carlo. Zowie Bowie, featuring the duo of Marley Taylor and Chris Phillips, has been a fixture at the Rocks Lounge at Red Rock Resort.
MAY I RECOMMEND
The fourth edition of The Comedy Festival runs next week Thursday through Saturday with Jerry Seinfeld and Ellen DeGeneres among the lineup at Caesars Palace. Also appearing will be Dane Cook, Katt Williams, Tracy Morgan, Jeff Dunham, Dave Attell, Jamie Kennedy, Mike Epps, David Alan Grier, The Kids in the Hall, Russell Peters, Kate Clinton, Jim Breuer, Andrew Dice Clay, Jim Norton and John Oliver. DeGeneres will film "Ellen's Even Bigger Really Big Show," Morgan will host Laffapalooza! and Cheech and Chong will be roasted. Comedian and master impressionist Frank Caliendo will host Funniest Movies of the Year, which will be taped at Caesars and the Rio and aired on TBS on Nov. 29. Ticket information: box office, (702) 866-1400; group sales, 800-933-7110; or the Web site thecomedyfestival.com.
SIGHTINGS
Oscar winner Sidney Poitier, dining at Wolfgang Puck's CUT in the Palazzo on Wednesday. Poitier, 81, broke a barrier in 1963 when he became the first black man to win the Academy Award for best actor for his role in "Lilies of the Field."… Pro wrestling icon "Diamond" Dallas Page, checking into the Hard Rock Hotel on Thursday to celebrate his daughter's 21st birthday.
THE PUNCH LINE
"Some political analysts say that the '80s sitcom 'The Cosby Show' helped Obama get elected by portraying a black family in a positive light. They also say Obama would have been elected 10 years ago if it weren't for Flavor Flav." — Conan O'Brien