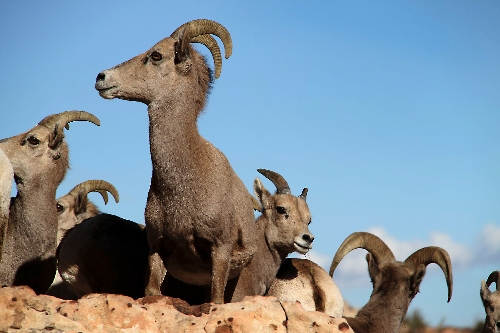 The Hoover Dam bypass bridge carries a lot of traffic between Phoenix and Las Vegas but there are three smaller spans nearby and the only traffic they carry is the four-legged kind.
Officials with the state Game and Fish Department said the paths keep bighorn sheep moving, which is critical to keeping the population healthy and growing.
"You get only one shot at this," said Bob Posey, supervisor for the Kingman office of the Arizona Game and Fish Department, in an interview with The Arizona Republic.
The sheep bridges look much like any highway overpass. They are built of concrete and anchored to ridgelines on each side of the highway and cost nearly $5 million.
The surfaces are dirt and have been seeded with native plants. They are not accessible from the highway or from any developed trails.
State biologists said they knew some of the sheep crossed the two-lane Arizona 93 highway with its miles of sharp turns and steep inclines, but some sheep stopped and turned around.
The fragmented habitat made it difficult for the sheep herd to recover from drought or disease and to breed properly.
When the Arizona Department of Transportation decided to widen U.S. Highway 93 to four lanes and add medians and fencing as part of the bridge bypass project, wildlife officials saw it as an opportunity.
The project initially called for wildlife underpasses, which have been built for deer and elk in other parts of Arizona, but the Game and Fish Department officials were not sure that was the right way to move bighorn sheep.
"Bighorn sheep are very visual," said Zen Mocarski, education manager for the Game and Fish Kingman region. "They can see movement up to a mile away. Their eyesight is one of their primary defenses, so asking them to go underground, in a dark and dank tunnel, might not work."
Mocarski said he knows some people will ask why the government went to so much expense for a few hundred sheep.
"We've already interfered with them," he said. "We've built roads and fences, we drive cars. Now the goal is to manage wildlife."