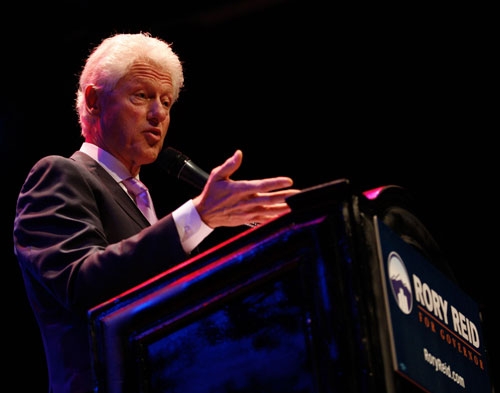 Former President Bill Clinton on Wednesday rallied with several hundred supporters of gubernatorial candidate Rory Reid, a Democrat who is trailing Republican Brian Sandoval in statewide polls.
Clinton spoke for nearly 30 minutes, told jokes, discussed policy and charmed the friendly audience.
But he mostly reiterated that if Reid is to defeat Sandoval, his supporters will need to go after every vote they can find.
"Television ads are not as effective as they usually are in an election like this," Clinton said. "That's because people are mad."
Clinton urged Reid supporters to persuade people to channel their anger into a vote for the Democrat.
"(Reid) can win this election and he will if the people know what it is about," Clinton said.
He urged the audience to tell voters about Reid's plans to improve schools and make Nevada an energy independent state.
"Coming to a rally is not enough," Clinton said. "You have got to talk to people."
The speech was at House of Blues in Mandalay Bay.
In a private fundraiser before the speech, Reid raised about $225,000, an aide said.
Reid, his wife, Cindy, and Assemblyman Ruben Kihuen, D-Las Vegas, also addressed the audience.
Contact reporter Benjamin Spillman at bspillman@reviewjournal.com or 702-477-3861.
Former President Bill Clinton speaks at rally for Rory Reid