Blaze that gutted LV home probed
October 26, 2008 - 9:00 pm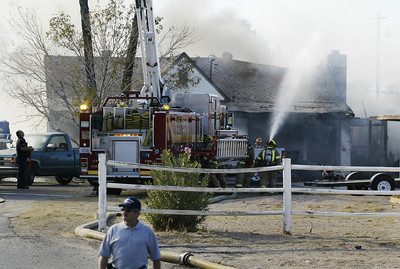 An east Las Vegas home was destroyed in a Saturday afternoon blaze.
Firefighters were called to a home at 1363 N. Christy Lane, near Nellis Boulevard and Washington Avenue, at 2:30 p.m.
Clark County Fire Department Deputy Fire Chief Al Osborne said the fire might have started outside the home. Propane and other tanks in the backyard exploded and contributed to the fire, Osborne said.
The owner of the home was treated by paramedics for smoke inhalation but declined to go to the hospital, according to Osborne. There were no other injuries.
Units from the Las Vegas and North Las Vegas fire departments also responded to the scene, Osborne said.
He said the fire was knocked down quickly but the home was a total loss.
Investigators were looking into the cause of the fire, he said.