Bon Jovi rocks crowd at Tiger Jam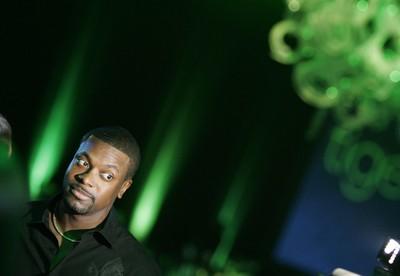 If ever there's a death from excessive high fiving, chances are it will occur at a Bon Jovi gig.
The band's shows are epitomized by the celebratory gesture, the fist in the air, the nonawkward hugging of strangers, the downing of enough booze to anesthetize a small nation, let's say Luxembourg.
And it's all delivered by arenas full of gyrating revelers exulting like 10,000 teens who just lost their virginity.
"Is anybody out there looking for a party?" Jon Bon Jovi asked early in his band's 90-minute set Saturday at Mandalay Bay Events Center.
Um, yeah, perhaps.
"Tonight, you get to let your hair down," he added, and the crowd dutifully obeyed, inhaling beers and exhaling lots of exclamation points: It wasn't Bon Jovi who performed on this night, it was BON JOVI!
Headlining the 10th installment of Tiger Jam, the annual benefit that has raised more than $10 million for the Tiger Woods Foundation and Las Vegas charities, Bon Jovi brought the crowd's blood to a boil right from the get-go with two of its biggest hits, "Livin' On a Prayer" and "You Give Love a Bad Name," which came on like rock 'n' roll Red Bull.
Ah, but there's one thing that this crowd feared more than last call, those seven insidious words that were greeted with all the enthusiasm of a field sobriety test: "Tonight, we're gonna play some new songs."
There were gasps. There were looks of confusion. There were lots of people sitting down all of a sudden.
On Saturday, Bon Jovi debuted a slew of tracks from the band's upcoming album, "Lost Highway."
Whether or not it's a coincidence, it's telling that the disc shares its name with a maverick country label, home to the likes of Lucinda Williams, Ryan Adams and Willie Nelson.
Touring for the first time with a pedal steel player and a female fiddler, Bon Jovi displayed a rootsier, nouveau Americana side to itself, colored by earthy, acoustic-leaning tunes with dust in the throat.
Last year, Bon Jovi became the first rock 'n' roll band to have a No. 1 hit on the "Billboard Hot Country Chart" and won a Grammy for "Best Country Collaboration With Vocal." Perhaps spurred by that success, Bon Jovi now seems intent on making its presence felt in Nashville with a clutch of tunes that boast a slight guitar twang and a foot stompin' backbeat.
Still, it's not as if Bon Jovi has gone country as much as country has increasingly taken its cues from these arena rock mainstays, adopting the band's spit-shined hooks and larger-than-life songcraft.
And so Bon Jovi's flinty new songs still boasted the kind of rousing, pulse-quickening choruses that the band is known for.
But it was the hits that the crowd wanted, and never one to disappoint, Bon Jovi machine-gunned them at the packed house — "Born to Be My Baby," "It's My Life," "Bad Medicine" — as the crowd panted along in Pavlovian glee.
The ladies danced until the straps of their dresses fell down past their shoulders, and the fellas bumped chests like they'd just scored a game-winning touchdown.
"I ain't here foolin' around," Bon Jovi bellowed at one point, and that's the one sentiment the crowd didn't share with him on this loud, sweaty night.
JASON BRACELINMORE COLUMNS
REVIEW Who: Tiger Jam, with Bon Jovi When: Saturday Where: Mandalay Bay Events Center Attendance: 12,000 (sold out) Grade: B $1.5 MILLION RAISED Tiger Jam, the celebrity-studded concert fronted by Tiger Woods, raised $1.5 million for charities on the weekend, organizers said. The 10th annual event on Friday and Saturday featured a sold-out concert by Bon Jovi and was attended by Will Ferrell, Kevin James, Chris Tucker and Gabrielle Union. It raised money for the Tiger Woods Learning Center and some Las Vegas-based charities. The concert series was created in 1998 by the Tiger Woods Foundation. Since its inception, the foundation has raised more than $10 million. THE ASSOCIATED PRESS