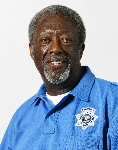 John Bonaventura was elected the next Las Vegas constable on Tuesday.
The 48-year-old Democrat took 54 percent of the vote, defeating Republican Peter Gariano, with 42 percent , and Independent American Party candidate Lee Andersen with 4 percent.
Bonaventura, CEO of Energy Ventures Organization, will replace Robert "Bobby G." Gronauer, who served for 12 years and was ousted in the June primary election.
In Boulder City, Republican Steve Hampe is the new constable, taking 65 percent of the vote. He defeated Independent American Party candidate Mike Plott, an Internet sales program manager, who had 35 percent.
Hampe, 55 and a retired patrol officer for the Boulder City Police Department, takes the reins of an office plagued by controversy. The incumbent, Larry Markotay, resigned in March for personal reasons shortly after being charged with burglary while in possession of a firearm, three counts of grand larceny of a firearm and two counts of possession of stolen property.
In North Las Vegas, Democratic incumbent Herb Brown remains the constable with 67 percent of the vote. Republican challenger Jeffrey Eggeman received 33 percent of the vote.
Brown, 69, was elected to the office in 1998. He was a North Las Vegas police officer for 21 years and has been a U.S. marshal.
In Laughlin, Republican challenger Jordan Ross took 56 percent of the vote and defeated Democratic incumbent Patrick Ketterer, who had 44 percent. Ketterer, 68, has been constable since 1991. It was the first time he faced an opponent in an election.
Ross, a 53-year-old recruiter for law firms, campaigned on creating a hot line for consumer education questions and setting up a network so volunteers can help local groups. He said he wants to work closer with state and county officials to get better representation for Laughlin.
Candidates in seven townships faced no opposition and were elected. Earl Mitchell was elected in Henderson; Erik Laub in Bunkerville; Gary Rogers in Goodsprings; Duane Thurston in Mesquite; Gary Leavitt in Moapa; Leon Frei in Moapa Valley; and Jack "FatJack" Cochran in Searchlight.
Contact Kristi Jourdan at kjourdan@reviewjournal.com or 702-383-0279.