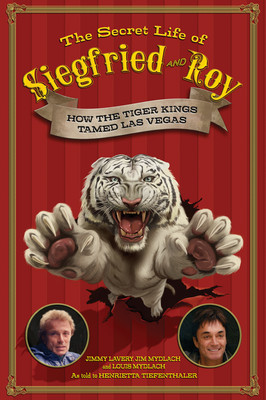 Siegfried and Roy know where plenty of bodies are buried, according to a new unauthorized book about the entertainment icons.
The bodies of their show animals, that is.
Many were interred near Little Bavaria, their 100-acre oasis on the outskirts of Las Vegas, a la Steve Wynn's burial of dolphins from The Mirage on the 17th hole at Shadow Creek, say the authors of "The Secret Life of Siegfried & Roy: How the Tiger Kings Tamed Las Vegas."
Roy Horn not only kept the cremated ashes of his favorite dogs and big cats on shelves of his bedroom, the book claims, but often used a Louis Vuitton handbag to carry the urn with his mother's ashes on weekly retreats to Little Bavaria.
"Before setting out in his Rolls-Royce, ever-faithful son Roy would carefully fasten Miss Horn's remains tightly with the seatbelt," according to the book, which was written by former Siegfried and Roy employees Jimmy Lavery, Jim Mydlach, and Louis Mydlach, along with best-selling author Henrietta Tiefenthaler.
A Siegfried and Roy spokesman said, "We're not going to comment."
The books alleges that two trainers were attacked by big cats a half-hour apart years ago, but were taken to separate hospitals to avoid "bad press."
Staffers of the illusionists heard rumors that Siegfried Fischbacher might have fathered at least one child, the authors said.
The book, published by Phoenix Books, hits the book stands June 1.
THIS WAS NO LOCK BET
The perils of live TV has its humbling moments.
Ask KVVU-TV, Channel 5, reporter Bob DeNinnis, who suffered a thousand deaths while delivering the lead story Monday night.
His agonizing experience won't beat out Geraldo Rivera's live TV special in 1986 that was to reveal the contents of gangster Al Capone's secret vault. All a red-faced Rivera found was debris.
DeNinnis came up empty, too. The idea was to show the public how easy it is to break any home door lock with a "bump key" that's easily available on the Internet.
But, "as sometimes happens in the show capital of the world," said news director Adam Bradshaw in an e-mail, "it worked great in rehearsal but when Bob tried to pop the lock on live television, the stubborn door wouldn't budge."
After hammering away to no avail, DeNinnis gave up and faced the camera with an apologetic expression before the station moved to the next story.
THE SEEN AND HEARD
AllAccess.com, a radio industry Web site, reported on Monday that a format change probably will be announced this week by a Las Vegas radio station. The report said the station will switch to Top 40-dance format. The report hinted that the development involved KMOA -FM 94.5. …
More rumblings out of KLAS-TV, Channel 8, which could be sold any day now. The accidental airing of profanity during the Henderson police inquest earlier this month reportedly has resulted in the firing of a staffer. And word has it that management notified prospective buyers there may be some trouble down the road in the form of fines meted out by the Federal Communications Commission. …
Former heavyweight champs Mike Tyson and John Ruiz are joining a support-the-troops walk from City Hall to Nellis Air Force Base today, starting at 10 a.m. The event was organized by Seat Williams, host of "Afternoon Gridlock" on KWWN-AM 1100, weekdays from 3-6 p.m. There will be two stops along the eight-mile route: Woodlawn Cemetery, to pay homage to the fallen soldiers, and at Rancho High School, which lost 25 soldiers during the Vietnam War.
THE PUNCH LINE
"(Star Jones) was married to a guy named Al Reynolds. … How can I describe his departure? Are you familiar with the phrase bat out of hell?" — David Letterman
Norm Clarke can be reached at(702) 383-0244 or norm@reviewjournal.com. Find additional sightings and more online at www.normclarke.com.