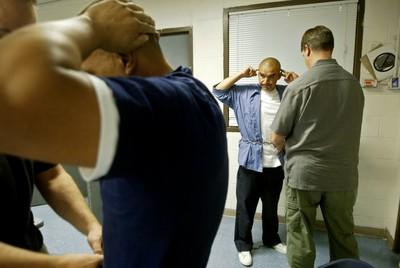 By his own count, Jose Valenzuela-Ortiz illegally crossed the U.S.-Mexico border 46 times before being deported from the United States for a fourth time earlier this year.
Federal immigration authorities are taking steps to make sure that this time the 29-year-old Ortiz is gone for good.
Enforcement on the U.S.-Mexico border has tightened with Immigration and Customs Enforcement effectively ending the longtime practice of "catch and release," which allowed some illegal immigrants such as Ortiz to go free after capture time and again.
A key provision in a sweeping immigration bill that died in Congress involved bulking up border security, including building 370 miles of border fencing.
During his stints in the United States, Ortiz worked landscaping and construction jobs throughout the Southwest.
He also battled drugs, he said, an addiction that led to an arrest for stealing a car in North Las Vegas.
Ortiz had served two years of a four-year sentence in the Southern Desert Correctional Center on that charge when he was among 45 illegal immigrant prisoners released and deported in April.
He is unsure whether he has anything to return to in his hometown of Sinaloa, Mexico, where his wife and 9-year-old son have lived without him.
"I'm not sure what will happen," said Ortiz through a translator in an interview at the Las Vegas office of Immigration and Customs Enforcement, hours before he boarded a government plane to San Diego.
"The situation in Mexico is terrible. They pay $5 per day."
The risk of trying to make it over the border yet again is something Ortiz might be willing to accept.
"If I come back," he said, "I don't want to get in trouble."
ILLEGAL IMMIGRATION: Counting The CostMore News Stories