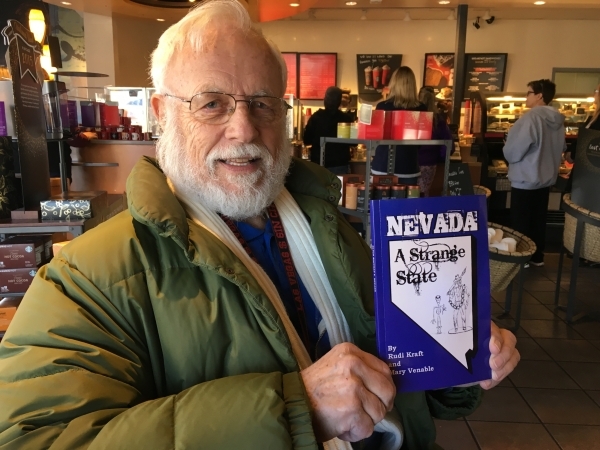 BOULDER CITY — For nearly all of his 81 years, Rudi Kraft has been a man on the move.
He's roamed Europe, Canada, Mexico and the American West. But most of those dusty, hard-won miles have been driven right here in Nevada, where he has played the role of restless wanderer in search of grand secrets, rare history and just plain on-the-road adventure.
A line chef by trade who worked in Reno and at famous properties up and down the Strip, the Rotterdam, Netherlands, native has for decades used the open four-lane thoroughfares and blue-highway back roads as his own personal escape hatch.
He loved the state's big, breathtaking blue skies, clean air and that he never had to share the road with too many others amid a lonely, sprawling high-desert landscape many motorists still choose to avoid, or overlook.
All the while, he liked seeing all those broken white lines whiz beneath the chassis of his baby-blue 1966 Ford F-250 pickup, the one with the "three on the tree" steering-wheel clutch that ran on leaded gas — a trusted old war horse with no radio or air conditioning.
But it always got Kraft where he wanted to go, teaching him about his adopted land and, along the way, helping him discover gold in the Silver State.
Now Kraft has paused to write a self-published book about his adventures: "Nevada: A Strange State" is available online and in stores around this Las Vegas bedroom community.
But this is no ordinary travelogue: The slim 137-page book breaks the state into highly readable nuggets of that found gold, along with personal ink sketches by the author.
He chronicles places such as St. Augustine's church near tiny Austin, where the tower bells are rung by pulling a rope in the men's bathroom; the dangerous, 360-mile round-trip route of famous Pony Express rider "Pony Bob" Haslam; and how the blood-spattered, bullet-ridden car in which Depression-era bank robbers Bonnie and Clyde were killed is on display in nearby Primm.
"The weird, the funky, the unusual … Nevada has it," the author wrote in the prologue. "Aliens and nukes. Showgirls and reclusive millionaires. Miners and eccentrics. Gangsters. Ghost towns. Dragons."
So what's with all this roadside rambling?
"I've always wanted to see new stuff," Kraft said, as he sat in a local coffeehouse with his wife, Mary Venable, who has ridden shotgun on his wanderings and contributed to the book. "I wanted to have new experiences, see new things, different people."
Kraft is a compact man with a white Santa-Claus beard, who still speaks in a slight Dutch accent and often unleashes a belly laugh to punctuate an offbeat sense of humor.
"In Nevada, the air is so clear you can almost see Russia, I think."
And then that belly laugh.
"Well, not really. Don't write that down," he said. "I stole that phrase."
When you're a first-time, self-published writer, it's hard to get other professionals to write witty little back-of-the-book advertorials. But that didn't stop Kraft — he provided his own.
"Once you read the fascinating facts contained in this book you will get bragging rights at every bar, family gathering or church social," he wrote.
The book is also, ahem, endorsed by one A. Lincoln, who penned, "Rudi and Mary saved my presidency."
Kraft winks: "That one arrived a little late in the mail. But I was glad to get it."
Kraft arrived in the U.S. in 1962 after five years roaming across Canada. He was working in a British Columbia paper mill when a colleague announced that he'd bought a Volkswagen camper-bus and planned to hit the road in the U.S. and Mexico.
"I'm coming with you," Kraft told him.
Years later, while living in Los Angeles, he bought the pickup and in 1967 moved to Reno for work and affixed that first Nevada license plate: WT-15966.
The payments on the new truck were steep — $40 a month — but gas was only 19 cents a gallon. That came in handy — because back then, he says, Nevada had no speed limits.
Kraft liked the state right away: "Growing up in Europe, I couldn't imagine anything as large as the U.S. — especially the West."
But it wasn't just the ghost towns and gorgeous vistas that seemed to stretch forever; it was the people, too.
"They didn't have hang-ups," he said. "You didn't find snobby or stuck-up people. Most were just down-to-earth."
But most of the state's population lives around its two biggest cites. The rest of the place, he soon discovered, was nearly deserted. Soon, Kraft knew by heart its roads and byways, where they started, where they ended and the things they offered along the way.
He moved to Las Vegas in 1975 and later to Boulder City. But he kept driving, and exploring. He worked at the Top of the Dunes, Tropicana gourmet room and the Aladdin. Once he took a job driving rental cars from Vegas to Reno, just to air out his sightseeing soul.
In all, his only fear on the road was the dreaded middle-of-nowhere breakdown, but that never happened in Nevada. He and Mary once had to have her vehicle towed from Baker, Calif., back to Vegas following a mechanical mishap.
Kraft met Venable in 1982. Twenty-five years his junior, she was walking into a dance hall at Sam's Town when he spotted her and stopped her outside. Acting official, he asked to see her ID. Her friend pulled her away, but she liked him.
Two decades later, Kraft parted with the first love of his life: the 1966 pickup — the truck had given its all, but it was hard to find leaded gasoline.
Later, Kraft began keeping an Internet log of his travels, and one day Venable suggested he write a book. While he had slowed a bit — and didn't head out for the hinterlands quite as often — there were still lots to stories to tell.
So far, he's sold more than 300 copies of the book (available at www.lasvegasvisitor.com) that celebrates the state and its hidden places. But more than anything else, the slim little tome remains a nod to one man's wanderlust.
"Being on the road is a large part of who I am," Kraft said. "Finding out what's there at the end; you never know until you get there. But you have to remember to always stop along the way.
"Because the heart of any journey is always the journey itself."