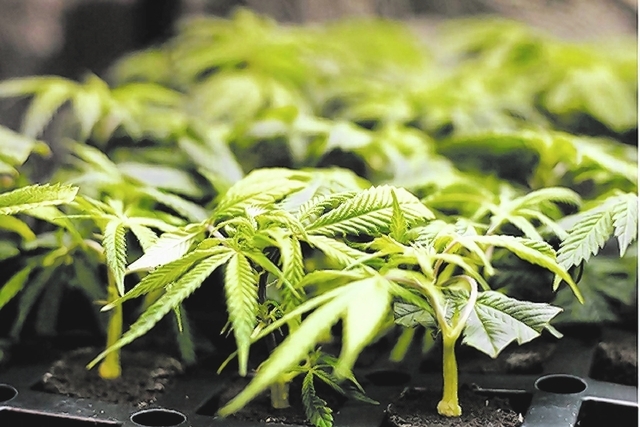 Boulder City doesn't want gambling.
It doesn't want much growth.
Now it looks like it doesn't want medical marijuana, either.
The least populous of Clark County's cities is considering an ordinance that would ban medical marijuana dispensaries, grow houses, state labs and any other facilities associated with the "Green Rush" industry — as the movement is being hailed across the country.
On Feb. 25, the council is expected to vote on the controversial subject after hearing from its citizens.
If the the ban is approved, Boulder City would become the first city in Clark County to enact one.
While Las Vegas and Henderson have placed moratoriums on dispensaries and are weighing their options, the Boulder City council on Tuesday introduced an ordinance that would keep the dispensaries and grow houses from operating within its 207 square miles.
An eight-page report compiled by City Attorney David Olsen cited federal law, health concerns and a potential increase in crime.
Mayor Roger Tobler said he thought allowing dispensaries would be dangerous to the city and possibly attract drug cartels to town.
For his part, City Manager David Fraser said he didn't think the council would be "making a mistake" if it decided to outlaw the dispensaries. Yet he added that it was equally important that the council hear from the citizens.
It looks as if the council is going to approve the ban, he said, mostly because marijuana possession and cultivation are against federal law.
"We're not trying to push this through … but we do have concerns with getting in the middle of this tug of war that's going on across the country between state law and federal law," said Fraser.
"We'd rather not get in the middle of it all."
THANKS, UNCLE SAM
That the city appears poised to side with federal law might not be all that surprising.
After all, this is a city that never would have existed had it not been for the federal government and the construction of what was then called Boulder Dam during the early 1930s.
Boulder City, with its diagonal streets, was meant to be a carbon copy of the nation's capital, built for the purpose of housing government workers when the construction of the dam was going full-bore.
"It's one of the first master-planned communities in the country," said Fraser, adding that the federal government "basically handed over the land to us" in 1961, when the city was incorporated.
Boulder City's history is steeped in caution and slow-growth policies. For example, the city doesn't allow gambling, even though the nation's biggest gambling city is nearby.
And when more than an acre of city land is put up for sale by what is gegraphically the largest city in the state, the decision often rests with the nearly 17,000 residents, who end up voting on the matter, Fraser said.
Now comes the possibility of medical marijuana dispensaries. At least two dozen states have acknowledged that marijuana can be a viable form of medicine, capable of raising revenue if regulated properly.
Dispensaries also can be a boon for those in the business of dispensing the medication.
In the report, however, Olsen, the city attorney, states that the advent of such dispensaries would be incompatible with the health, safety and welfare of the city. It could lead to an increase in burglaries, robberies and illegal sales.
It could lead to cancer among those who smoke it, and its usage while driving could double the risk of fatal car crashes, Olsen wrote, citing several studies.
"A fundamental duty of the Boulder City Council is to protect the health, safety and general welfare of the people of Boulder City," Olsen wrote. "Boulder City has a long tradition of applying strict land use standards to protect the unique nature of the city."
AGAINST FEDERAL LAW
But perhaps more important, the presence of dispensaries would run counter to two U.S. Supreme Court decisions that the federal Controlled Substance Act prohibits the cultivation, distribution, possession and use of marijuana, medical or otherwise.
Olsen cited U.S. v. Oakland Cannabis Buyer's Cooperative in 2001 and Gonzales v. Raich in 2005.
Nearly two dozen states across the county have rolled the dice and ignored such precedents. They have legalized medical marijuana and have allowed the opening of dispensaries.
Nevada is one of the most recent states to do so, with the passage of Senate Bill 374 in the spring.
The new law was meant to solve an obvious problem: While the Silver State legalized medical marijuana in 2001, it failed to provide a place where patients could purchase their medications, whose names run the gamut from "master cush" to "purple haze" to "Charlotte's web" to "train wreck."
Boulder City could become the first city to outlaw marijuana dispensaries in Clark County, where 40 dispensaries are authorized to operate under the state's medical marijuana law.
But also under the state's law, if patients cannot find a dispensary within 25 miles of where they live, they are allowed to grow up to 12 plants of their own. If the county and the cities of Las Vegas and Henderson decide to put the kibosh on the medical dispensaries as well, then medical marijuana patients could grow their own in Boulder City legally.
"But it's not going to be a farm," said Fraser. "It can't be a huge operation."
'ALCOHOL IS MORE DANGEROUS'
Of the two dozen people interviewed Wednesday, only two supported the idea of dispensaries: a former Olympia, Wash., police officer who lives in Boulder City during the winter, and a 30-year-old who grew up here.
"I think if you're an adult you should be able to do what you want, and no government should be holding your hand," said Clay Narey, who said he doesn't smoke marijuana but sympathizes with those who do so for medical reasons. "But this is a conservative town. I had a lot of friends who grew up as Mormons and it's not a part of their lifestyle, whether they're sick or not."
John Tupper, 57, who worked as a police officer in Washington state for 30 years, said he's all for the dispensaries. He said that in his three decades as a cop, he never saw a link between marijuana and an increase in crime.
"I know that's what people here probably fear the most," he said. "They're afraid it's going to bring a criminal element to town, but I never saw anyone ever crawling up over fences to steal somebody's pot plant. I think alcohol is more dangerous when you get right down to it."
Contact reporter Tom Ragan at tragan@reviewjournal.com or 702-224-5512.