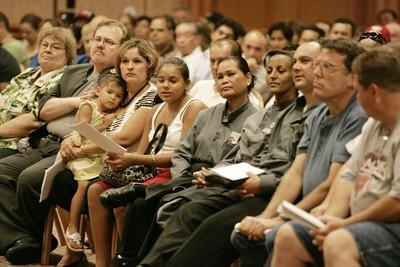 The job sounded simple enough: Climb into the manhole, cut open a pipe and fix the clog causing the sewage backup.
Yet the plan made David Snow uneasy. They should call the company they typically used for that kind of work, he told a supervisor.
Mark Seglin, another worker at The Orleans that February afternoon, told another supervisor the plan "was not a good idea."
Despite the protestations and the noxious fumes spilling into the air above the manhole, Richard Luzier climbed into the sewer pit and started cutting. He didn't come out alive.
Neither did Travis Koehler, who jumped into the pit to save Luzier.
Snow also went down in a would-be rescue attempt. He survived, barely.
"I was dead at The Orleans," he said. "I came back from the dead."
The deaths of Koehler, 26, and Luzier, a 48-year-old married father of two, triggered a six-month investigation by the Nevada Occupational Safety and Health Administration.
The results of that investigation, released Tuesday, found a litany of workplace safety violations that led to the deaths, a history of workplace safety violations at Boyd Gaming Corp. properties and missed opportunities to change the lack of a "safety culture" within the company.
"Corporate understood what types of hazards were associated with those properties yet chose not to take action to ensure the health and safety of workers," an OSHA report on the incident said.
Under an unprecedented agreement with OSHA, Boyd Gaming will pay $185,000 in fines and revamp safety programs at its nine Nevada properties under OSHA supervision.
"Regardless of what happened or why, we have absolutely no interest in engaging in an argument over this report," Boyd Gaming spokesman Rob Stillwell said. "It was a horrific tragedy, period. And we see OSHA as our partner in our effort to prevent another tragedy like this from happening again."
MONDAY
Gang members tied to shooting
Locals with gang ties are likely to blame for last Sunday's early morning brawl on the Strip that ended with four bystanders with gunshot wounds, Las Vegas police said.
Police distributed surveillance videos of some of the men involved in the fight and asked for the public's help in identifying them.
Las Vegas police Capt. Curtis Williams predicted the gunman in the shooting and "everyone that was involved" in the melee that led to the shots "will have charges brought against them."
TUESDAY
Romney plans to return often
Republican presidential candidate Mitt Romney campaigned publicly in Las Vegas for the first time.
He seemed surprised by recent polls that have shown him ahead among Nevada Republicans. Most analysts chalk up much of Romney's appeal in Nevada to the state's large Mormon population, estimated at 9 percent.
As he left a news conference, at which he was joined by former Nevada Gov. Kenny Guinn, a supporter, Romney told Guinn, "I'm going to be back so many times you're going to get sick of me."
WEDNESDAY
$500 million arena plans unveiled
Harrah's Entertainment and Anschutz Entertainment Group officials unveiled plans for a new sports arena.
The $500 million, 20,000-seat arena will be built on 10 acres owned by Harrah's behind Bally's and Paris Las Vegas and be completed without taxpayer dollars, company officials said.
Officials at AEG and Harrah's said they have funding for the project.
"We have never announced a deal and not built," AEG President and Chief Executive Tim Leiweke said. "We'll save our bluffing for the tables downstairs."
THURSDAY
School year begins short 363 teachers
Clark County School District officials said they will begin the school year short at least 363 teachers, a shortfall district officials attribute largely to the rapid growth of the Las Vegas Valley.
Recruiters have been working since mid-June to reduce a shortage that was then more than 1,100. But with 11 new schools opening and an estimated 11,640 more students expected to pour into the nation's fifth-largest school system on Monday, the challenge was great, district officials said.
FRIDAY
Network pulls food bank support
The Community Food Bank of Clark County has been selling some donations it has received — including groceries, toiletries, even camping equipment — that should have been given away.
America's Second Harvest, a network of more than 200 food banks and food-rescue organizations nationwide, terminated Community Food Bank's membership because of the "serious violation of the core values" of the network. That move has the potential to shut down the three-decades-old agency, the only one of its kind in Clark County.
"They were selling food and other items they had collected to be given to hungry Americans," said Phil Zepeda, a spokesman for America's Second Harvest.
"No hungry American should ever have to pay for food," Zepeda said.
COMPILED BY MICHAEL SQUIRES
READ THE FULL STORIES ONLINE AT
www.reviewjournal.com/wir
Week In ReviewMore Information