Brain center is new wrinkle for Lou Ruvo Brain Institute
February 18, 2009 - 10:00 pm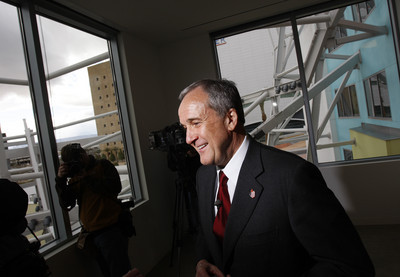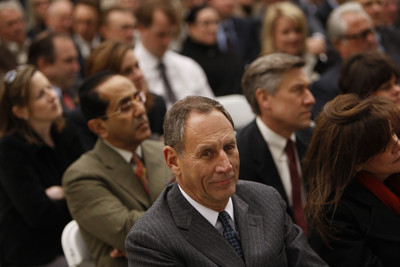 By midsummer, a city known for its glitz will be ground zero for treating neurological brain disorders and the location of the Cleveland Clinic's newest center for brain treatment and research.
To many of Nevada's public figures, this news elevates Las Vegas' status beyond its usual associations.
"The bar has been raised," Mayor Oscar Goodman said Tuesday during the official announcement of a partnership between the Keep Memory Alive Foundation and the Cleveland Clinic. He added that Las Vegas soon will be the location of a cure for Alzheimer's.
To Las Vegans already on the ground — providing care and resources to Nevadans with neurodegenerative brain disorders — the Cleveland Clinic Lou Ruvo Center for Brain Health means gaps in health care will be filled.
"I think that the saying 'the rising tide lifts all ships' is appropriate," said Kathy Silver, chief executive officer of University Medical Center. "Obviously the Cleveland Clinic is very well-known, and the fact that they've chosen our community is a very good thing. Las Vegas is maturing. … The Cleveland Clinic is going to benefit all of health care. They're bringing some cutting-edge treatment, and that's a real great benefit to our community."
Larry Matheis, executive director of the Nevada State Medical Association, called the endeavor a major resource for the community. And it couldn't have come at a better time.
"This is very positive news at a time when we're struggling to keep our health care infrastructure from falling," Matheis said.
Under the partnership with the Keep Memory Alive Foundation, which funds the Lou Ruvo Brain Institute, and the Cleveland Clinic, the world-renowned academic medical center will staff and operate the facility at Bonneville Avenue and Grand Central Parkway.
The Lou Ruvo Brain Institute was started by Larry Ruvo, a Las Vegas businessman whose father, Lou, died of Alzheimer's.
The mission is to provide top-quality care and guidance to those who suffer from neurological brain disorders such as Alzheimer's, Huntington's, Parkinson's and amyotrophic lateral sclerosis, or ALS.
Research and finding cures to neurological disorders is also part of the mission, especially as those diseases increase while the nation's aging population grows.
By 2010, Nevada will have more than 29,000 seniors age 65 and older with Alzheimer's disease, according to an Alzheimer's Association 2008 report. That represents the fifth-highest growth rate in the country in the past decade, up 38 percent from 2000.
Louis Carrillo, regional director of the Alzheimer's Association's Desert Southwest Chapter, said adding the Cleveland Clinic's resources increases the chances that people will get the help they need.
"The overall concept is going to bring more public awareness about the brain disorders to our community. The Cleveland Clinic brings more professionals to our community, and those professionals are only going to help fill gaps," Carrillo said. "That's something we're very much anticipating."
Laurie Moore, director of the Senior Mental Health Outreach Program and founder of the Children of Older Parents Support Group in Las Vegas, said the Cleveland Clinic's reputation alone is enough to bring excitement to Nevada.
"I've heard the Cleveland Clinic is the place you want to take a loved one, especially if they have a complex medical issue," she said. "The process of having one location for care is just terrific."
Silver said UMC welcomes the Cleveland Clinic.
Clark County's only public hospital hasn't been contacted directly by Cleveland Clinic officials, but "they've asked to speak to us in the next couple of weeks," she said.
UMC does not have a dedicated unit for neurological disorders, but it does have a dedicated stroke program, she said.
Dr. Delos "Toby" Cosgrove, chief executive officer and president of the Cleveland Clinic, said it is in the process of selecting physicians for the Las Vegas brain center.
There's already a Cleveland Clinic Lou Ruvo Center for Brain Health in Ohio.
"Once we've selected the physicians, then we'll start the whole process with patients," Cosgrove said. "This is not a new process for us. We've done this in multiple locations across the country and outside of the United States."
Once the building is complete and the physicians are ready to run the clinic, Cosgrove said, the hope is to provide comprehensive treatment to anyone in Nevada with a neurological disorders regardless of their ability to pay.
Contact reporter Annette Wells at awells@reviewjournal.com or 702-383-0283.