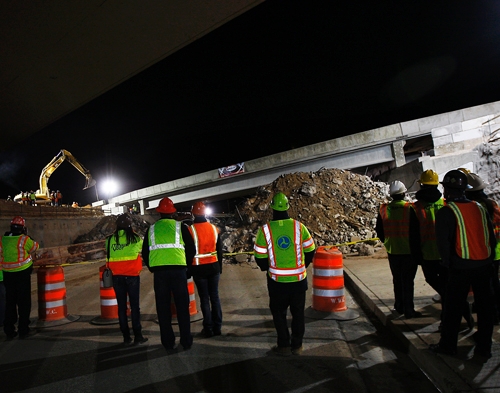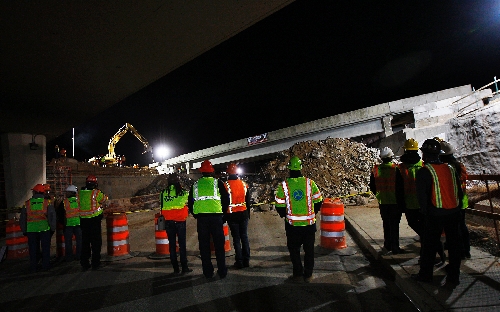 The bid that came in on the state's Interstate 15 bridge project seemed improbable, too good to be true and too inexpensive to pass up.
Two Utah companies joined forces and submitted a $15 million bid to construct northbound and southbound bridges on Nevada's busiest freeway in the heart of Mesquite, with new interchanges on either side of the interstate.
Representatives of W.W. Clyde and Horrocks Engineering then said they could complete the project without closing Falcon Ridge Parkway, the east-west arterial that scoots below I-15 and the primary reason new bridges were needed. Then they said it would take about 56 hours to demolish and replace each span.
Mesquite City Councilman Karl Gustaveson was skeptical.
Then, Gustaveson said, the start date was delayed a month when the state discovered swallows nesting under the deck of the existing bridges and had to wait until they migrated.
"I think it's incredible," he said Tuesday night as he watched Nevada's first "bridge slide" put into place. "The whole community has been amazed. It's been great. It's almost like they (contractors) were never even here."
Despite the monthlong delay, the project remains ahead of schedule and on budget. The two companies are executing a design that includes the bridge slide and roundabouts where Falcon Ridge meets the ramps to I-15. The unique approach was far less expensive than a traditional interchange with flyovers, a design that hovers around
$50 million to construct.
New bridges were needed after transportation officials determined that the existing spans' support beams prevented them from widening Falcon Ridge.
Crews built the new bridge on a temporary foundation feet away from the existing southbound I-15 bridge over Falcon Ridge. Using hydraulic jacks and plenty of Dawn liquid dish soap for lubrication, the bridge was placed on a rail and over several hours slowly moved into place after the old span was demolished. Once locked in, the freeway is repaved and reopened.
"It just hit me in the last few days that this thing is actually going to move," said the Nevada Department of Transportation's resident manager Martin Strganac . "Everything has to be exact."
Workers completed the move of the southbound span early Wednesday and will start work on the northbound bridge Tuesday.
Throughout the process, traffic on I-15 continued to flow smoothly off the freeway, across Falcon Ridge and back onto the interstate. There was far less traffic than normal for more than 12 hours Tuesday night because authorities had closed down I-15 between Littlefield, Ariz., and southern Utah when they feared a bank robbery suspect who committed suicide may have had explosives and poison in his car.
In addition to the $35 million taxpayers saved over traditional construction, the Department of Transportation estimated that $12 million was saved in motorists' time and fuel costs. Because I-15 is a vital commerce corridor, transportation officials could not afford to have the freeway reduced to one lane while the bridges were built.
Mesquite Mayor Mark Wier said a complaint hot line was open to motorists and residents since crews began constructing the new bridge in the spring.
"At last count, we had absolutely zero complaints on this project," he said. "It's a blueprint for doing things the right way."
Federal Highway Administrator Victor Mendez said his department has encouraged states to be more innovative in their approach to major projects. Mendez was aware of the bridge slide technique, but he traveled to Mesquite on Tuesday to see firsthand how it worked.
"We stress innovation to get our projects delivered faster, better and smarter," he said after taking a close-up tour of the bridge hours before it was slid into its permanent position. "We want to see how we can raise the bar to deliver to the traveling public. Nevada has taken a lead role."
Susan Martinovich, director of the state Department of Transportation, acknowledged that the agency struggled with choosing Utah firms rather than a Nevada-based company. She said Utah has built more than a dozen bridges using the slide technique; no Nevada company has ever used the method.
The department is exploring its list of future projects to determine whether the same technique could be used in the Las Vegas Valley. Crews need plenty of space on either side of a structure to build the new bridge, and that is more difficult to find in urban areas, she said.
Contact reporter Adrienne Packer at apacker@review
journal.com or 702-387-2904.