Bridge bypass traffic woes irk officials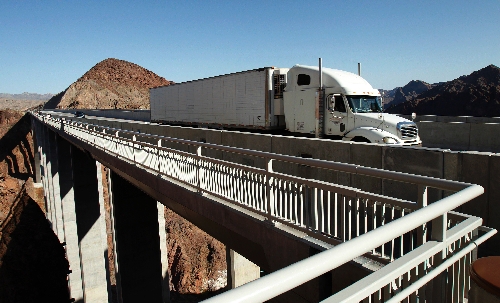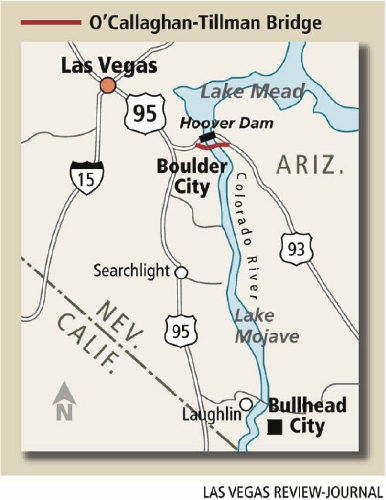 Bullhead City Mayor Jack Hakim sympathizes with Boulder City's well-documented struggles to accommodate tractor-trailers headed for the Hoover Dam bypass bridge. But Nevada's recent request to temporarily reroute big-rigs through his Arizona town presents far greater dangers, Hakim said Wednesday.
Hakim was livid Tuesday when he received a copy of a Nevada Department of Transportation letter formally requesting the Federal Highway Administration's support when it bans trucks from U.S. Highway 93 starting in July. The restrictions, which have yet to be detailed, would be in place until December while the highway is widened to four lanes in Nevada to alleviate congestion.
The letter said the exact restrictions have yet to be determined; it could be a complete ban or just on certain days or hours.
To Hakim, that makes little difference.
"Boulder City and NDOT had 10 years to deal with this," Hakim said. "I can't help it if they didn't have the vision to look at that situation and deal with it. Arizona spent $5 million, maybe more, to widen the freeway (on the south side of the bridge), and nobody even lives there."
Boulder City businesses and residents have complained about the backup on U.S. Highway 93 since the bypass bridge opened in October and trucks were allowed to return to the route. Commercial vehicles were banned from Hoover Dam for security reasons after the Sept. 11, 2001, terrorist attacks.
For the past decade, trucks traveling between Nevada and Arizona were diverted through Laughlin and Bullhead City, adding about 45 miles to their trip.
Since the bridge opened, bottlenecks have occurred on two miles of the northbound highway on the fringe of Boulder City and five southbound miles because those portions are only one lane in each direction. The remainder of the highway is two lanes in each direction.
In the April 29 letter to the Federal Highway Administration, Nevada Department of Transportation Director Susan Martinovich noted that aside from the congestion and long travel times that might harm Las Vegas tourism, the number of accidents on the highway has increased since the completion of the bridge.
For those reasons, "NDOT is planning to implement a temporary restriction of commercial motor vehicles during a construction project to widen U.S. 93," Martinovich wrote.
The state opted to fund the impromptu project itself to avoid strict and time-consuming environmental impact studies that accompany federal funding.
"This aggressive and expedited schedule is dependent on minimizing traffic, particularly trucks, through the corridor," Martinovich wrote. "NDOT will be developing strategies to prohibit commercial motor vehicles during construction. We feel this is necessary to minimize the safety concerns and congestion which if no restrictions were made would be exacerbated."
Hakim was infuriated that though his city was mentioned in the letter, he was not sent a copy. Instead, a "source" delivered the letter to Hakim on Tuesday, he said.
"Did she ever say she wanted to work with Bullhead City and we want to work with Laughlin? That was an insult; that was outrageous," Hakim said. "We're not going to sit still."
Hakim said he plans to meet with city leaders and Arizona Department of Transportation officials May 10 to discuss his town's options. He suggested that commercial vehicles use a designated truck route along U.S. Highway 95 to Interstate 40 just west of Needles, Calif., a trip that would add about 100 miles to the trip between Las Vegas and Phoenix.
In the decade that trucks passed through Laughlin and Bullhead City, Hakim said several crashes tied up the only bridge linking the two communities for hours. Shared emergency personnel couldn't cross the Colorado River, and the hospital is in Bullhead City, he said.
The highway from Kingman, Ariz., to Bullhead City has a 6 percent "steep as hell" grade on a 10-mile stretch, Hakim said. The mayor said the three runaway truck ramps that exist on that portion is evidence that traffic engineers recognize the brake problems big-rigs might encounter on the road.
"They come down this hill, their brakes fail, they get into our city out of control, and they smash into the traffic at the intersection of 95 and the bridge," he said. "From Laughlin, trucks have gone into the river, trucks have flipped as they make a turn onto the bridge. We have had cranberry juice all over the streets. It is our city that has to deal with all of this."
Hakim has been inundated with emails and phone calls from residents fearful that the trucks will return.
In an email sent Wednesday morning, resident Robert Schumaker outlined a near head-on collision on the Laughlin bridge with a tractor-trailer that had lost its brakes coming down state Highway 163. Schumaker urged Hakim to pass along his story to Martinovich.
"The driver's speed was estimated at apprx. (approximately) 80-100 mph," Schumaker wrote. "Our lives changed forever that night, and we still feel the effects of the preventable accident. Advocating this detour again is an invitation for disaster."
Boulder City has had its problems, too.
Martinovich said the number of accidents along U.S. Highway 93 approaching the bridge had decreased significantly over the years. However, after the opening of the bridge, they increased to the 2007 rate, which was 45 accidents. Boulder City emergency crews have complained that their response times have slowed, as the highway is the quickest route to many calls.
Last month, residents complained that the bumper-to-bumper traffic on the highway kept them trapped in their neighborhoods. City officials told stories of motorists using recreation pathways to avoid the standstill traffic.
Paul Enos, chief executive officer of the Nevada Motor Transport Association, previously said members accepted the 10-year detour because they understood the terrorist threat. He said he would strongly oppose forced diversions that single out truckers.
Allen Puliz, who owns a trucking business in Las Vegas, said the Laughlin route creates a hardship for companies already struggling in a bad economy. He estimated the more circuitous route through Laughlin added 26 miles; each mile costs the trucking outfit about $1.25, he said. The steeper grades also made for far less fuel-efficient trips.
"Laughlin was tough; it hurt us a lot," Puliz said.
The $240 million bypass bridge was paid for with federal funds and built to improve the movement of goods throughout the United States between the Mexican and Canadian border. Las Vegas and Phoenix are the two largest neighboring metropolises in the country that are not connected by an interstate highway.
Contact reporter Adrienne Packer at
apacker@reviewjournal.com or 702-387-2904.