Brig. Gen Halstead: Accountability, leadership needed to handle military challenges
January 19, 2014 - 7:52 pm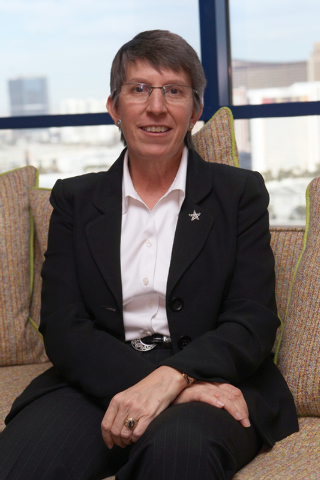 Big spenders need great leaders, especially in the military.
From Defense Secretary Chuck Hagel down to the squadron commanders at Nellis and Creech Air Force bases, spending the nearly $600 billion Congress allotted the Pentagon to get through the 2014 fiscal year will be a balancing act that requires effective leadership matched with accountability at all levels.
So says retired Army Brig. Gen. Becky Halstead, who speaks from her experience as the former senior commanding general for logistics in Iraq during the war's peak in 2006.
As the first woman in U.S. history to command in combat at the strategic level and the first female West Point graduate to wear the single star of the brigadier general rank, she spoke about the Pentagon's budget as it pertains to force reductions as U.S. troops withdraw from Afghanistan this year. She traveled to Las Vegas this month, wrapping up a motivational speaking engagement Jan. 10 at the Rio where she promoted her book, "24/7 — The First Person You Must Lead Is You."
To avoid automatic spending cuts like what happened last year in the wake of the sequester law, Congress last week passed the $1.1 trillion budget that includes $572 billion for the Department of Defense, not counting $85 billion for the war effort. The massive measure was signed las week by President Barack Obama.
"It's going to be easy for some waste and fraud and abuse because it's so huge," Halstead said in anticipation of the defense budget. "But that just goes back to leading yourself first. Everybody at every level ought to be scrutinizing their piece of the pie. What do you really need versus what do you want?"
In Nevada, the Air Force — the largest active duty military employer in the state with nearly 10,700 airmen combined at Nellis and Creech — got most of its "wants" on top of its "needs." The exception would be money to avoid early retirements nationwide for certain noncommissioned officers and lower-ranking officers who are not expecting promotions that would offer more robust retirement benefits.
The massive spending measure, known as the 2014 Omnibus Appropriations Bill, provides:
■ $35 million for a dormitory for 240 airmen at Nellis;
■ $20 million to build a Remotely Piloted Aircraft training facility at Nellis;
■ $11.3 million for a wastewater treatment plant at Naval Air Station Fallon;
■ $9.4 million for an F-35 Lightning II joint strike fighter fuel cell hangar at Nellis;
■ $9.1 million for an F-35 aircraft parts facility at Nellis to accommodate 36 joint strike fighters.
■ $5 million for mission equipment storage for F-35s at Nellis.
With a budget intact, Air Force leaders can continue planning for a full complement of Weapons School and Red Flag air combat exercises at Nellis, and a season of performances by the Thunderbirds air demonstration team, all of which were cut short last year by automatic budget cutbacks in the wake of the sequester law.
The military's reserve components including the National Guard and the Army and Air Force Reserve receive $1 billion to buy aircraft, missiles, tracked vehicles, ammunition and other weapons.
As for how that translates to the Nevada National Guard "it is too early in the fiscal year to forecast any cutbacks or funding issues," Nevada Guard spokesman Army Sgt. 1st Class Erick Studenicka said Friday.
He said the national and state military funding picture will come into focus "within a few weeks." Meanwhile, personnel numbers for the Nevada National Guard remain near all-time high levels with about 3,120 soldiers and 1,130 airmen.
Under the spending measure, active duty military personnel will receive a 1 percent cost-of-living pay increase.
Rep. Joe Heck, R-Nev., who is a member of the House Armed Services Committee, supported the spending bill "because it takes an important first step in correcting the injustice that was done to our retired service men and women in the Bipartisan Budget Agreement."
"This bill restores pension benefits for medically retired personnel and survivor benefit plan recipients that were cut in that agreement. It does not go so far as to include working age retirees," Heck noted.
That hits home with Halstead, who retired from the Army in 2008, three years after doctors diagnosed her with the excruciating, soft-tissue disease, fibromyalgia. The malady affects nerves that overlap the body's skeletal-muscular system.
She said the "hardest piece of budget for our military is the pay and benefits for our people. People are the most expensive thing next to equipment."
For many of the roughly 300,000 veterans who live in Nevada and for military men and women approaching the end of their service careers, budget uncertainties have raised anxiety levels for them and many like them across the nation, according to a recent survey conducted for a long-standing financial planner for families of military and government workers.
They are "feeling increasingly nervous about the impact of defense downsizing on their financial and professional lives, and retirement benefits are their top concern," said Scott Spiker, CEO of First Command Financial Services Inc., based in Fort Worth, Texas.
"Our study tells us military families are very apprehensive about what this means," he said last week.
The firm's survey of 200 military respondents and 340 from the general population was conducted from Dec. 16 through Dec. 23. It found that more than one-third, 37 percent, of middle-class military families — senior noncommissioned officers and commissioned officers with household incomes of at least $50,000 — are concerned about job security.
That represents a notable increase from one-fourth who expressed job-security concerns in an August survey. The surveys carry a 4.3 percent margin of error for a 95 percent confidence level.
Spiker said those most concerned about job security are noncommissioned officers in the Army and Marines who are 17 to 18 years into a 20-year career. "They are now proposing early retirement boards for people who don't get promoted on the first pass. Usually they get three passes," he said.
Equally affected are majors who don't make it to the rank of lieutenant colonel to retire and settle for a substantially reduced pension.
"If you get pushed out at 15 years, you might get 15 to 20 percent of what you thought you were going to get," Spiker said. "It could be as little as that. It depends on when they say, 'adios.' "
Halstead said getting defense money appropriated is one thing. Spending it wisely and within a unit's means is another.
"I tie everything to leadership," she said. "I think we live in a time when there are very few consequences to people who are not held accountable. Leaders need to be held accountable, and part of that is their budget.
"In business, in government, in the military, if you're responsible for a budget, be responsible. Hold yourself accountable. And that's an important part at all levels," Halstead said.
Contact reporter Keith Rogers at krogers@reviewjournal.com or 702-383-0308.