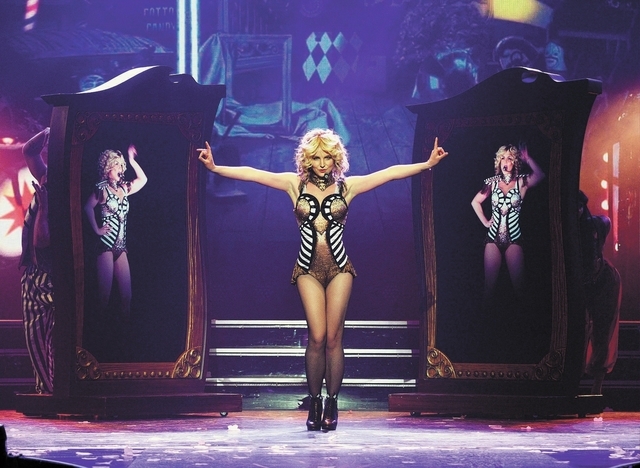 There's no denying Britney Spears' immediate impact: She's ignited more debate in one week than any Las Vegas headliner in recent decades.
Music critics came out of the woodwork to review Spears' headliner launch at Planet Hollywood Resort.
Many a review addressed the lip-syncing issue. Some asked if it really matters. Her management denies it.
Spears' rabid fan base basically responded with: Get over it.
An out-of-town friend may have best explained Spears' defenders: "A deejay friend told me, 'People want to hear the song more than they want to hear the singer.' "
That's where the trend is going, fear some old-school members of the music community.
"It's style over substance," said Bill Fayne, longtime musical director. "We can't go back to the way it was so you have to learn to roll with it."
His colleagues shudder at the thought.
I asked if they considered lip-syncing cheating.
"It is to me," said another veteran musical director, one of several local music veterans who spoke on the condition of anonymity.
A prominent entertainer compared it to "a basketball player shooting a video in practice, editing it and saying 'look at me hitting all those jump shots.' "
Read the full Q-and-A interview at normclarke.com.
JANUARY BIRTHDAYS
Nicolas Cage, Jan. 7, 1964; Elvis Presley, Jan. 8, 1935; Myron Martin, January 14, 1958; Rene Angelil, Jan. 16, 1942; Steve Wynn, January 27, 1942.
THE SCENE AND HEARD
Luana DeVol, an international opera star known for her Brunhilde role, has been appointed general director of Opera Las Vegas. The company's first fundraiser is scheduled for Jan. 11, with Met superstar Denyce Graves making a cameo at DeVol's request. Frankie Moreno will perform at the event, which will be held at the home of Bruce and Barbara Woollen in Anthem Country Club.
SIGHTINGS
Broadway star and actress Kristin Chenoweth, dining with friends at Lavo (Palazzo) on Wednesday, a day after her New Year's Eve performance at the Smith Center. … Boxing champ Floyd Mayweather Jr., at N9NE Steakhouse (Palms)with a group of friends that included actress K.D. Aubert. Earlier, Paris headliner Taylor Hicks was in with his girlfriend. … Paris Hilton, at Penn & Teller (Rio) on Wednesday in a booth next to Steve and Andrea Wynn. … "Real Housewives of Atlanta" cast members NeNe Leakes, Cynthia Bailey and new addition Mynique Smith, partying at Tryst (Wynn) on New Year's Eve. Leakes joined Lil Jon in the DJ booth. … Hip-hop artist J. Cole, dining with friends at Carmine's (Forum Shops at Caesars) on Wednesday. … Nicky Hilton and little brother, Conrad, firing away at the Strip Gun Club on Monday. Also there: singer Eva Simons, who collaborated on a song with Afrojack. … La Toya Jackson, with a male friend at Andrea's (Wynn) on Monday. They were presented with personalized chopsticks by executive chef Joseph Elevado. … Also at N9NE since it's reopening last week: Holly Madison, celebrating her 34th birthday, Matthew Perry of "Friends," Robin Thicke and former NFL star Warren Sapp.
THE PUNCH LINE
"If our religion didn't forbid the use of telephones, I would ask thee for thy number." – From David Letterman's "Top 10 Amish Pick-up Lines"
Norm Clarke can be reached at 702-383-0244 or norm@reviewjournal.com. Find additional sightings and more at normclarke.com. Follow @Norm_Clarke on Twitter.