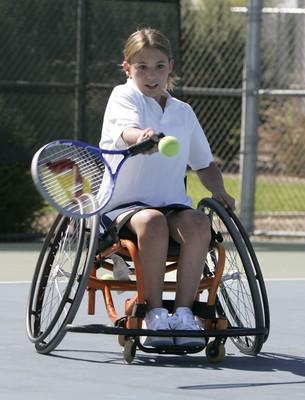 SPOKANE, Wash.
The second thing you notice about Brittney Bergeron is that she's a pretty girl with a playful smile, a honey-colored ponytail and a summertime tan.
She laughs easily with her Las Vegas Blaze Sports teammates as she wheels through the staging area during a break at the National Junior Disability Championships at Spokane Falls Community College. It's one of those picture postcard days with endless blue skies and a slight breeze rustling the big spruce trees, and Brittney is competing in her division against the best young wheelchair athletes in the country.
I have had the chance to get to know her over the past year as she and my daughter, Amelia, have become friends as members of the Blaze team. From the start, Brittney encouraged Amelia to fight through her pain and fatigue and keep pushing, whether the girls were in the gymnasium, at the pool or on the track. Brittney was friendly and kind.
The first thing you notice about Brittney is how together she is for a 15-year-old girl who has been through hell and is now in limbo. She not only has managed to make the adjustment from walking to a wheelchair, but these days she's thriving on many levels.
She lives with her foster parents, Judy and Bill Himel, but wants to be adopted by them against her birth mother Tamara Schmidt's wishes. Schmidt is fighting the attempt to terminate her parental rights from a prison cell, where she's serving time for felony neglect after her irresponsibility resulted in the murder of her 3-year-old daughter, Kristyanna, and the paralyzing of Brittney.
The absurdity of that last sentence tells you all you need to know about Brittney's predicament. The District Court has seen fit not to grant her very reasonable request, and her case is on appeal at the Nevada Supreme Court.
The injustice being done this young person borders on cruelty. Her request is not some childish whim. Once you get to know her even slightly, it becomes obvious that she's trying to move on with her life and leave behind a nightmare no child should have been forced to endure.
Brittney somehow managed to survive a horrific knife attack in January 2003 in an RV outside the Casablanca casino in Mesquite. That attack killed her little sister.
Beau Maestas later told police he committed the crime after being ripped off in a minor methamphetamine deal with Tamara and Robert Schmidt, who sold him salt instead of the drug.
Maestas received the death penalty. Tamara Schmidt was sentenced to four to 10 years for child neglect.
After Brittney's physical wounds healed, she went to live with the Himels, who have spent years caring for foster kids with extreme needs. For more than four years they've nurtured Brittney into the independent person she is today. Their bond is great.
With their help, Brittney travels the country to compete. At home, she has her own room, maintains good grades, cares for the three family dogs, and plans to become a veterinarian. She receives daily help with her physical issues and is constantly on the move.
Brittney should be applauded and assisted in her journey, and instead the court system is attempting to block her already difficult path.
You want the unvarnished truth about this girl?
Here it is.
"I have to say that I think it was better that it happened," Brittney says. "I got a better life. If this hadn't happened, I wouldn't be doing anything. I would be sitting in a trailer taking care of my sister, doing nothing, just sitting around. I get to be a kid now. When I was at home, I never got that. I had to be a grown-up. I had to take care of my sister and be the grown-up.
"I can't do everything, but I can do a lot of things. In a way, I'm glad it happened. It changed things for me. It's better this way."
She knows how that might sound to some people. She lost her little sister on that night. She fought her attackers and lives with the scars.
"I wish that it could have played out differently for my sister and that she could be here, too," Brittney says. "It probably was kind of better that she passed on. She would have been … damaged, but then again I wish she was here. It's hard."
Brittney admits she doesn't have much patience for her mother. The court has ordered them to speak over the phone, and the Himels have insisted that Brittney take the calls from the prison.
"But I don't want to talk to her," she says. "There's really nothing to talk about. The only thing I want is to be adopted. I don't have much to say to her. I love her, but I don't have much to say to her.
"I love my mom. I'm not trying to hurt her and stuff. But she didn't take care of me before, and there's no way she can take care of me now that I need so much more. I love her and I will always love her, but I have a family now. And my new family loves me and can take care of me. She says that she loves me, and she says, 'I'd do anything for you.' But the only thing I really want is to be adopted. And that's the only thing she won't give me."
For now, Brittney waits for Nevada's high court to do the right thing. She understands better than some adults where she wants to go.
Our conversation over, she pushes her racer toward the starting line for another event.
That's another thing you notice about Brittney.
Against daunting odds, she's moving forward with her life.
John L. Smith's column appears Sunday, Tuesday, Wednesday and Friday. E-mail him at Smith@reviewjournal.com or call 383-0295.
JOHN L. SMITHMORE COLUMNSDiscuss this column in the eForums!
Mesquite Child StabbingsNews Archive