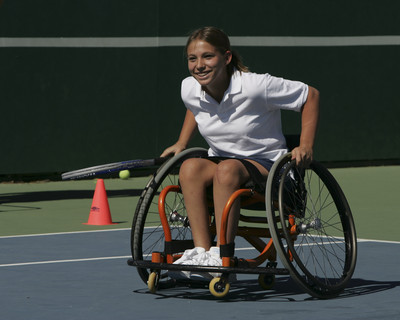 Brittney Bergeron has experienced an inordinate amount of heartache in her 15 years, but on Thursday she had cause to celebrate.
Behind closed doors in Family Court, Brittney's mother granted the teenager's longtime wish. Tamara Schmidt, who is serving a prison term for child neglect, formally relinquished her parental rights and signed an open adoption agreement with the foster parents who have shared their home with Brittney for five years.
"It's a happy, happy day, but it's unbelievably frustrating that it took this long to get there," said Deputy District Attorney Brigid Duffy.
The mother's lawyer, Christopher Tilman, said his client's decision resulted from a long process that involved extensive discussions with her therapist.
"To say it's an emotional thing to relinquish the rights to a child you love is the grossest understatement you can make," Tilman said.
Duffy accused Brittney's mother of waiting until the eve of Nevada Supreme Court arguments in the case to give up her rights.
"I don't think she's a martyr for it today," Duffy said.
Family Court Judge Gerald Hardcastle previously rejected Duffy's efforts to terminate Schmidt's parental rights. The state's high court was set to hear arguments on the appeal of his decision next month.
In October 2005, Schmidt received a prison term of four to 12 years for leaving her two daughters at their Mesquite home, where they faced a knife attack by intruders. Schmidt's husband, Robert, received a sentence of two to 10 years.
Authorities said the girls were stabbed in January 2003 by a pair of Utah teenagers, siblings Beau and Monique Maestas, in revenge for a bogus methamphetamine deal orchestrated by the Schmidts, who were girlfriend and boyfriend at the time.
Brittney, then 10, was paralyzed from the waist down, and her 3-year-old sister, Kristyanna Cowan, was killed.
Beau Maestas received a death sentence, and his sister must spend at least 67 years behind bars.
Duffy said Schmidt's first chance for parole will come just months before Brittney becomes an adult.
Tilman, who began representing Schmidt in July, said she and her husband, Brittney's stepfather, had rehabilitated themselves and were headed toward reunification with Brittney before they were sent to prison.
Schmidt, 39, met with Brittney's foster parents, Judy and Bill Himel, at the Family Court building Thursday.
"There was hugging and crying," Tilman said.
He said Brittney "thinks the world" of the Himels.
The lawyer would not reveal terms of the adoption agreement, but he said it allows Brittney and Schmidt to have continued communication. Tilman said the two have not seen each other since Schmidt went to prison and did not see each other Thursday.
"People relinquish their parental rights generally out of extreme love for a child, and this was no exception," he said.
Brittney met privately with Family Court Judge Cynthia "Dianne" Steel before Schmidt's decision was announced Thursday. Neither Brittney nor her mother attended the hearing.
Outside the courtroom, Judy Himel said Brittney learned only recently about her mother's change of heart.
"She's been dancing in her chair for a couple of weeks," Judy Himel said.
The Himels have spent years raising foster children with extreme needs. They have adopted three of them.
Brittney's attorney, Steven Hiltz, said she has thrived in the Himels' care and is on her way to becoming a world-class wheelchair athlete.
Hiltz said he met with Brittney after her mother signed the paperwork. "She looked at me and she said, 'I am so happy.' "
The lawyer said he hopes Brittney's adoption can be finalized by summer. First, her father's parental rights must be terminated, but, Hiltz said, "Nobody's heard from him in five years."
Hiltz said the adoption will give Brittney the chance to feel like a normal child.
"There is a stigma attached to being a foster-care child," he said, adding that foster children "feel like second-class citizens."
For example, Brittney's status prevents her from participating in such typical teenager activities as sleepovers, because spending the night at a friend's home requires fingerprinting and a police background check for the friend's parents.
In addition, she must obtain permission to travel out of state for activities such as athletic events.
"She's a ward of the state. She needs permission to do things," Hiltz said.
The Himels have "made her into this great all-American girl," he said. "And yet she still has case workers and court hearings, and kids aren't supposed to have that."
Contact reporter Carri Geer Thevenot at cgeer@reviewjournal.com or (702) 383-0264.
Mesquite Child StabbingsNews Archive