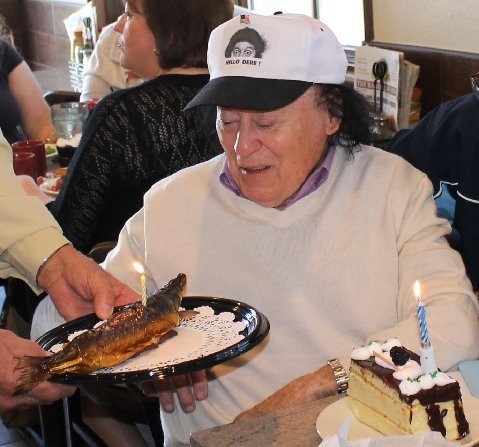 San Diego sports broadcasting legend Ted "Loveable" Leitner is an Web sensation after an epic meltdown at the Thomas &Mack Center. Leitner went ballistic Saturday in the final minutes of the Mountain West title game between San Diego State and New Mexico.
His on-air rant came in response to a security guard interrupting Leitner's play-by-play at the most critical time, demanding the broadcaster's suitcase be moved.
"The suitcase was right behind the chair next to me," said Leitner, who had a quick flight to Arizona. "It had been there the entire game. It wasn't going to be in anybody's way.
"I understand all about 9/11, but this is overzealousness," said Leitner, reached Tuesday in Arizona where he was back in the booth as the longtime voice of the San Diego Padres.
With 75 seconds to go in a tight game, Aztecs fans heard Leitner go off the rails.
"Unbelievable!" he wailed. "These people are unbelievable in this arena. They got security guards, think they're guarding the Pentagon. … Stupid! Totally stupid. … These morons think the terrorists are honing in here on the Mountain West tournament in Las Vegas."
In 35 years as the voice of the Aztecs, Leitner said, he's never missed a play and in 40 years as a broadcaster never engaged in an on-air argument during a game.
"This has never happened in my broadcast career," he said. "We're here to cover a basketball tournament. You're the fans' ticket to the ballgame. You can't miss big stuff like that."
He wasn't done.
"The guy couldn't wait for a commercial or a timeout? Clearly he's seen us for two hours. Here's New Mexico racing up the court and some guy is yelling, 'Who's suitcase is this?' By the time I turned my head and responded, I missed New Mexico scoring the go-ahead basket."
Efforts to get a comment from UNLV or the Mountain West got nowhere.
"This was a Mountain West event, so I am copying Javan Hedlund on this. He is the conference's associate commissioner for communications," responded Andy Grossman, UNLV assistant athletics director of communications.
"That's a great group they got there," Leitner continued, "but a half dozen of those guys acted like a paramilitary group in charge of guarding Fort Knox."
It wasn't just one incident, he said. At the start of the game, a security guard stood in front of Leitner's broadcast section and hollered over his play-by-play, he said. While on the way to the restroom with a member of the SDSU contingent, Leitner said, a security guard yelled at them to stop because he couldn't see a credential. "It was under my friend's necktie."
Afterward, he was approached by the security guard who created the late-game ruckus.
"To his credit, he waited until after the game when I had cooled down. He stuck his hand out and apologized."
Asked whether he would pursue the incident further, Leitner said no.
"It's over. The damage is done, and I made it worse by not keeping control of my temper."
DINNER WITH OSCAR
Dinner, drinks and war stories from former Mayor Oscar Goodman are on tap at Oscar's Steakhouse once a month.
The first installment of "Oscar's Dinner Series," on Thursday, March 27, is a sellout, with about 60 patrons paying $100 to join Goodman in the private Speakeasy room in the Plaza eatery.
Goodman's subjects: "My favorite clients, judges, mobster and little people."
The topic for his May 22 dinner asks the question "Is prostitution legal in Las Vegas?"
The first dinner was sold out by word-of-mouth, said Johnathan Jossel, who operates the Plaza for Tamares Real Estate.
SOMETHING WAS FISHY
Comedy legend Marty Allen got an early birthday surprise at the Bagel Café on Saturday, a fish on a dish.
No, it wasn't the catch of the day. The Smoked Whitefish had a candle embedded in it.
It was prankster/pal Nelson Sardelli's handiwork.
Allen, who hit it big as half of the Allen &Rossi comedy duo (with Steve Rossi), turns 92 on Sunday. Still a trouper, Allen and wife Karon Kate Blackwell are performing at the Plaza on Friday, Saturday and Sunday.
Stop in and join the happy birthday serenade to this ageless wonder.
THE SCENE AND HEARD
Big-voiced Jimmy Hopper is back in town, performing at the Bootlegger Bistro for 9 p.m. Friday dinners and 11 p.m. cocktails, in preparation for his April 4 start at Mandalay Bay. …
The Wine Spirits Wholesalers of America convention and exposition at Caesars Palace April 8-10 has lined up some hot names. The keynote speaker is Jordan Belfort, whose story inspired the Oscar-nominated film "The Wolf of Wall Street," and Richard Phillips, the U.S. merchant mariner and author who served as captain of the MV Maersk Alabama during its hijacking by Somali pirates in April 2009. His story was also turned into a film, the Oscar-nominated "Captain Phillips."
SIGHTINGS
Adam Jones, guitarist for Tool, joining the girls on stage at X Burlesque (Flamingo) for the "Mile High" number. … TLC's "Sister Wives" star Kody Brown and his wife Christine celebrated their daughter Aspyn's birthday at "Blue Man Group" (Monte Carlo) on Friday.
THE PUNCH LINE
"Here's a little-known fact. The Richter scale measures the number of local news anchors who dive under their desks." — Jimmy Kimmel
Norm Clarke's column appears Sunday, Monday, Wednesday and Friday. He can be reached at 702-383-0244 or email him at norm@reviewjournal.com. Find more online at www.normclarke.com. Follow Norm on Twitter @Norm_Clarke. "Norm Clarke's Vegas," airs Thursdays on the "Morning Blend" on KTNV-TV, Channel 13.