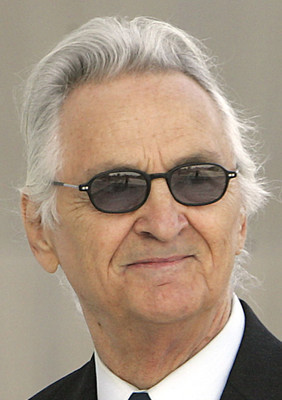 Brothel owner Maynard "Joe" Richards has changed his plea to guilty in connection with an attempt to bribe a Nye County commissioner in 2005.
The plea comes as part of an agreement unveiled in U.S. District Court on Monday that would keep the 75-year-old Richards out of prison but could force him out of the brothel business.
First, though, the attorneys on both sides will have to persuade U.S. District Judge Robert C. Jones to accept the terms of the agreement.
Jones said he had "severe reservations" about letting Richards avoid prison because the longtime brothel owner tried to "pervert a public official" for the benefit of what the judge called "an immoral business."
The judge went on to suggest that Richards might be ordered to give up his brothel licenses as part of his sentence on one felony count of wire fraud.
"Otherwise, it's like giving a person probation for drug charges but telling him, 'But you're at liberty to keep using drugs,' " Jones said.
Richards is scheduled to be sentenced on June 15.
As part of Monday's hearing, Richards admitted to paying $5,000 to Candice Trummell, then chairwoman of the Nye County Commission, so she would rewrite an ordinance that kept him from building a new brothel at the south end of Pahrump, 60 miles west of Las Vegas.
What Richards did not know was that Trummell was working as a cooperating witness for the FBI.
She wore a camera and an audio recorder to several face-to-face meetings with the brothel owner in 2005. After Richards gave her one installment of $1,000 and another of $4,000, she turned the money over to federal authorities.
Reached for comment Monday, Trummell said the "slap on the wrist" Richards would receive under the plea deal makes her wonder why she stuck out her neck.
"This is a crime that deserves real punishment, and probation isn't real punishment as far as I'm concerned," Trummell said.
She said she plans to attend Richards' sentence hearing and read a statement arguing for jail time.
Richards was indicted in March 2006 on two counts of wire fraud. Each count carries a maximum sentence of 20 years in prison and a $250,000 fine.
During the hearing, prosecutor Steven Myhre said the defendant's age and undisclosed health problems played into the decision not to seek prison time.
The agreement also might have avoided a lengthy trial. According to court documents, the evidence in the case included more than 7,700 telephone calls intercepted by federal authorities and 131 "consensually recorded" calls and almost a dozen audio and video recordings.
Richards declined comment after the hearing.
He holds the licenses for three of the seven legal bordellos in Nye County, including Mabel's Ranch, Cherry Patch Ranch and Cherry Patch II Ranch, all north of Pahrump. He also owns a massage parlor and a Pahrump strip club called The Kingdom.
If the judge rejects the terms of the agreement, Richards will be allowed to withdraw his guilty plea.
Defense attorney Thomas Pitaro doesn't expect it to come to that. He said sufficient evidence would be submitted at sentencing to "allow the court to accept the plea agreement."
He declined further comment.
Contact reporter Henry Brean at hbrean@reviewjournal.com or 702-383-0350.