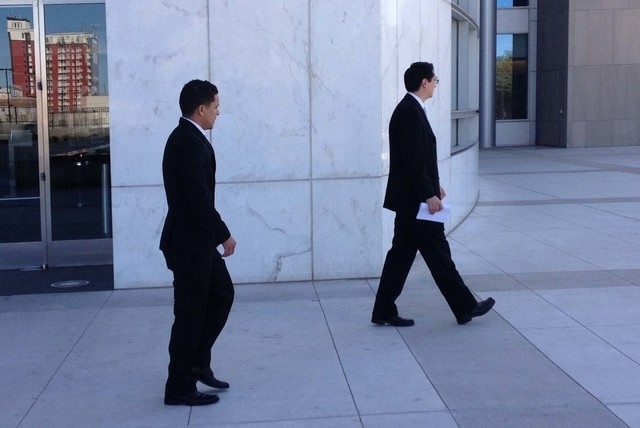 A second brother pleaded guilty Tuesday in a family-run scheme to submit phony smog test results to the Nevada Department of Motor Vehicles.
Henry A. Batista, 30, pleaded guilty before Senior U.S. District Judge Lloyd George to making a false statement to a government agency.
The DMV oversees the vehicle smog check program in Nevada for the U.S. Environmental Protection Agency under the Clean Air Act.
George set a June 23 sentencing for Batista, who is free on his own recognizance. Batista and his lawyer, Jonathan Powell, declined to comment as they left the federal courthouse.
Batista's March 2013 indictment alleges he submitted more than 500 false emission inspection reports to the DMV from local smog check kiosks between July 2009 and March 2013. Batista was a licensed emission control inspector when he worked at Snappy Car Wash on North Nellis Boulevard and Las Vegas Smog on East Lake Mead Boulevard.
His older brother, Luis R. Batista, 32, who also was licensed by the state, pleaded guilty in February to one federal count of making a false statement to a government agency.
His sentencing is May 7 before U.S. District Judge Andrew Gordon.
Batista, who is in federal custody, admitted submitting 150 false emission inspection reports to the DMV between March 2008 and August 2010. During that time, he worked at Snappy Car Wash and Smog Check Car Wash on North Lamb Boulevard.
According to court documents, the scam worked this way:
The brothers falsified emission certificates for a vehicle that could not pass the tests by entering identifying information for the vehicle into an emission analyzer and then connecting another vehicle to the analyzer they knew would pass the test.
In the process, the defendants obtained false vehicle inspection report printouts to provide to their customers.
The Batistas and a third brother who participated in the scheme performed more than 1,500 illegal smog checks, prosecutors alleged.
The other brother, whose identity is not known, has not been charged in the investigation, which is being conducted by the FBI, the EPA's Criminal Investigation Division and state agents.
The DMV uncovered Luis Batista's role in the scheme in August 2010 and revoked his inspector's license.
But that didn't stop the conspiracy.
Batista acquired "sophisticated hardware and software" that allowed him to continue performing phony smog checks without having to use a vehicle, his plea agreement said.