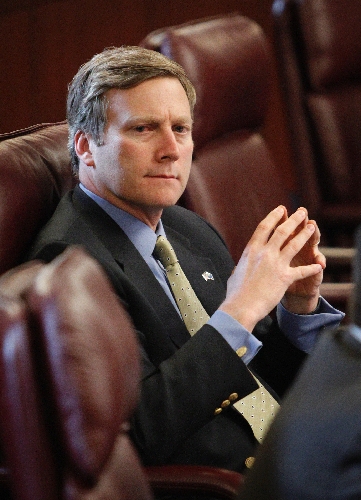 CARSON CITY — State Sen. Greg Brower announced Monday he will seek election to a full term in the Senate now that the district has survived elimination by reapportionment.
The Reno Republican was appointed in January by the Washoe County Commission to serve out the term of longtime Sen. Bill Raggio, who retired before the 2011 legislative session began.
It was thought by many that District 15 in Washoe County would disappear as part of redistricting and the state's growing population shift to Clark County, but the district was kept by a panel of special masters appointed by a court to redraw voting boundaries.
The the boundaries won't be final until an appeal window expires in December, but no legal challenges are expected.
"The 2011 legislative session was a difficult one, and the next one promises to be just as challenging," Brower said in a statement. "Despite its challenges, I was honored to serve, and if elected, my priorities will continue to be job creation and education reform.
"Much was accomplished in the last session, but much more remains to be done," he said.
District 15 is competitively split between Republicans and Democrats, with nonpartisan voters making up 15.7 percent.
Brower's candidacy was endorsed by the Senate Republican caucus.
"Greg stands up for what's right," said Sen. Michael Roberson, campaign chairman for the Senate GOP. "He's committed to improving schools for our children and will fight for common-sense policies that will put Nevadans back to work."
Senate Minority Leader Mike McGinness, R-Fallon, said Brower helped prevent a tax increase that was pushed and later abandoned by Democrats.
Brower was among 12 conservative Republican lawmakers in the Senate and Assembly who voted against extending $620 million in taxes that would have expired to balance the state's $6.2 billion, two-year general fund budget.
Republican Gov. Brian Sandoval, who initially opposed extending the sunset, agreed to do so as a compromise after a Nevada Supreme Court ruling late in the session questioned the legality of other mechanisms the governor relied upon to fund his spending plan.
Brower is a former U.S. attorney and two-term assemblyman, whose career in the Assembly was cut short in 2002 when he was challenged in the GOP primary and defeated by then-political newcomer Sharron Angle.
Brower also was an early candidate for Nevada's open 2nd Congressional District seat earlier this year.
He bowed out of the special election after the state Supreme Court ruled that major political party executive committees would pick their candidates for the ballot. The state GOP endorsed now Rep. Mark Amodei, the party's former chairman, who defeated Democratic state Treasurer Kate Marshall in September.