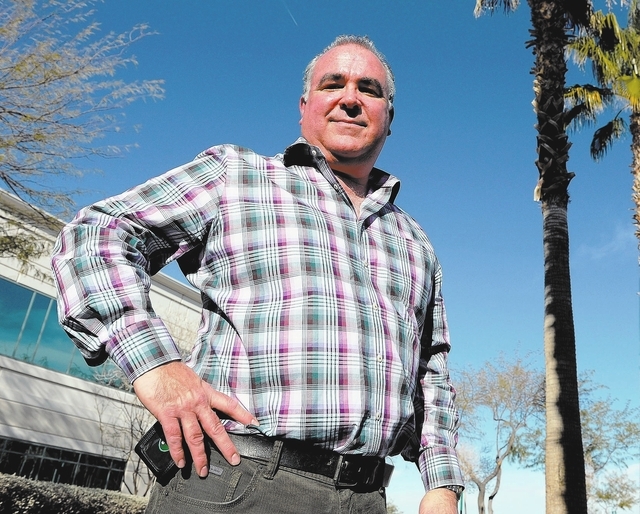 If Henderson residents have yet to experience the negative impact of the economic downturn in their community, it is only a matter of time.
That is according to the chairman of Henderson's Special Budget Ad Hoc Committee who said this week that city services and infrastructure are starting to fray at the edges due to deferred maintenance and unfilled positions as city revenue has declined.
Chairman Tim Brooks said there are examples throughout Henderson where the city has done an "excellent job" of stretching out the useful life of equipment, from public works to parks to public safety. A couple of examples in the report were extending the lifespan on some of the city's nearly 1,400 vehicles with deferred maintenance, and delaying construction of many capital works projects, such as the renovation of the convention center.
"There's a lot of things we take for granted that we don't see on a day-to-day basis," said Brooks, owner of the Emerald Island Casino in downtown Henderson. "It's going to get to the point now where we're going to start seeing things like potholes in roads, roads that need to be paved. Just infrastructure throughout the city in general."
Henderson is the state's second largest city with approximately 276,000 residents within 105 square miles. The city oversees 822 miles of paved roadways, nearly 30,000 streetlights, nearly 160 signalized intersections, 45 neighborhood and community parks, 108 miles of trails, 134 acres of city-maintained street-scape and median space, and 111 athletic fields as part of its inventory.
"But, over time, things get old and they wear down," Brooks said. "We're at a cycle now where those things need to be replaced and there's not a lot of money to do that right now."
The 21-member committee will recommend Tuesday to the City Council a 20 cents per $100 of assessed valuation property tax increase and some additional service cuts.
The city can only raise the tax 3 cents per $100 this year because of a state property tax cap law enacted in 2005. The law caps annual property tax increases to 3 percent for owner-occupied residences and 8 percent for commercial properties. A higher amount would have to go to a vote of residents. Another option is for the state Legislature to change the cap restrictions but that can't happen until 2015 at the earliest.
A maximum tax increase suggested by the committee would generate up to $16.5 million per year, helping the city address its $2 million annual operating shortfall and $17 million annual infrastructure needs, according to the committee's report. Henderson's current property tax rate is 71 cents per $100 of assessed valuation.
Even if the city was able to raise property taxes as recommended by the committee, its tax rate would still be well below Las Vegas ($1.06) and North Las Vegas ($1.16).
Ad Hoc Committee member Carole Vilardo of the Nevada Taxpayers Association said asking for a raise in property taxes will put "elected officials in a tough situation."
"There's no easy answers to solving what we've been through over the past four to five years," Vilardo said, referring to the Great Recession.
Mayor Andy Hafen said Thursday that one of the strategies after the council receives the report will be to take the committee's recommendations out to the community for feedback.
One of the cornerstones of Hafen's State of the City speech Feb. 5 was Henderson is a "city where a little investment as a taxpayer yields extraordinary returns" by touting the city's property tax rate that has been unchanged for 23 years. A pamphlet distributed by the city at the event listed many of the city's outside recognition: "Best Places to Retire" by Money Magazine, second among "America's Safest Cities" by Forbes magazine, "Top 100 Best Places to Live" by Livability.com, to name a few.
Although he didn't see the report until this week, Hafen said he had "a sense and flavor of which direction the (committee) was going" by the time of his speech.
The City Council will direct City Manager Jacob Snow on how they want the report handled, which could include pursuing none, part or all the recommendations.
The property tax, which accounts for 26 percent of the city's general fund revenues, is estimated at $58.5 million this year, down from $85.7 million in 2008. Some areas of Henderson have seen sharper declines than others.
The average residential property tax bill in Lake Las Vegas has dropped from $1,499 to $718, a decline of 52 percent, according to the city. The tax in Paradise Hills has dropped 45 percent to $306. It is estimated that it would be 20-25 years before the houses return to their peak value.
Brooks said the committee believes these recommendations will help the city maintain its position as a "premier city."
"To live in a premier city, there is a going to be somewhat of a cost associated with that," Brooks said. "The citizens of Henderson are overall afraid of paying a little bit more for maintaining our status as a premier city."
Contact reporter Arnold M. Knightly at aknightly@reviewjournal.com or 702-477-3882. Follow him on Twitter @KnightlyGrind.