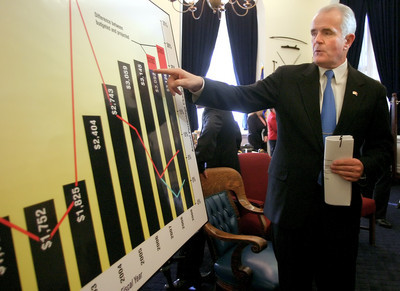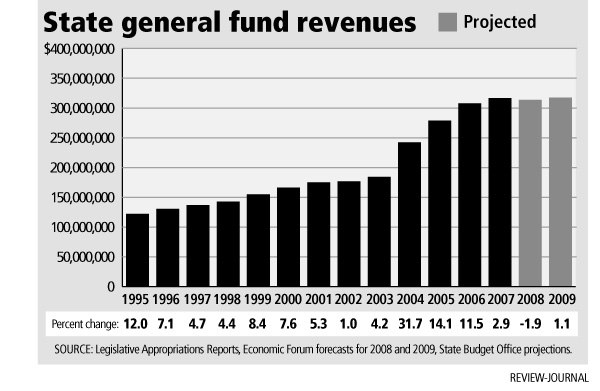 CARSON CITY — Gov. Jim Gibbons said Monday that the state's revenue shortfall could reach almost $900 million but vowed to try every trick in the book to balance the budget without layoffs or further cuts to public education, public safety, and health and human services.
"These are tough times for the state of Nevada, for the citizens of Nevada," said Gibbons during a media briefing after private sessions with legislative leaders.
In January, the administration estimated that the shortfall could reach $565 million by the end of the two-year budget cycle. But sales taxes, gaming taxes and other taxes have continued to decline as the economic downturn has worsened. The shortfall estimate of $898 million represents about 13 percent of the $6.8 billion budget approved last year for the budget cycle that runs through June 2009.
State Budget Director Andrew Clinger estimated that tax revenue in the current fiscal year will reach more than $3 billion, or 1.9 percent less than during the last fiscal year. Even during the year after the Sept. 11, 2001, terrorist attacks, tax revenue in Nevada grew by 1 percent.
The current downturn is the worst since at least 1992 ,when Gov. Bob Miller cut spending by $173 million and laid off 236 workers. State government then was less than one-third the size that it is today.
Gibbons would not detail where he and legislators are looking to find the additional $333 million to cut.
But he and Clinger did give a general idea of where cuts might be made, including the following areas:
• Taking $40 million in general fund revenue set aside for the $170 million expansion of Interstate 15 from the Spaghetti Bowl to Craig Road in Las Vegas. The project still would be built on schedule, but paid for using Transportation Department gas tax money.
• Delaying construction of the $90 million Health Sciences Center on university campuses, and possibly delaying the expansion of as many as four state prisons. Those projects still would be designed, but actual construction would not begin before the economy had recovered. In all, the governor wants to save $180 million by delaying construction projects.
• Using the $35 million left in the state's rainy day fund and postponing the payment of $36 million set aside to settle a tax case with Southern California Edison, which operated a now closed power plant near Laughlin.
• Requiring state agencies to cut spending in the fiscal year starting July 1 by $52 million, or 3 percent. The agencies affected have not been determined.
Not under consideration for cuts is a 4 percent pay increase for state employees and teachers scheduled to begin in July.
The pay increase will cost $130 million.
Instead of laying off workers in 1992, Miller tried to postpone a scheduled pay increase.
The State of Nevada Employees Association challenged his decision, and the state Supreme Court ruled the governor did not have the authority to block the pay increase.
Gibbons said he intends to meet with legislative leaders again late this week or early next week.
Despite saying he has the final say on cuts, the governor nonetheless is working with legislators. Their ideas of where to cut coincide with his own, Gibbons said.
He hopes to announce where cuts specifically will be made in the next two to three weeks.
"We are one Nevada, whether you are in the Legislature or in the administration," he said.
Gibbons emphasized that he will not call the Legislature, which goes into regular session in February, into a special session or support a tax increase to balance the budget.
"How can state government turn to people who are having to do with less?" asked Gibbons, noting he was shocked to pay $5 recently for a gallon of milk.
Assembly Speaker Barbara Buckley, D-Las Vegas, said there is a general consensus to try to avoid any further operating budget cuts to public education, higher education, and health and human services.
State agencies were ordered in January to cut their spending by 4.5 percent.
"Legislative leaders and the governor discussed ways to try not to harm the education budgets and the health care budgets while still maintaining a balanced budget," she said. "There seems to be a willingness to work together."
Further cuts in education or health programs would do serious harm, she added.
But Buckley would prefer not to delay the Health Sciences Center. The project to expand facilities to train more doctors, nurses and other health professionals "is very important to our state," she said.
University system Chancellor Jim Rogers said a short delay shouldn't hurt the Health Sciences Center project. The system needs to raise $38 million in private funds to match the state funds committed to the project.
But a prolonged delay, one that stretches into years, is going to damage the system's ability to raise that money if potential donors see that state financing has been withdrawn.
"I'm starting to think we have a better shot at getting money from private donors than we do from the state," said Rogers, who likened the recent rounds of budget downsizing to "Chinese water torture."
But both Buckley and Gibbons expressed concerns about what decisions they will have to make next year in the Legislature if the economy does not recover and they are considering the state budget for 2009-2011.
"If the economy doesn't turn around, it will be a difficult year," Buckley said.
Senate Minority Leader Dina Titus, D-Las Vegas, described the meeting with Gibbons as pleasant.
"There was nothing concrete decided," she said. "Our staffs are working together to find possible ways to come up with the money."
Assembly Minority Leader Heidi Gansert, R-Reno, also was pleased how both parties are working together on a solution.
"We are in a very difficult position," she added. "There are no easy cuts."
Lynn Warne, president of the State of Nevada Employees Association, expressed relief that public schools might be spared from additional cuts, after $92 million in cuts in January.
"I don't know where the districts could cut any more without getting into actual programs," she said.
Review-Journal writer Lisa Kim Bach contributed to this report. Contact Capital Bureau Chief Ed Vogel at evogel@reviewjournal.com or (775) 687-3901. Contact Capital Bureau reporter Sean Whaley at swhaley@reviewjournal.com or (775) 687-3900.