Buffett's NV Energy buy criticized by consumer advocates
October 28, 2013 - 6:59 pm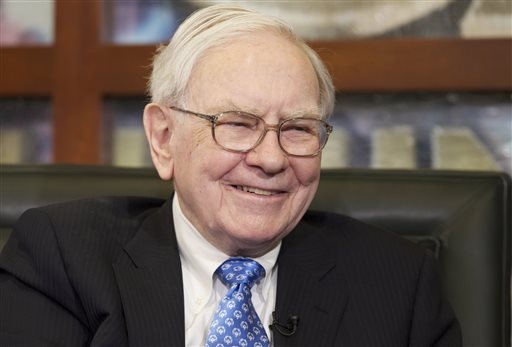 CARSON CITY — A long list of people and companies say billionaire Warren Buffett's purchase of NV Energy will bring no savings for customers of the statewide electrical utility.
Moreover, the state Public Utilities Commission should order a rate reduction of more than $30 million because the utility already is earning excessive returns, the Nevada Attorney General's Bureau of Consumer Protection said in regulatory filings related to the sale.
The consumer protection bureau also proposes to delay until at least 2020 the closure of the company's coal-fired generation facilities and replacement with cleaner technology, arguing that NV Energy already has enough generating facilities to meet demand.
Dan Jacobsen, technical staff manager for the bureau, noted that Nevada residential customers already pay the highest rates in the nine mountain states. Average rates are now just under 12 cents per kilowatt hour, compared with slightly less than 9 cents in Idaho.
He said that in 2012, NV Energy subsidiary Nevada Power Co. took in $28 million more than authorized, while its Sierra Pacific Power Co. subsidiary brought in $6 million more than authorized. NV Energy provides electricity to 88 percent of Nevada.
Even the Public Utilities Commission's own regulatory staff member, Yasuji Otsuka, questioned Buffett's plan for ratepayers to pay half of a $2 billion "acquisition 'premium'  " as part of the purchase. He noted the PUC only once in its history has permitted such a premium, which he reviewed derisively to as "good will" or a bonus for shareholders.
Otsuka said his first recommendation would be to remove any harm to customers caused by the acquisition premium. He added there is a "lack of public benefits" in the acquisition, although MidAmerican Energy Holdings makes such commitments in order to win regulatory approval in other jurisdictions.
"There is no reason why MEHC cannot make a similar commitment in Nevada," he said.
He also noted that no state or federal agency has approved an acquisition premium sought by MEHC for a rate regulated utility.
The filings late last week are necessary steps leading to the Nov. 18 start of PUC hearings on NV Energy's acquisition by Buffett's MidAmerican Energy Holdings. MidAmerican in May said it will pay $23.75 per share, or $5.6 billion, for all 235 million shares of NV Energy.
NV Energy shareholders in September approved the deal, which is expected to pay NV Energy President Michael Yachira $21.2 million.
The purchasers have until Nov. 8 to respond to the complaints registered by Jacobsen, Otsuka and more than a dozen others.
Dennis Peseau, representing the Southern Nevada Water Authority, said his agency does not oppose the acquisition as long it includes safeguards for customers. He said he favors the $30 million rate reduction as well as killing the acquisition premium.
But Jonathan Halkyard, chief financial officer of NV Energy, said in testimony that the acquisition will save on such items such as the cost of having a board of directors and for providing shareholder services. Neither would be needed because the utility would be privately owned.
He also said that the company will experience some savings since it will do business with firms such as Wells Fargo, in which Buffett has interests. MidAmerican has electrical holdings in at least seven other states.
Company executives said they plan no requests for utility increases other than what NV Energy already is planning.
In their testimony, they also explained that the acquisition premium figure is based on the difference between the purchase price of $5.6 billion and the $3.6 billion in equity that shareholders have in the company.