Bundy, BLM among topics as Hardy, Innis debate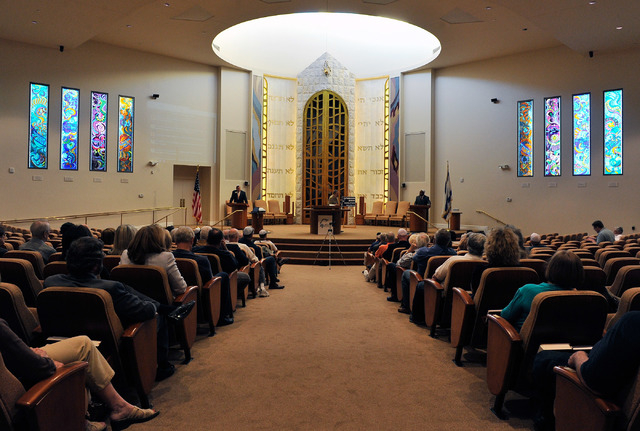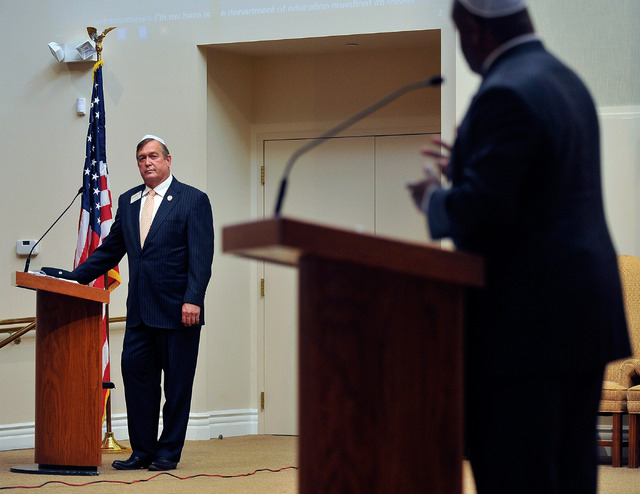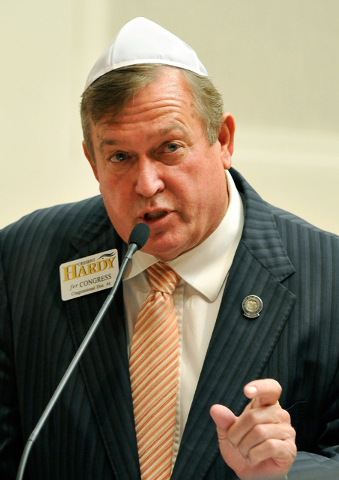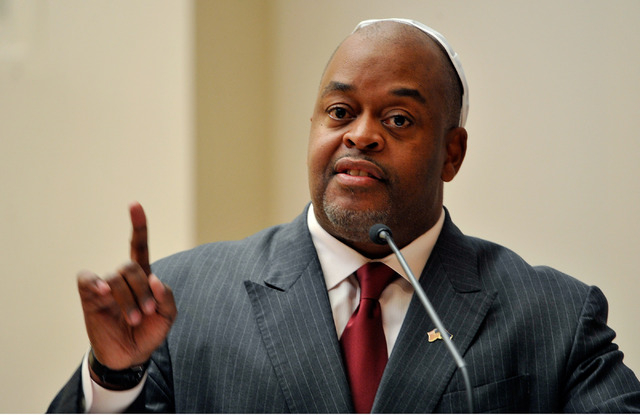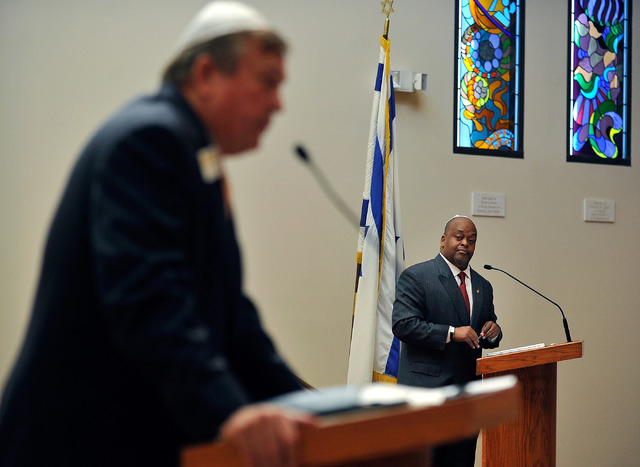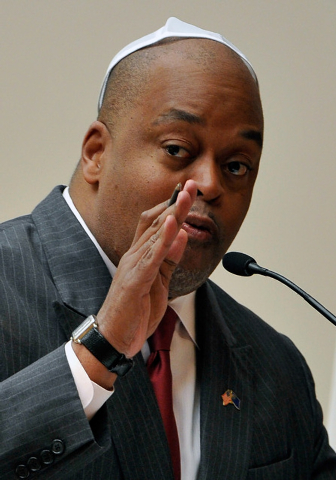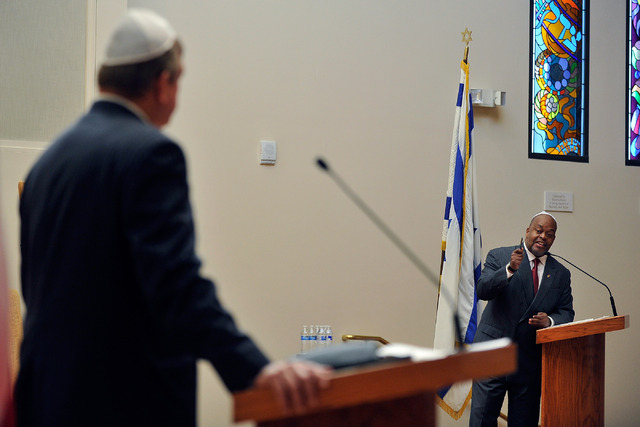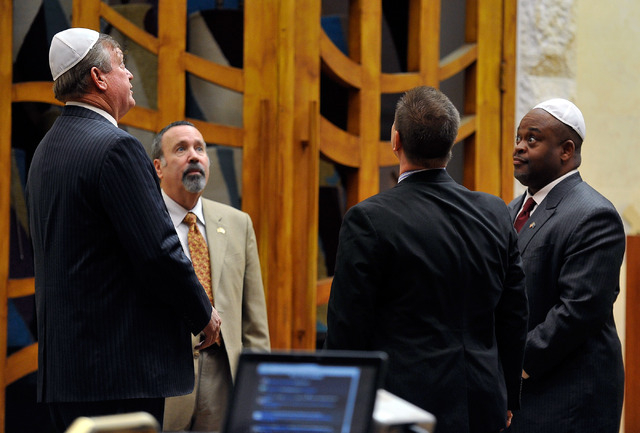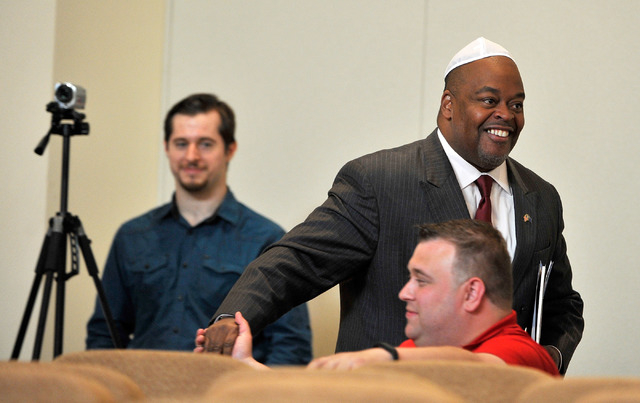 GOP congressional candidates Assemblyman Cresent Hardy and Niger Innis clashed in a debate Tuesday over the Bureau of Land Management and its attempt to round up Cliven Bundy's cattle on public land.
Hardy, R-Mesquite, said he has been meeting for years with Bundy and talking with top Nevada officials about ways the state can gain control over more of the land, 85 percent owned by the federal government.
Innis, however, said Hardy has been all talk and no action.
"I got involved in this case because several constituents up there in Bunkerville … reached out to me (and said), 'The politicians and the elected officials in that region were doing nothing,'  " Innis said. "They were not getting things done."
Innis said it was clear there was "a dangerous situation" brewing when militia groups from across the country took up arms and traveled to Bunkerville to defend Bundy against the BLM, which also was armed.
Innis said he waved "the red flag … well before the media circus and well before politicians rediscovered Cliven Bundy."
Hardy disputed Innis' characterization, saying he worked behind the scenes with Bundy, GOP Gov. Brian Sandoval and U.S. Rep. Steven Horsford, D-Nev., who holds the congressional seat Hardy and Innis are seeking and whose district includes Bunkerville.
"I was working with Mr. Bundy long before the BLM was going to move in," Hardy said. "We didn't know how they were going to come in."
Hardy, like Innis, Sandoval and U.S. Sen. Dean Heller, R-Nev., slammed the BLM for its enforcement tactics, which included a designated area for protesters away from the roundup and the arrest of one of Bundy's sons.
"It was the federal government that brought that violence," Hardy said, adding that unlike Innis, he believes in "solving situations without dragging in the press."
Innis has backed Bundy's contention that he holds ancestral rights to the land outside Bunkerville 80 miles northeast of Las Vegas and doesn't have to pay the BLM grazing fees, which he hasn't paid for 20 years.
Bundy now owes $1.1 million in fees and fines, which prompted the roundup. It was abruptly halted April 12 to avoid a violent confrontation.
Hardy has backed the Nevada Cattlemen's Association, which believes Bundy should have to pay grazing fees.
The candidates also were asked about racist comments Bundy made, suggesting that blacks relying on government support might be "better off as slaves."
Hardy doesn't believe Bundy intended to offend blacks, but Hardy also said, "I don't agree with him."
"I think they were wrong," Hardy said of Bundy's statements. "They were very inappropriate."
Innis, a black civil rights advocate, didn't answer the racial part of the question, but he had called Bundy to tell him his statements were wrong.
On what they would do in Congress about the Bundy-BLM situation, both candidates focused on reforms of public lands and the agency.
Hardy, without giving details, said he is working with Heller on legislation addressing BLM's enforcement powers.
Innis said, "The problem is the federal government controls too much of our land."
Asked about Horsford's claim that militias are stopping people on the road to Bunkerville to ask for proof they live in the area, Innis said, "I didn't know that we moved to Soviet Russia in Bunkerville." He also criticized Horsford for not addressing the public lands issue sooner.
Hardy said he travels through the area every day twice a day and never has been stopped.
"Shame on Mr. Horsford for those kind of statements when he doesn't know all the facts," Hardy said.
Tuesday night's debate was held at Temple Beth Sholom on Havenwood Lane in Las Vegas.
During the debate, the candidates' second, Hardy and Innis were allowed to ask one another questions. Many of them served to reveal personal problems each candidate has had, which has become attack fodder during the competitive GOP primary.
Innis also criticized Hardy's legislative record. He asked about Hardy's votes in favor of taxes on marriage and fuel, more Clark County police, Common Core education standards, Obamacare and expanding Medicaid.
Hardy said he wouldn't reverse any of those votes. He said he voted to have the state launch its own health care exchange to maintain control after the U.S. Supreme Court ruled the Affordable Care Act constitutional. He said the $25 marriage fee allowed notary publics to approve licenses, "and I don't believe that is a tax."
Hardy said he voted to allow the Clark County Commission to approve higher taxes to hire more cops, which it did not pass. He said the Legislature also gave local authorities the power to decide fuel taxes.
Hardy asked Innis to explain why he hasn't paid off debts when he lived in New York, including back taxes, credit cards and car payments.
"Don't you believe this is irresponsible?" Hardy asked. "Does it disqualify you from being a congressman?"
Innis slapped back, accusing Hardy of playing "politics of personal destruction," adding, "I had some financial difficulties" in the past, but "unlike you, Cresent, I didn't declare bankruptcy."
Innis also said he is in the process of paying his debts off and he is talking with the Internal Revenue Service to deal with his back taxes.
Hardy defended his construction business bankruptcy, saying he filed Chapter 11, which allows a company to reorganize to pay off its debts. He said he could have filed Chapter 7 and "walked away," but he didn't.
Hardy and Innis are competing in the June 10 GOP primary for the right to take on Horsford, D-Nev., a freshman representing the 4th Congressional District. It covers northern Clark County and all or part of six rural counties. The general election is Nov. 4.
Contact Laura Myers at lmyers@reviewjournal.com or 702-387-2919. Find her on Twitter @lmyerslvrj.