2 men plead guilty in armed standoff near Bundy ranch
August 25, 2016 - 1:26 pm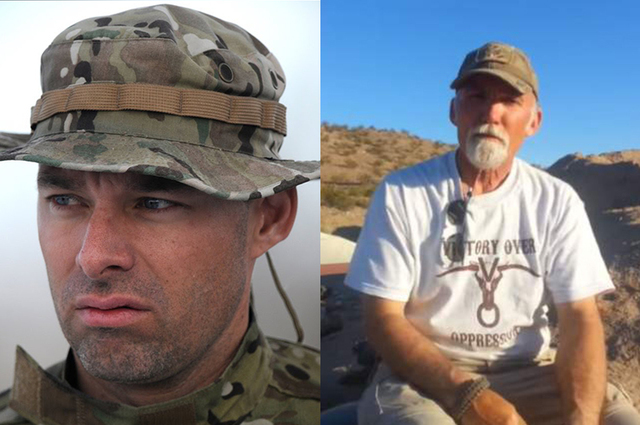 Guilty plea agreements were accepted Thursday for two men who are part of the federal prosecution of Nevada rancher Cliven Bundy.
Gerald DeLemus, 61, of Rochester, New Hampshire, and Blaine Cooper, 37, of Humboldt, Arizona, were the first of 19 co-defendants to take plea deals to felony charges connected to an armed standoff with federal officials near Bundy's ranch in Bunkerville in April 2014.
In March 2014, Bureau of Land Management officers began to execute federal court orders to impound Bundy's cattle that were trespassing on federal public lands for more than 20 years without permits or grazing fees. Members of the Bundy family are alleged to have recruited hundreds of followers to use armed force against the federal officials.
Each defendant pleaded guilty Thursday to two charges and now face up to 25 years in prison and as much as $500,000 in fines. As part of the plea agreements, prosecutors recommended that the men be sentenced to six years in prison and no fines.
Both men were accused of being mid-level leaders who recruited gunmen for the self-styled militia that blocked the BLM roundup. Both men admitted that fact and said they also acted as security for Bundy.
During Thursday's hearing, Cooper admitted that he participated in a plan to obstruct a federal court order. He said he knew that firearms were used to intimidate an officer on April 12.
Neither man was present during the armed standoff, but neither man disputed the standoff occurred, although DeLemus was hesitant to comment at all about events he did not witness firsthand.
The men were indicted on 16 charges in March. Prosecutors will ask that the other charges be dropped as part of the plea agreement.
Cooper also faced federal charges connected to a 41-day armed occupation led by members of the Bundy family at the Malheur National Wildlife Refuge in eastern Oregon earlier this year. He pleaded guilty in that case as well, and prosecutors recommended that he serve those sentences at the same time.
Chief U.S. District Judge Gloria M. Navarro, however, is not obligated to follow those suggestions when she sentences the men on Dec. 1.
"Federal law enforcement officers must be able to engage in their official duties, including executing federal court orders, without fear of assault or losing their lives," a statement from U.S. Attorney Daniel G. Bogden for the District of Nevada said. "Persons who impede and interfere with the official duties of these law enforcement officers will be prosecuted to the full extent of the law."
Contact Wesley Juhl at wjuhl@reviewjournal.com and 702-383-0391. Find @WesJuhl on Twitter.
Previous coverage
See a timeline of events leading up Cliven Bundy's conflict with the Bureau of Land Management in 2014. Also, see the most recent reports involving Bundy and his family.