After dismissal, Bundys eager to return to family roots — VIDEO
Updated January 9, 2018 - 9:51 pm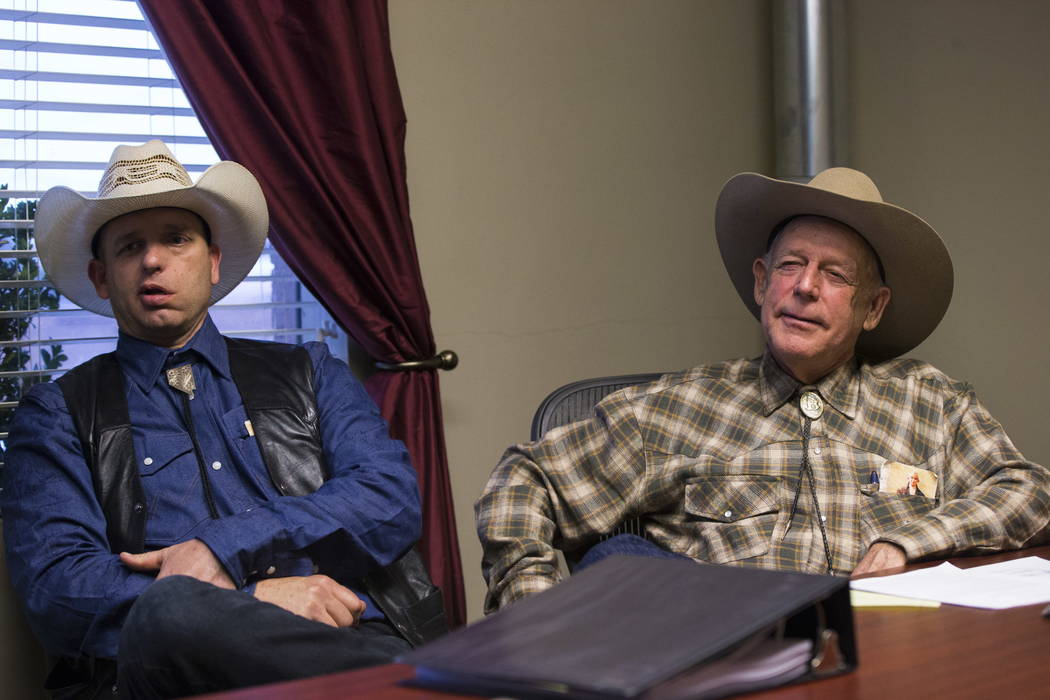 A day after his criminal case was dismissed, Cliven Bundy talked about returning to his roots.
"There's one thing you need to understand: that I am still a rancher. I still have my cattle," he said Tuesday. "And I intend to ranch, and I intend to be a rancher."
Bundy, the 71-year-old patriarch of a family with one of the most recognizable names in Southern Nevada, spoke to the Las Vegas Review-Journal at the office of his attorney, Bret Whipple.
A day earlier, U.S. District Judge Gloria Navarro dismissed felony conspiracy and weapons charges against Bundy, his sons Ammon and Ryan and independent militia member Ryan Payne. The charges stemmed from an April 2014 standoff with federal agents near the Bundy family ranch in Bunkerville.
Navarro said she based her decision, in part, on "flagrant prosecutorial misconduct."
Prosecutors have not said whether they plan to appeal the ruling to a higher court.
Ryan Bundy, 45, hinted at political aspirations during Tuesday's interview but offered no specifics. He said his focus was his family, which includes his wife and eight young children, and the ranching life he knows.
"We're going to go back to ranching," he said. "Politics. I don't want to be in politics. The only reason I would do that is because I have such a passion and such a drive for liberty and freedom. And somebody's got to do that. I just want to live and let live. I just want to be left alone, so I can provide a living for my family. I just want to go to work."
Cliven Bundy said part of the family's short-term focus would be to help others who have been convicted or are still facing trial in connection with the standoff, including Ryan's brothers Melvin and David.
The Bundys spent nearly two years behind bars, under conditions they described as difficult, but they said they learned from the experience.
"The government has made a terrible mistake, because all they've done is make us stronger," Ryan Bundy said. "A man grows in strength through opposition. He grows in strength through turmoil. And they have put us through two years of very grievous turmoil. … I hated every minute of it, and yet I am thankful for it because of the strength I have gained from it."
Cliven Bundy said he rejected the judge's conditional release at trial late last year and wore a blue jail jumpsuit in front of jurors because he did not want to project a false image. He was released Monday.
"I stayed in because there was a principle here," he said. "The federal government was wrong, and they was treating us bad, and I wasn't going to walk out and say they didn't treat me bad. … Why would I want to be phony, to get out in front of the jury in a suit and a tie and act like everything's OK? Everything wasn't OK. I was dressed in blue."
The 2014 standoff occurred after federal agents tried to execute a court order to round up Cliven Bundy's cattle.
Contact David Ferrara at dferrara@reviewjournal.com or 702-380-1039. Follow @randompoker on Twitter.