Bundy friends, family protest federal monument decision
January 2, 2017 - 4:37 pm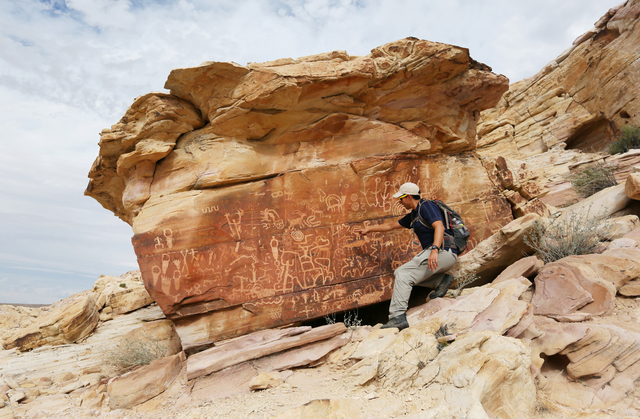 BUNKERVILLE — Supporters of cattleman and anti-federal government figure Cliven Bundy are protesting a presidential decision to give national monument protection to public land where Bundy grazes cattle near his Southern Nevada ranch.
With Bundy and four sons in federal custody awaiting trial on conspiracy and other charges, a small group of other family members and friends rallied peacefully Saturday near the Bundy home and the Gold Butte area outside Bunkerville, a small town near Arizona.
"We, the Bundy family, would like to say to President (Barack) Obama that we are saddened, but not surprised, by the decision to make our ranch and home a national monument," the family said in a statement issued last week.
Obama on Thursday declared the nearly 470-square-mile Gold Butte National Monument in an area across the Virgin River from the Bundy homestead, about 80 miles northeast of Las Vegas.
The announcement coincided with designation of a more than 2,100-square-mile Bears Ears National Monument in Utah.
The local Moapa Band of Paiute Indians, conservationists and advocates praised the Gold Butte designation, which U.S. Sen. Harry Reid, D-Nev., who is retiring after 34 years in Congress, backed. They said the area is home to threatened wildlife, such as the desert tortoise and bighorn sheep, and contains ancient rock art and artifacts, unique geologic features, rare fossils and recently discovered dinosaur tracks.
Family matriarch Carol Bundy didn't immediately respond Monday to messages.
The Spectrum of St. George, Utah, reported that Carol Bundy expressed fear during the protest that the government will ban grazing in the Gold Butte area — although the U.S. Interior Department says grazing will be allowed.
Bundy nephew Josey Spencer said the group hoped President-elect Donald Trump will reverse Obama's monument declaration.
Trial is set to begin Feb. 6 in U.S. District Court in Las Vegas for the first six defendants in the criminal case stemming from the armed standoff in April 2014 that stopped a U.S. Bureau of Land Management roundup of Bundy cattle. Nineteen people were arrested last year, including five Bundy family members. Two men have pleaded guilty; Cliven Bundy and four sons are to stand trial later this year.
Bundy family members maintain the state, not the federal government, has authority over the public land where he has grazed cattle for decades. The position has roots in a nearly half-century fight over grazing policies in Nevada and the West, where the U.S. government controls vast expanses of property.
Federal land managers obtained court orders to remove Bundy cattle from the land after telling judges that he failed for years to pay required grazing fees.