Cameraman testifies during Bunkerville standoff trial
Updated March 8, 2017 - 8:35 pm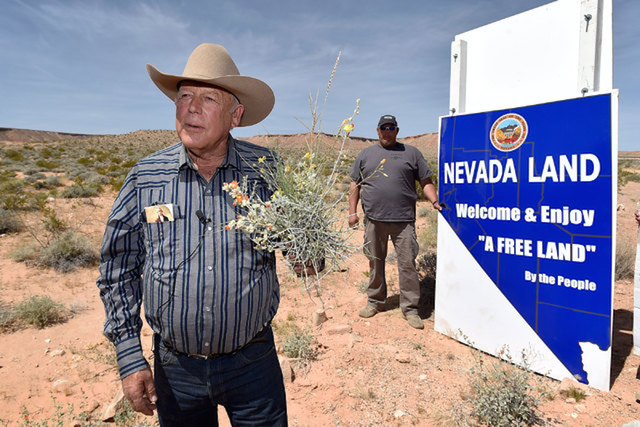 A media cameraman who tried, unsuccessfully, to mediate the Bunkerville standoff gave hours of testimony Wednesday while federal prosecutors played shaky, handheld footage that provided a more dynamic view of the protests than anything previously disclosed on dashcam recordings.
The government called Dennis Michael Lynch as a witness after fighting ferociously earlier in the week to keep the footage he captured out of court.
Defense attorneys Monday had tried to use some of the videos to rebut a federal agent's testimony, and prosecutors' decision to call Lynch reflected a strategic attempt to control the narrative as they continue to present their case against six men accused of conspiring with rancher Cliven Bundy.
Lynch traveled to Bunkerville on assignment for Fox News, and he embedded himself with the protesters demonstrating against authorities who were seizing Bundy's cattle from federally managed land. He gave emotionally level — but at times antagonistic — responses to lawyers' questions about the events of April 12, 2014.
His camera rolled as rancher son Ammon Bundy's pickup truck bounced along the desert highway, passing SWAT vehicles along the way, and stopped at an Interstate 15 rest area above the Toquop Wash, where federal authorities for days had been impounding cattle. Passengers in the back seat of the truck gleefully hooted after learning at a morning rally that the Bureau of Land Management had decided to cease the operation.
When they arrived at the wash, some of the protesters knelt down in prayer. Roughly 100 yards away, law enforcement authorities were behind a metal farm gate. A BLM ranger ordered the boisterous crowd over a megaphone to disperse. Lynch approached him, yelling, to ask what he was saying.
"At this point, Mr. Lynch, could you hear the commands of law enforcement officers to peacefully disperse?" First Assistant U.S. Attorney Steven Myhre asked.
"The video doesn't depict what could be heard. … There are two microphones attached to the camera," said Lynch, whose testimony was consistent with a defense script that protesters could not understand the instructions.
At one point during his testimony, Lynch blew into the microphone to demonstrate the muffle of wind, and the pink noise that ricocheted through the courtroom caused several people in the audience to wince.
During the standoff, Lynch returned to the protesters and told them if they moved forward, they would be shot. Myhre, in careful questioning, pointed out that nowhere on the recordings did a federal agent make that threat.
"I was repeating what I thought I heard," Lynch said.
Myhre also highlighted the fact that Lynch continued to approach after federal agents instructed him to "go back."
The crowd grew angry and boisterous after Lynch returned, but paused to cheer when dozens of men arrived on horseback. Federal agents previously have testified that many of the protesters had guns.
Lynch and several other protesters later walked back to the barrier separating them from law enforcement. Federal authorities, local police, and the handful of protesters stood, like bulls in separate pens, on three different sides of the metal cattle fencing and began to negotiate.
"Hold those people so we can talk," BLM Special Agent in Charge Dan Love said, as the crowd chanted "let the cows go" and "BLM, go home."
One of the protesters replied: "It's pretty hard to de-escalate when you've got helmets and M16s aimed at us."
"Yes, I understand," Love said. "Get me Ammon."
After a tense conversation with Love, some of Bundy's other sons walked back to the cattle impoundment site with law enforcement, while Ammon Bundy tried to control protesters.
Eventually, Ryan Bundy returned. He climbed onto a sandy bank, took the cowboy hat off his head and waved it against a backdrop of crystal blue sky.
"The West has now been won," he declared.
Contact Jenny Wilson at jenwilson@reviewjournal.com or 702-384-8710. Follow @jennydwilson on Twitter.
Previous coverage
See Full coverage of the feud between the Bundy family and the BLM