Cliven Bundy supporters bring cattle roundup protest to Las Vegas police headquarters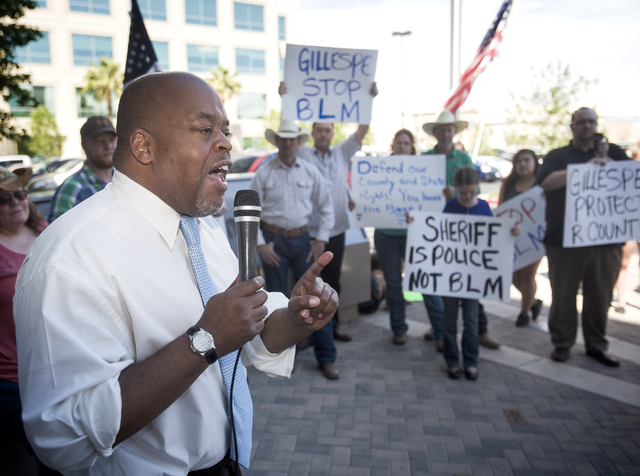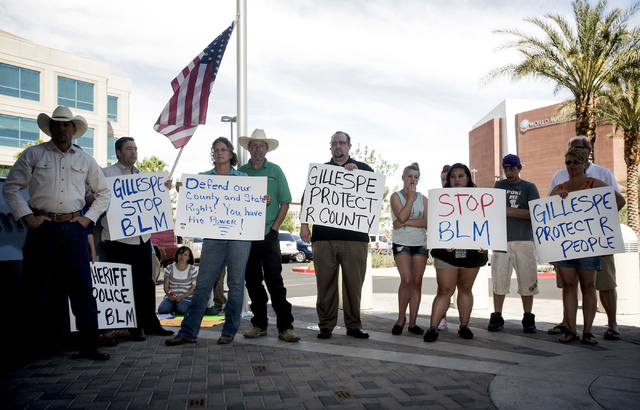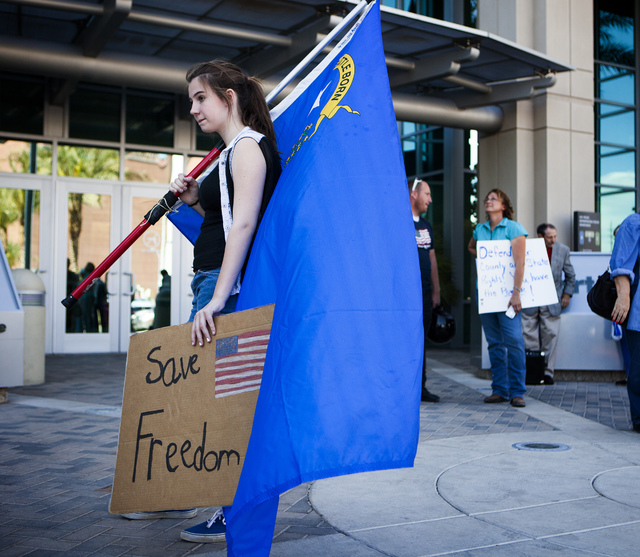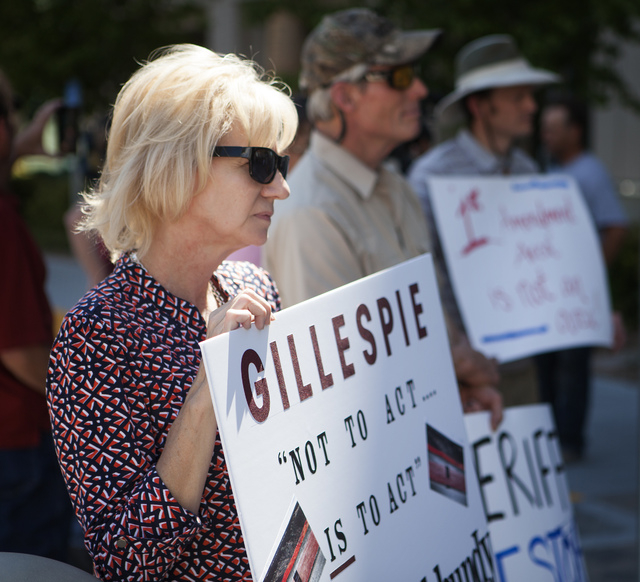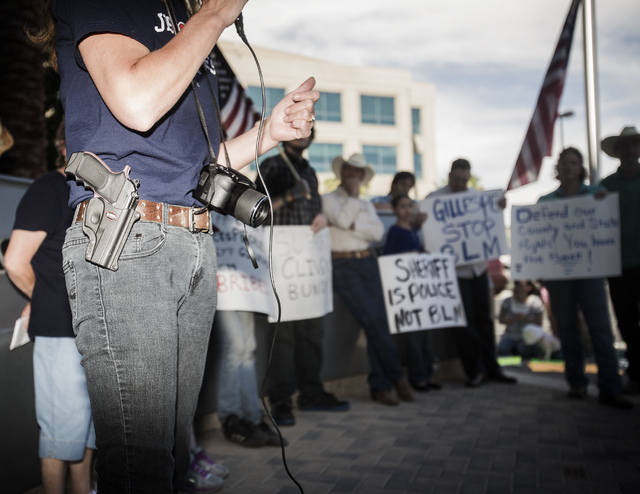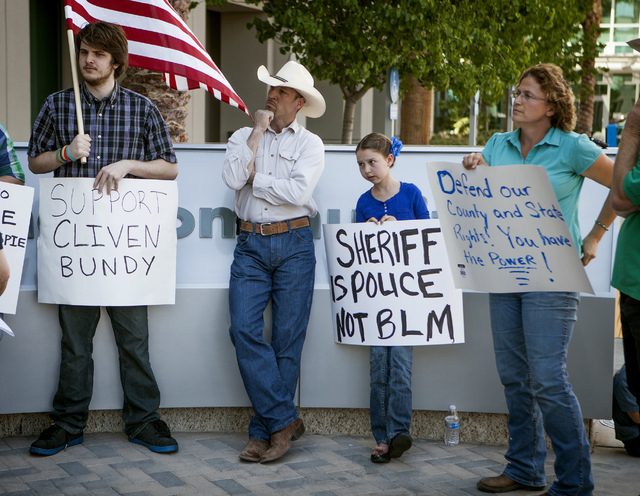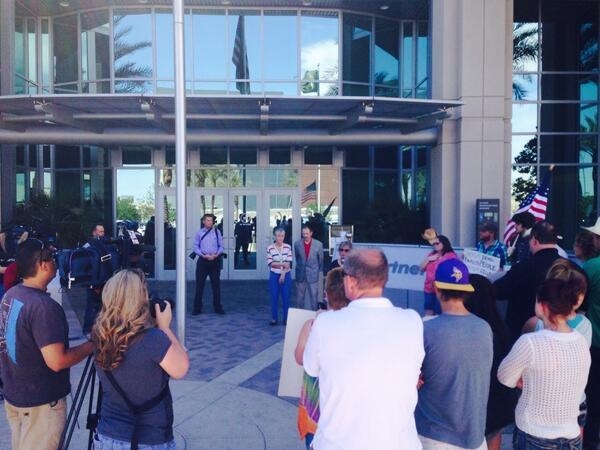 Rancher Cliven Bundy's supporters brought their protests from rural Clark County into the city Friday as they rallied outside Las Vegas police headquarters to tell the sheriff to stand up for Bundy against the federal government.
Three Southern Nevada tea party groups organized Friday's event, which got no visible response from the Metropolitan Police Department or its leader.
A pair of American flags and Nevada's state banner joined handwritten posters calling for Sheriff Doug Gillespie to "do his job" to protect the Bundy family from the federal government, which is in the process of rounding up patriarch Cliven's so-called "trespass cattle" from a mountainous area northeast of Las Vegas.
One female protester had a firearm in a holster in the shadow of the police building, a few yards from the front door. No officers emerged from the building during the 45-minute gathering. A department public information officer did not respond to requests for comment.
"Sheriff Gillespie is the top elected law enforcement officer in Clark County and he has abdicated his role as sheriff, leaving the people of Clark County void of protection from abuse by the federal government," said Connie Foust, president of the Virgin Valley Tea Party in Mesquite and co-organizer of the protest.
Protesters said they had heard rumors of snipers deployed by the Bureau of Land Management — the agency leading the roundup — in the hills around the Bundy ranch, as well as the removal of water tanks, which pushed cattle toward the river, causing some to die.
Amy Lueder, the state's BLM director, acknowledged snipers had been in place in the roundup area but offered no further details Friday during a media conference call.
Bundy's supporters are upset about what they said were unnecessary BLM tactics linked to the roundup, including the arrest of one of Bundy's sons, Dave Bundy, on Sunday for "refusing to disperse" and resisting arrest.
On Wednesday, video footage emerged of a clash between angry protesters and BLM rangers that shows Cliven Bundy's sister being tackled to the ground and another of Cliven Bundy's sons being shot with a stun gun.
Two brothers from St. George, Utah, who are not related to the Bundy family, were detained and cited by federal authorities Thursday for trespassing after intentionally crossing beneath a gate blocking the road to Overton Beach in Lake Mead National Recreation Area.
The BLM said the security measures were taken after threats of violence made by Bundy family members and others, including Cliven Bundy's promise of a "range war." The agency abandoned so-called "First Amendment areas" — fenced off spots designated for peaceful protests — on Thursday after criticism from elected officials, including Gov. Brian Sandoval.
The bureau has temporarily closed off nearly 600,000 acres of public land to round up more than 900 head of cattle. Bundy, whose ranch is approximately 80 miles northeast of Las Vegas, left his livestock on the land but hasn't paid federal grazing fees since 1993. Lueders said Bundy owes nearly $1 million.
At the Friday rally, Niger Innis, a Republican candidate for Nevada's 4th Congressional District, told the crowd the "federal officials are being abusive" and violating people's civil rights.
"Cliven Bundy's fight is a civil rights issue," said Innis, who is also national spokesman of the civil rights' group Congress for Racial Equality.
But Innis urged all protesters — including so-called militia members who have said they are coming from outside Nevada — to remain peaceful and leave their weapons at home and not to wear camouflage.
"I'm a big believer in the Second Amendment," Innis said. "But this is one time, tactically speaking, we must operate in a nonviolent fashion. As long as we do that … we will have the moral high ground, and the feds will look like the bullies they are."
The rally was organized by the Virgin Valley, Pahrump Valley and Las Vegas Valley tea parties, something that Tyson Houston, who identified himself as Cliven Bundy's nephew, said pleased the family.
"I have talked to other family members, and they think it's great others are trying to take a stand," said Houston, who lives in Logandale. "Instead of Cliven Bundy trying to organize everything, we have people from all over, it seems, to force Gillespie to open his eyes and see that he has the backing of the people. We voted him in."
Houston said he is surprised the dispute has escalated to the point it has.
"I lived in a bubble; I think we all live in a bubble," Houston said. "None of us thought this would ever happen in America."
Cliven Bundy met with Gillespie on Monday. The sheriff said the rancher wanted contact information for Metro supervisors working near his ranch, and Gillespie said he provided that information. But the sheriff said Metro wouldn't be involved with the roundup, which was "strictly a federal operation."
But that's still not enough for Foust, the Friday rally organizer.
"We need to hold our local and federal officials responsible for their actions or inactions," Foust said. "Free speech zones are not acceptable. Snipers are not acceptable. Intimidation is not acceptable."
Writers Wesley Juhl and Ben Botkin contributed to this report. Contact reporter Arnold M. Knighty at aknightly@reviewjournal.com or 702-477-3882. Follow on Twitter @KnightlyGrind.