First prison term imposed in Bunkerville standoff case
Updated May 31, 2017 - 5:02 pm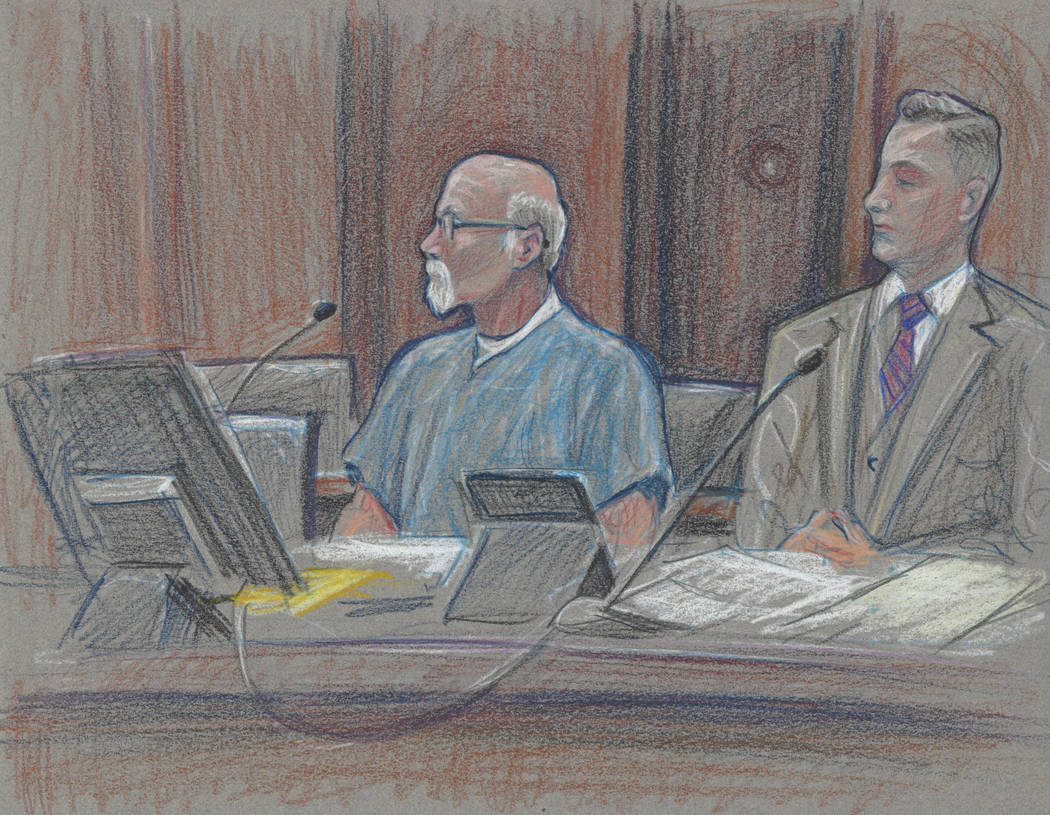 A New Hampshire man who, in 2014, gathered his guns and drove across the country to join rancher Cliven Bundy's armed stand against federal authorities was sentenced Wednesday to 87 months in prison.
Gerald DeLemus, a former Marine sergeant who co-chaired his state's Veterans for Trump campaign, told the court in a tearful, 10-minute statement that no matter how long a sentence he received, he would do it all over again.
"But I would leave my guns at home," he said.
DeLemus, 62, pleaded guilty in August to conspiracy to commit an offense against the United States and interstate travel in aid of extortion. He was the first defendant to be sentenced in connection with the standoff, which made national headlines.
In April 2014, DeLemus piled his guns and several people into his truck and headed thousands of miles west to the Bundy family ranch, which is adjacent to public land where federal agents were impounding Bundy's cattle.
DeLemus did not arrive until after the standoff that resulted in authorities abandoning the cattle roundup and leaving Bunkerville. But he stayed at the ranch for a month after the incident to provide security and oversee an armed patrol of the area in case law enforcement personnel returned.
U.S. District Judge Gloria Navarro was unsympathetic to defense arguments that DeLemus' intentions were to engage in civil disobedience by standing up against a militant law enforcement presence that, in the days leading up to the standoff, had been using police dogs and stun guns to control anti-federalist protesters.
"You actually became what you were supposedly fighting against, a bully vigilante," Navarro said.
DeLemus' defense lawyer, Dustin Marcello, repeatedly tried to convince the judge that DeLemus only brought his guns in case the conflict between protesters and government agents escalated to such a degree that firepower was necessary to protect the public.
He emphasized that DeLemus arrived after the standoff occurred, and thus could not be held responsible for the events that unfolded when armed protesters came face-to-face with armed law enforcement authorities who were carrying out a court order to seize the cattle. The court order followed a decadeslong fight over Bundy's refusal to pay grazing fees.
DeLemus was one of 19 men indicted in connection with the armed standoff that occurred between Bureau of Land Management agents and armed protesters on April 12, 2014. He is one of only two men charged in the case who decided not to take their case to trial.
Federal prosecutors argued that, though DeLemus was not present for the armed standoff itself, he still should be held liable for a "massive armed assault" on federal agents because, in admitting to his role in a conspiracy, he assumed a degree of responsibility for the actions of others who were part of the conspiracy.
Other men charged in the case were photographed on a highway bridge pointing weapons at federal agents stationed in a sandy, low-ground ditch.
"He joined the conspiracy before April 12," Acting U.S. Attorney Steven Myhre said. "His more direct involvement occurred after April 12."
Navarro's sentence was on the low end of the 87 to 100 months prosecutors had requested, but considerably longer than the 22 months DeLemus' attorney had wanted. She imposed a sentence of five years for the conspiracy charge and 27 months for interstate travel in aid of extortion.
As court officers handcuffed DeLemus after his sentencing, supporters in the gallery shouted, "I love you, Jerry" and "Thank you, Jerry."
DeLemus, who once served as a delegate at the Republican National Convention, is married to a former New Hampshire state representative.
"I thought it was the most harsh sentence that she could possibly muster to give him," his wife, Susan, said after the hearing Wednesday.
Two more men have been convicted in the case and are awaiting sentencing. One other has pleaded guilty.
The first trial in the case resulted in a mistrial after the jury deadlocked on 50 of the 60 counts against six defendants. Four of those men are scheduled to be retried starting July 10. After a verdict has been reached, two more trials are scheduled to follow.
Contact Jenny Wilson at jenwilson@reviewjournal.com or 702-384-8710. Follow @jennydwilson on Twitter. Contact Blake Apgar at bapgar@reviewjournal.com or 702-387-5298. Follow @blakeapgar on Twitter.