Jury selection crucial in Bunkerville standoff retrial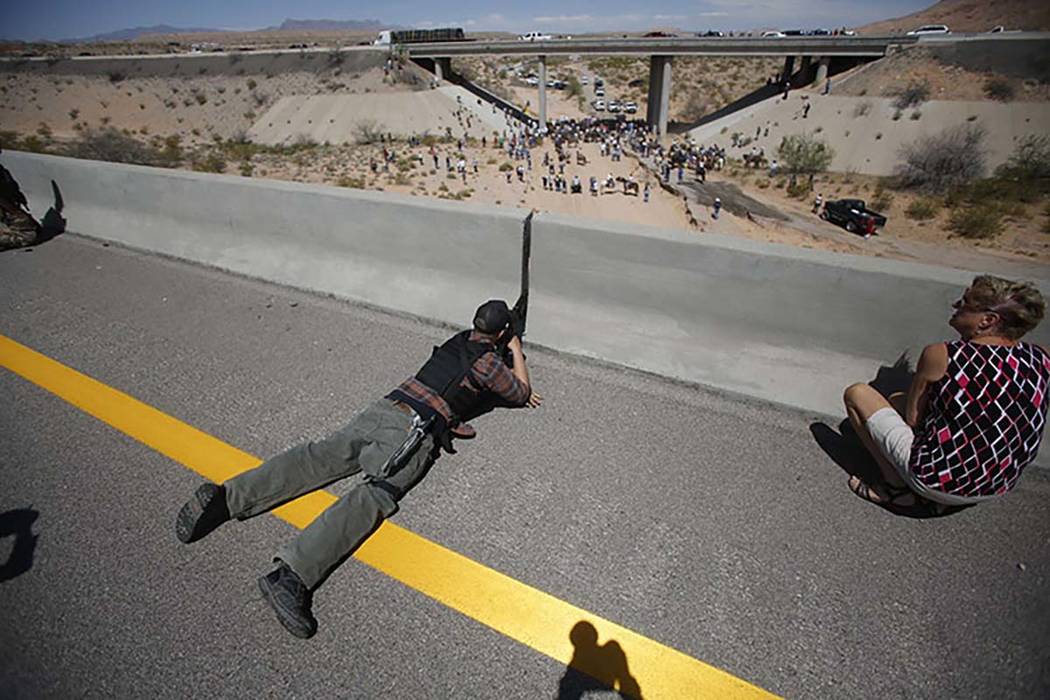 Another trial in the Bunkerville standoff case opens Monday in Las Vegas, but instead of trying a new set of defendants, prosecutors will launch their second attempt to win convictions against four men accused of conspiring against the government with rancher Cliven Bundy.
The retrial follows a mistrial in April, when jurors deadlocked on 50 of the 60 counts against the first batch of defendants in the three-part case. Prosecutors eventually plan to try 17 men on charges resulting from the April 2014 armed standoff between individual rights activists and Bureau of Land Management agents, who came to Bunkerville to seize Bundy's cattle from public land.
The hung jury did not come as a surprise to local court observers, who previously have said that the trial against the first group hinged on ideological issues that typically are not litigated inside a courtroom. In a 2 million-population metropolitan area built in the middle of a desert, federal jury pools draw people from rural and urban areas — with different political views, policy priorities and perceptions of law enforcement.
"Every case is about jury selection, but this one is specifically about jury selection," said attorney Jess Marchese, who represents defendant Eric Parker. "Either you're going to be OK with Eric Parker on a bridge with his gun or you're not. And one thing I will do is embrace that more."
By framing the cattle impoundment operation as an issue of federal overreach and police violence, the Bundy family used the internet to draw hundreds of protesters who espouse libertarian-minded, individual rights principles.
Protesters clashed with federal agents in the days leading up to the standoff, and Parker testified in the first trial that he drove to Bunkerville after seeing online postings that led him to believe constitutional rights were under threat. In the days that preceded the standoff, agents erected a First Amendment zone for protesters in the middle of the desert and used stun guns and police dogs to control angry protesters.
Awaiting judge's ruling
Prosecutors for the U.S. attorney's office, which declined to comment for this story, have tried in recent legal filings to limit what sort of evidence defense lawyers can introduce at trial. Their primary concern is to control the constitutional rights narrative.
In a motion filed last month, Nevada Acting U.S. Attorney Steven Myhre asked the court to prevent defense lawyers from "seeking to persuade jurors to acquit … based on political beliefs or values rather than upon the evidence."
Myhre asked for a broad ban on what represented the marrow of the defense case in the first trial. His motion sought to block testimony about First and Second Amendment rights, police conduct in the days leading up to the standoff and Nevada Gov. Brian Sandoval's criticism of BLM agents' actions prior to the standoff.
U.S. District Judge Gloria Navarro has not ruled on the motion.
The government is expected to condense its case the second time around. Two of the first six defendants, Gregory Burleson and Todd Engel, were convicted, so there are fewer defendants in the second trial. Prosecutors also whittled down their lists of witnesses.
New government witness
But they added another weapon to their arsenal with the addition of defendant Blaine Cooper as a government witness. Cooper pleaded guilty in the case and was scheduled for sentencing last week. His sentencing hearing was postponed, leading some people in legal circles to speculate that he negotiated a deal with the government that offered him leniency in exchange for testimony.
Still, defense attorneys remain optimistic as they head into the first day of jury selection.
"I realize that typically retrials are better for the government," Marchese said. "But this is a unique case, because it wasn't as if our defense was ever any kind of secret. The government knew where we were coming from from day one."
Parker's friend Scott Drexler, also was photographed on the highway with a gun — and his lawyer too expressed confidence.
"As we saw in the last trial, the government had an exceedingly difficult time in communicating their case to the jury," said attorney Todd Leventhal, who represents Drexler. "That's because linking our clients to any crime or conspiracy is just not supported by the facts. I imagine the same will hold true in round two."
Contact Jenny Wilson at jenwilson@reviewjournal.com or 702-384-8710. Follow @jennydwilson on Twitter.
The defendants
■ Idaho resident Eric Parker
■ Idaho resident Scott Drexler
■ Idaho resident Steven Stewart
■ Montana resident Ricky Lovelien