Jury starts deliberating in first Bunkerville standoff trial
Updated April 13, 2017 - 6:27 pm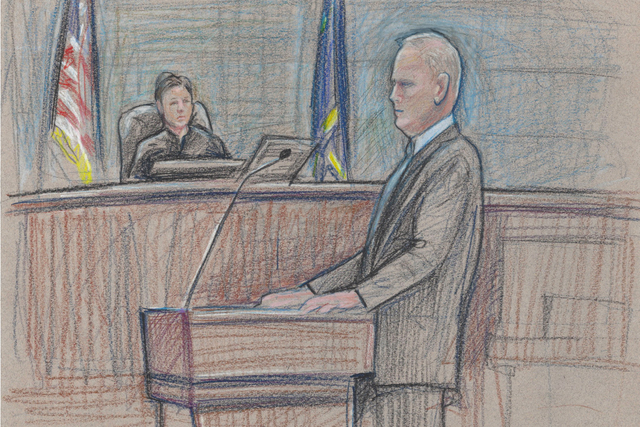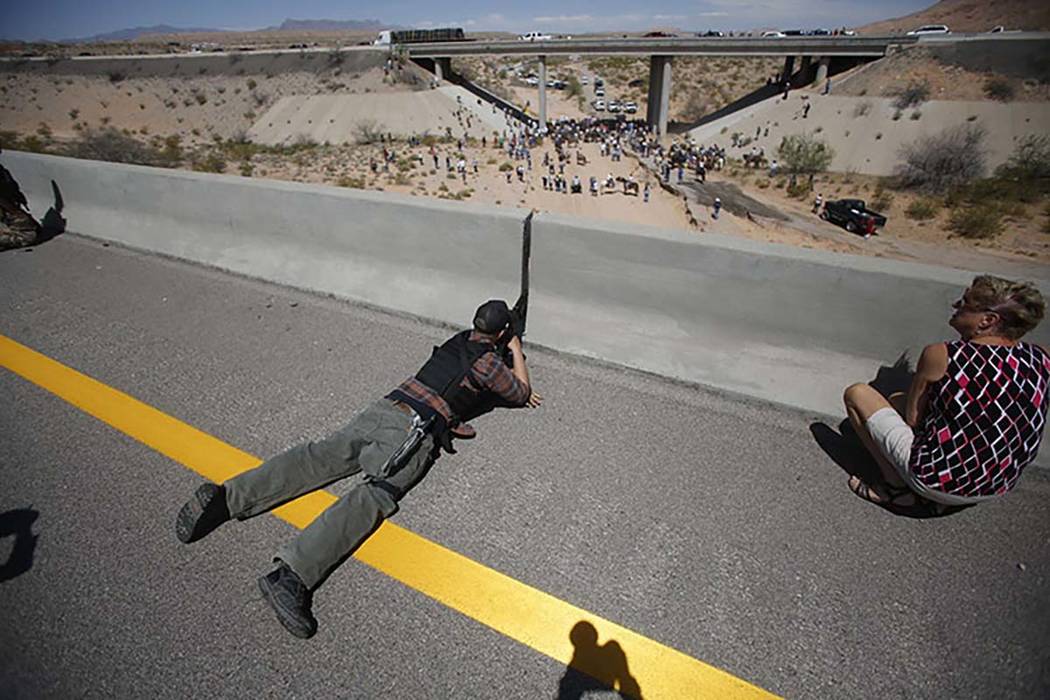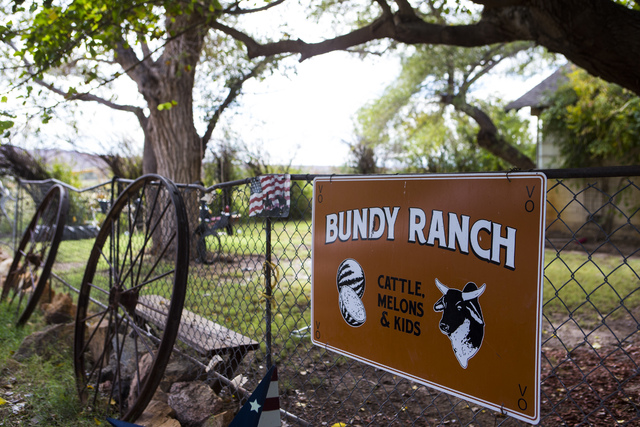 A federal jury started deliberating Thursday in the conspiracy trial of six people charged as gunmen in the 2014 standoff in Bunkerville.
Jurors received the case after a prosecutor finished his closing argument with a searing assertion that the six men on trial "put the fear of God" in law enforcement officers who were impounding rancher Cliven Bundy's cattle.
"For what? For some cattle? For someone who hasn't paid grazing fees in 20 years?" bellowed Acting U.S. Attorney Steven Myhre. "Or because it made them feel like they're somebody for a moment in time?"
Defense attorneys, in closing arguments, insisted their clients had no knowledge of a conspiracy to threaten, intimidate and extort federal agents into abandoning roughly 400 cows seized from public land near Bundy's ranch.
Closing arguments lasted 11 hours and spanned two days, during which lawyers highlighted the key disputes of the trial.
The alleged conspiracy
The six men are accused of conspiring with Bundy to stop the Bureau of Land Management's court-ordered cattle seizure. Prosecutors argue that the defendants supplied the firepower. Their purpose, according to prosecutors, was to use force to intimidate federal authorities into releasing the cattle. Defense attorneys argue that their clients, who live out of state, had no stake in the cattle dispute.
•Prosecution: "The conspiracy arose when Cliven Bundy and his family members began interfering with the BLM's impoundment operation," Myhre said. "Each of these defendants at some point learned about Cliven Bundy's interference. … They knew that they were here to support Cliven Bundy."
•Defense: "Mr. Drexler did not come for the cows," said defense attorney Todd Leventhal. The attorney said his client, Scott Drexler, drove to Bunkerville to protest federal overreach. He blasted the government's attempt to implicate his client in a conspiracy. "What they've tried to do is take this thing wide, which I understand, because they can't get it narrow," he said.
BLM misconduct accusations
A cornerstone of the defense strategy was to lodge misconduct accusations against the BLM officers. Defense attorneys played videos from days before the standoff, when authorities clashed with protesters. The videos showed law enforcement officers using stun guns, police dogs and physical force.
•Prosecution: "There is no evidence, none … that there was any misconduct on the part of BLM agents," Myhre said. Referencing the defendants' decision to travel to Bunkerville, Myhre said: "If they're coming for the purposes of revenge, that makes them vigilantes."
•Defense: Defense attorney Jess Marchese, who represents Eric Parker, referenced one of the videos that depicted Bundy's son with a bruised face after he was arrested several days before the standoff. "It was Eric's belief that a man was arrested simply for taking photos," Marchese said. He said Parker "felt it was his obligation to go there and show force."
Law enforcement's fear
Federal prosecutors called law enforcement witnesses to testify about their intense fear on the day of the standoff. Defense attorneys countered by identifying inconsistencies between officers' testimony in court and investigative reports they filed immediately after the incident that did not mention fear. They also played bodycam recordings of officers mocking protesters for being "fat" or a "sissy."
•Prosecution: "They got the cattle, but they also left those officers with a memory they may never be able to erase," Myhre said. He said officers joked to relieve stress.
•Defense: Attorney Terrence Jackson, who represents defendant Gregory Burleson, suggested the park rangers lacked experience identifying and responding to serious threats. Las Vegas police officers at the scene "do not seem quite as anxious or afraid," he said.
Constitutional Rights
Defense attorneys repeatedly argued that their clients were lawfully exercising their First and Second Amendment rights to freely assemble and to bear arms.
•Prosecution: "There is no Second Amendment right to threaten someone with a gun, nor is there a First Amendment right to threaten someone," Myhre said.
•Defense: Attorney Rich Tanasi, who represents Steven Stewart, said his client went to Bunkerville "not to commit crimes, not to assault federal officers, but to exercise his First Amendment right to protest … and he did so with his Second Amendment right."
The Undercover Operation
Federal investigators posed as documentary filmmakers to draw statements from some of the defendants. The undercover interviews occurred several months after the standoff. Defense attorneys accused the government of using deceptive tactics designed to trick and manipulate their clients. The sham film's working title was "America Reloaded."
•Prosecution: Myhre said defendants knew the interviews were public and could be viewed by law enforcement. "They're boasting, they're bragging, they're trying to muster more support for what they view as their cause," he said. He described the ruse as a "lawful tool."
•Defense: Leventhal referenced the voluminous evidence from the day of the standoff. "Over 18,500 documents, 170,000 pages, thousands of hours of video … After all that evidence, they decide to go undercover again," he said. "Why else would FBI agents spend the time, the resources? Because they don't have more."
Jurors are scheduled to resume their deliberations Monday morning.
The trial is the first of three resulting from the April 12, 2014, standoff. The gunmen in the first trial were identified by the government as the "least culpable" of the alleged co-conspirators. Bundy and some of his sons are scheduled to stand trial later this year.
Contact Jenny Wilson at jenwilson@reviewjournal.com or 702-384-8710. Follow @jennydwilson on Twitter.
RELATED
Testimony wraps up in first Bunkerville standoff trial
Bunkerville protester testifies in his own defense at Las Vegas trial
Bundy supporters' lawyers say ruling eviscerates their case
Bundy defendants interviewed in undercover FBI operation
Thursday arrest
A man recently acquitted in the armed occupation of Oregon's Malheur National Wildlife Refuge was arrested Thursday in Las Vegas after he showed up at federal court to watch closing arguments in the first Bunkerville standoff trial.
Kenneth Medenbach was acquitted in the fall, along with two of rancher Cliven Bundy's sons, of conspiracy charges resulting from the 41-day wildlife refuge takeover. But he is on probation after being convicted of illegal camping in a different case last year. In that case, Medenbach erected a cabin on public land, posted "No Trespassing" signs, and claimed legal ownership when authorities ordered him to take it down.
The terms of Medenbach's probation prohibit him from traveling outside the federal district where he was convicted without explicit permission from his probation officer. His lawyer, Matthew Schindler, said Medenbach asked his probation officer if he could leave to attend the trial in Bunkerville, where passionate supporters of an anti-federalist movement have packed courtroom benches for weeks. The probation officer said no.
Medenbach decided to travel to Nevada anyway and was arrested for violating his probation.