Leaders in armed standoff at Oregon wildlife refuge found not guilty
October 27, 2016 - 7:44 pm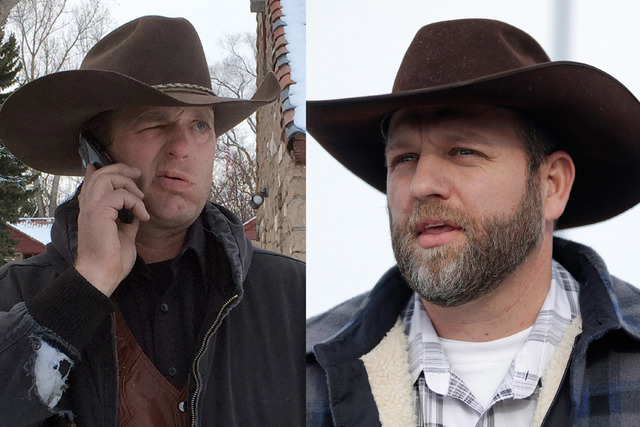 PORTLAND, Ore. — The leaders of an armed group who seized a national wildlife refuge in rural Oregon were acquitted Thursday of charges in the 41-day standoff that brought new attention to a long-running dispute over control of federal lands in the U.S. West.
Jurors in Oregon found brothers Ammon and Ryan Bundy not guilty of possession of firearms in a federal facility and conspiring to impede federal workers from their jobs at the Malheur National Wildlife Refuge, 300 miles southeast of Portland where the trial took place. Five co-defendants also were tried one or both of the charges.
Despite the acquittal, the brothers are expected to stand trial in Nevada early next year on charges stemming from another high-profile standoff with federal agents over unpaid grazing fees. Authorities rounded up cattle in 2014 near the Bundy family ranch but later released the animals as they faced armed protesters.
An attorney for Ammon Bundy said he was "thrilled but not surprised" by his client's Oregon acquittal.
"He will now come home to Nevada an innocent man acquitted of heavy-handed charges in Oregon and presumed innocent in Nevada, " Daniel Hill said.
Hill said the the verdict bodes well for Bundy and other defendants facing felony weapon, conspiracy and other charges in connection with the standoff near the Bunkerville ranch, about 80 miles northeast of Las Vegas.
"When the jury here learns the full story of what the BLM put the Bundys through in Bunkerville, I expect the same result," he said.
Cliven Bundy faces criminal charges stemming from the April 12, 2014, armed standoff with law enforcement near his ranch. Sixteen other defendants, including Ammon, Ryan and two other Bundy sons, are charged with him. Trial in the Nevada case is set for Feb. 6 before Chief U.S. District Judge Gloria Navarro.
VERDICT'S IMPACT
The Oregon wildlife refuge occupation drew an international spotlight to a uniquely American West dispute: federal restrictions on ranching, mining and logging to protect the environment. The U.S. government, which controls much of the land in the West, says it tries to balance industry, recreation and wildlife concerns to benefit all.
Environmentalist Kieran Suckling said the acquittal of the leaders of the Oregon wildlife refuge takeover will embolden extremists.
"This is an extremely disturbing verdict for anyone who cares about America's public lands, the rights of native people and their heritage, and a political system that refuses to be bullied by violence and racism," said Suckling, executive director of the Center for Biological Diversity. "The Bundy clan and their followers peddle a dangerous brand of radicalism aimed at taking over lands owned by all of us."
But Las Vegas attorney Chris Rasmussen said the verdict is good news for ranchers.
"The ranchers in the West will see this as a victory for their cause to manage the land locally," said Rasmussen, who is defending conservative radio talk show host Peter Santilli in the Bunkerville standoff case. "We're hoping the government down here will see the defendants as decent people that were acting in good faith with their beliefs."
Bret Whipple, who is defending Cliven Bundy in the Nevada case, predicts a similar outcome in the Bunkerville standoff. "I absolutely expect the same result here. At the end of the day we have a number of friends and neighbors here who have the right to protest against federal overreaching," he said.
Following the verdict in Oregon, Ammon Bundy's defense lawyer there, Marcus Mumford, was hit by a stun gun multiple times and tackled by federal authorities in the courtroom.
Mumford demanded his client be released immediately and wouldn't calm down, so U.S. marshals used their stun guns on him and then wrestled him to the floor.
Another Bundy lawyer, Morgan Philpot, said Mumford was arrested.
The Oregon standoff attracted national attention earlier this year. Armed refuge occupiers were allowed to come and go for several weeks as authorities tried to avoid bloodshed seen in past standoffs.
The confrontations reignited clashes dating to the so-called Sagebrush Rebellion of the late 1970s, when Western states such as Nevada tried to win more control of vast federal land holdings.
The group began occupying the bird sanctuary in remote southeastern Oregon on Jan. 2. They objected to prison sentences handed down to Dwight and Steven Hammond, two local ranchers convicted of setting fires. They demanded the government free the father and son and relinquish control of public lands to local officials.
Ammon Bundy gave frequent news conferences and the group used social media in a mostly unsuccessful effort to get others to join them.
The Bundys and other key figures were arrested in a Jan. 26 traffic stop outside the refuge that ended with police fatally shooting Robert "LaVoy" Finicum, an occupation spokesman. Most occupiers left after his death, but four holdouts remained until Feb. 11, when they surrendered after a lengthy negotiation.
TRIAL'S TWISTS
At trial, the case was seemingly open-and-shut. There was no dispute the group seized the refuge, established armed patrols and vetted those who visited.
"Ladies and gentlemen, this case is not a whodunit," Assistant U.S. Attorney Ethan Knight said in his closing argument, arguing that the group decided to take over a federal workplace that didn't belong to them.
On technical grounds, the defendants said they never discussed stopping individual workers from accessing their offices but merely wanted the land and the buildings. On emotional grounds, Ammon Bundy and other defendants argued that the takeover was an act of civil disobedience against an out-of-control federal government that has crippled the rural West.
Federal prosecutors took two weeks to present their case, finishing with a display of more than 30 guns seized after the standoff. An FBI agent testified that 16,636 live rounds and nearly 1,700 spent casings were found.
Ammon Bundy testified in his defense, spending three days amplifying his belief that government overreach is destroying Western communities that rely on the land.
The plan was to take ownership of the refuge by occupying it for a period of time and then turn it over to local officials to use as they saw fit, he said.
He also testified that the occupiers carried guns because they would have been arrested immediately otherwise and to protect themselves against possible government attack.
Ryan Bundy, who acted his own attorney, did not testify.
Authorities had charged 26 occupiers with conspiracy. Eleven pleaded guilty, and another had the charge dropped. Seven defendants chose not to be tried at this time. Their trial is scheduled to begin Feb. 14.
Review-Journal writer Jeff German contributed to this report.
Previous coverage
Full coverage of the feud between the Bundy family and the BLM