Reid not second-guessing BLM's move in Bundy dispute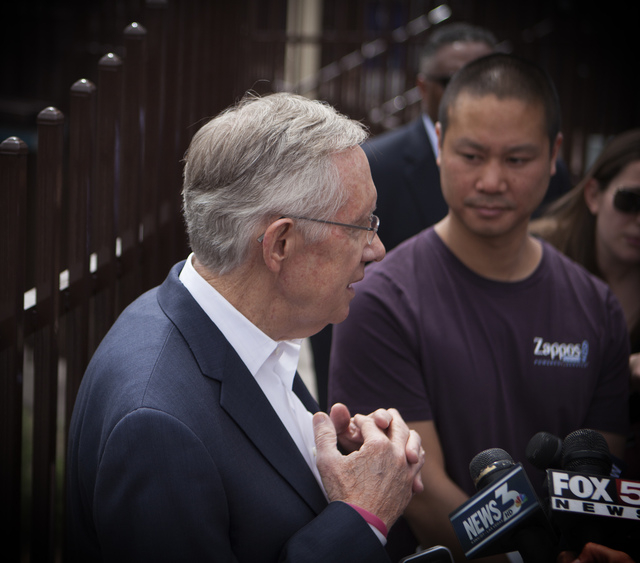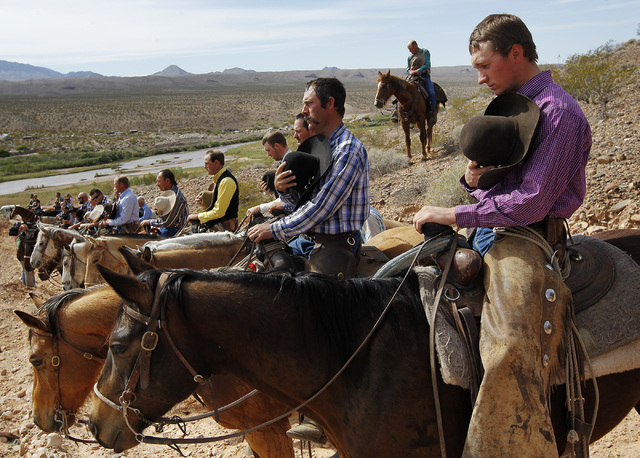 U.S. Senate Majority Leader Harry Reid said Tuesday he's not going to second-guess the Bureau of Land Management's decision to halt the roundup of Cliven Bundy's trespass cattle and release the animals this weekend to defuse a potentially violent confrontation with armed militias.
The BLM decision was made in consultation with Clark County Sheriff Doug Gillespie on Saturday.
"They made the decision they thought was appropriate at the time," said Reid, D-Nev., at a news conference after he toured downtown Las Vegas.
Reid called it "unfortunate" that Bundy and his backers won't cooperate with the roundup. The senator noted the conservative Nevada Cattlemen's Association has backed the BLM's decision to round up the cattle since Bundy has refused to pay about $1 million in public land grazing fees for the past 20 years.
"They want people to follow the law just like we do," Reid said of the cattlemen's group. "It's unfortunate."
Nevada Cattlemen's Association President Ron Torell said Bundy obviously doesn't agree with the association's policy that its 567 members set at their annual convention.
"We work hard to change regulations detrimental to sound management of public lands in support of the concept of multiple use of public lands," Torell said.
Bundy's range war has gotten so far removed from resource management that it's "way beyond our scope," he said.
Nevertheless, Torell said private property rights "are at the foundation of our country and liberty, and we know the rule of the law protects those property rights."
"Our policy supports private rights that exist on public land, including water rights and grazing rights," he said.
Nevada Division of Water Resources records show Cliven Bundy has 11 grandfathered claims for water. They are located in Virgin River Valley and the Gold Butte area. Ten of the claims pertain to springs and the remaining one is for a creek.
Torell said Bundy is not a member of the Nevada Cattlemen's Association, whose members pay grazing fees.
He noted that the U.S. District Court in Las Vegas has rendered a decision against Bundy.
"It's not our place to interfere in the adjudication process," Torell said. "That's between Mr. Bundy and the court."
During Tuesday's news conference, Reid was asked what he thinks about becoming a target of Bundy supporters. Militia groups and others have blamed Reid because one of his sons had been negotiating a deal with the Chinese to build a solar facility on public land, but near Laughlin, not Bunkerville, where Bundy is based, about 177 miles away.
At any rate, the proposed deal fell through. "I guess they need somebody to pick on," Reid said.
On Monday, Reid was asked about the BLM-Bundy standoff when he spoke at the University of Nevada, Reno at an event hosted by the Young Democrats. He said the government can't let Bundy win, perhaps setting a precedent.
"There is no question that there were a lot of things going on down there with breaking the law," Reid said in Reno. "And that is not over yet. We can't let that continue. So I'm sure it is not the end of it."
Neil Kornze of Elko was just confirmed by the Senate as the new BLM director. He used to be a senior policy adviser to Reid, another reason protesters are linking Reid and the Bundy dispute.
Review-Journal writers Keith Rogers and Sean Whaley contributed to this report. Contact Laura Myers at lmyers@reviewjournal.com or 702-387-2919. Follow her on Twitter: @lmyerslvrj.