Ryan Bundy tells Las Vegas jury: 'I am an innocent man'
November 15, 2017 - 7:13 pm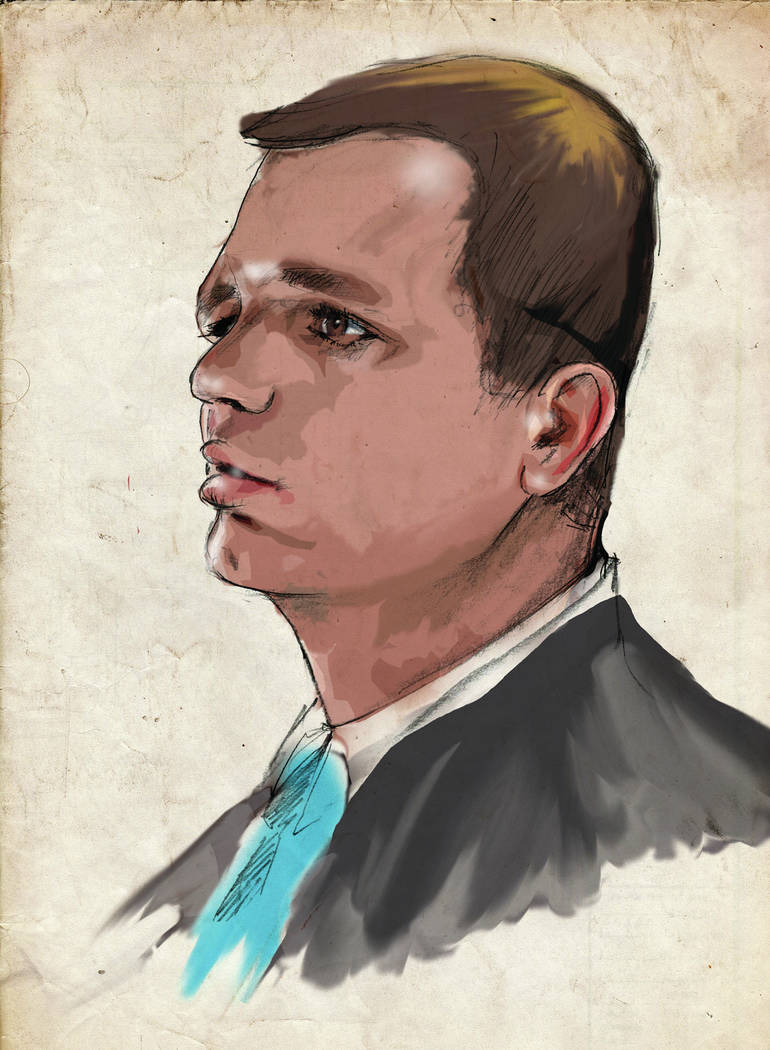 Ryan Bundy invoked personal freedom and constitutional rights, God and religion, state history and his family's deep roots in the desert landscape Wednesday as he proclaimed his innocence to a federal jury in Las Vegas.
The defendant, who is acting as his own attorney, is facing criminal charges with his father, Southern Nevada rancher Cliven Bundy; brother Ammon; and a Montana militia man. They are accused of conspiring in an armed standoff against federal agents.
"My family and I have been charged with some pretty grievous things, and I want to tell you these are not true," Ryan Bundy said during his opening statement. "I am an innocent man. My father is an innocent man. My brothers are innocent men. And all of those who came to support us are innocent."
During more than an hour of Ryan Bundy's remarks, a picture of him with his wife and their eight young children was frozen on a projection screen on a wall of the courtroom. The defendant came to court dressed in a black suit, white shirt, and black-and-brown tie.
Ryan Payne, a leader of a militia dubbed Operation Mutual Aid and a Cliven Bundy bodyguard during the standoff, sat several feet away, next to his federal public defenders, wearing a black button-down shirt with the words "We the people" emblazoned on the back in white letters.
Cliven and Ammon Bundy wore red jail jumpsuits. Three of the defendants remain in custody without bail, while Ryan Bundy has been released to a federal halfway house.
One of Payne's lawyers, Ryan Norwood, told jurors that Payne had three goals when he traveled to Bunkerville in April 2014: "Keep everyone safe, open the lands, release the cows."
"He worked to keep people safe," Norwood said. "Keeping people safe is not a crime."
A day earlier, Cliven Bundy's lawyer said the lifelong Gold Butte rancher spent decades trying to negotiate with federal authorities about grazing cattle on thousands of acres before the standoff broke out.
Prosecutors have said the rancher and others conspired with a threat of violence to drive federal agents off public land in southeastern Nevada.
Agents were attempting to carry out a court order to round up Cliven Bundy's cattle. Prosecutors have said the rancher and two of his sons, Ammon and Ryan, organized the standoff, which culminated in a dry river bed along Interstate 15.
Payne learned of the Bundy struggle with the federal government through a friend, his lawyer said, and traveled from Montana, where he had been living with his grandmother, infant daughter and toddler son. When the standoff occurred, Payne was with Cliven Bundy at the family's home several miles away.
"What a full and fair picture will show you is that what happened at that wash was a protest," Norwood said. "They wanted to be heard, and they wanted to be listened to."
Ryan Bundy echoed Norwood's sentiment of safety and protection.
"We were attacked, and our home was surrounded by 200-plus armed, what appeared to be mercenaries," he told the jury. "You should have seen all the guns pointed at us."
The men face a series of charges, including assault on federal officers, extortion, obstruction of due administration of justice and conspiracy.
Prosecutors said Cliven Bundy hinted at violence even in the late 1990s, when he made references to standoffs with federal agents that ended in deaths, and continued to disobey court orders.
Even after Las Vegas police told him that the federal agents had started to disperse in April 2014, the rancher demanded they turn over their weapons and close down all federal parks, drawing cheers from people gathered outside his home.
Lawyers for Ammon Bundy have reserved opening statements until prosecutors have finished calling witnesses.
Mary Jo Rugwell, the BLM's former Southern Nevada district manager, took the witness stand Wednesday afternoon as the government's first witness in the trial that could last through February.
"Mr. Bundy was in continuous trespass on Bunkerville land," she told jurors.
Contact David Ferrara at dferrara@reviewjournal.com or 702-380-1039. Follow @randompoker on Twitter.