Second defendant in Bunkerville standoff case to plead guilty
August 19, 2016 - 2:00 pm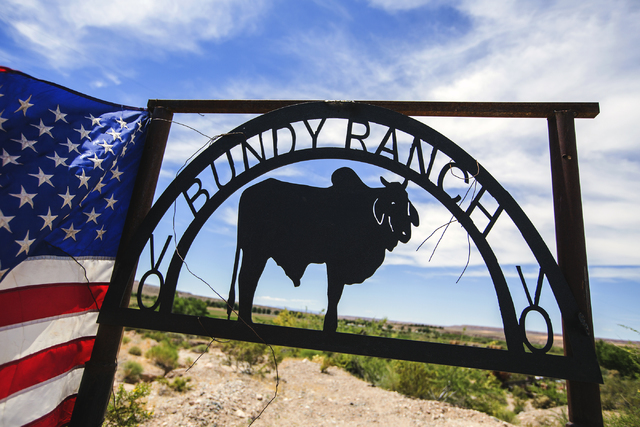 Another defendant in the Bunkerville standoff case involving the Bundy family is pleading guilty.
Blaine Cooper, a Bundy family bodyguard, is to change his plea before Chief U.S. District Judge Gloria Navarro on Aug. 25.
Navarro said in a court filing Friday that she has received a signed guilty plea agreement from Cooper, who is one of 19 defendants charged in the April 2014 armed confrontation with law enforcement. The agreement will be made public after Cooper appears in court.
Cooper, 37, of Arizona, is the second defendant to strike a plea deal in the case.
Gerald DeLemus, a politically active New Hampshire man, is to plead guilty before Navarro on Tuesday.
Federal prosecutors describe DeLemus as a "gunman and midlevel organizer" in the Bundy family-led scheme to assault law enforcement officers who had rounded up Bundy cattle.
DeLemus, 61, co-chaired Veterans for Donald Trump in New Hampshire before his March arrest, and his wife is a Republican New Hampshire state representative.
Federal prosecutors have alleged that Cooper, who is in federal custody, also was a "midlevel leader and organizer" of the Bunkerville standoff.
He is alleged to have recruited gunmen and followers to the Bundy ranch to confront law enforcement officers, gone on reconnaissance missions and provided protection for the Bundys and others involved in the conspiracy.
Last month, Cooper pleaded guilty to a felony conspiracy charge stemming from the 41-day takeover of the Malheur National Wildlife Refuge in Oregon that ended in February. Two Bundy sons were among the leaders of the takeover.
Bunkerville standoff defendants Ryan Payne, a Montana militia leader, and Joseph O'Shaughnessy, an Arizona militia member, have also pleaded guilty in the Oregon case.
Both are said to be back in federal custody in Nevada negotiating plea deals here.
The 19 Nevada defendants — including alleged Bunkerville standoff leader Cliven Bundy and four of his sons — are accused of conspiring to assault BLM agents and take back impounded Bundy cattle that had been grazing on federal land.
Contact Jeff German at jgerman@reviewjournal.com or 702-380-8135. Find @JGermanRJ on Twitter.
Previous coverage
Full coverage of the feud between the Bundy family and the BLM