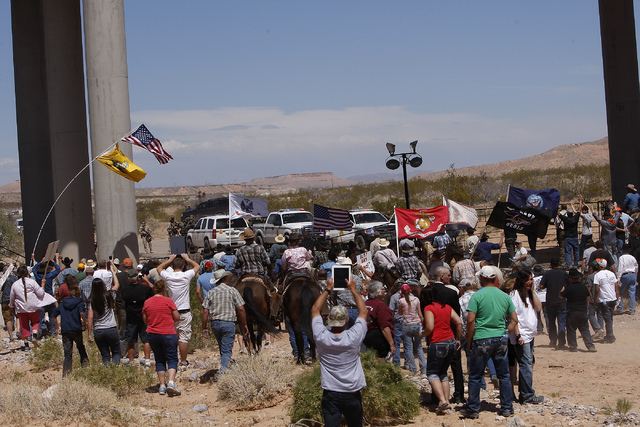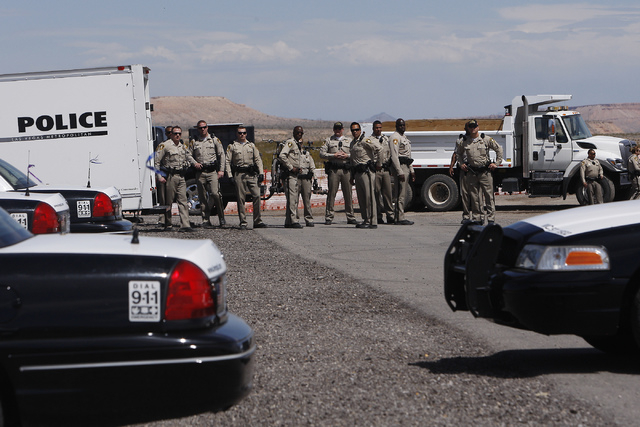 FBI agents have opened a criminal investigation into the April 12 confrontation between Bunkerville rancher Cliven Bundy and his armed supporters and law enforcement authorities, Sheriff Doug Gillespie confirmed Thursday.
"Everyone anticipated that this would occur," said Gillespie, who added he was interviewed by FBI agents on April 28. "I've said all along there has to be accountability for what took place on April 12."
Before the standoff, Gillespie had tried to mediate the dispute between Bundy and the U.S. Bureau of Land Management.
FBI spokeswoman Bridget Pappas could not be reached for comment late Thursday.
But Gillespie said the FBI is investigating allegations of threats and assaults on law enforcement officers who were at the scene of the confrontation.
He said agents expected to interview every law enforcement officer who was present during the April 12 showdown. That includes agents with the BLM and a slew of Las Vegas police officers who were there to keep the peace.
Among those interviewed within the past week were assistant sheriffs Joe Lombardo and Kevin McMahill, who were in charge of police officers at the scene of the disturbance.
The FBI investigation, Gillespie said, is in its early stages.
Lombardo, who is running to succeed Gillespie this year, said he was interviewed by FBI agents on May 1 for about 60 to 90 minutes.
One of the agents was assigned to the Southern Nevada Joint Terrorism Task Force, he said.
Agents, he said, were primarily interested in who was pointing weapons at federal agents.
He said he expected agents to be poring over videotapes and photos taken during the confrontation as part of their efforts to identify people making threats.
Lombardo said roughly 75 percent of the estimated 300 Bundy supporters, including militia members from across the country, were armed on April 12.
FBI agents on Tuesday began interviewing the two dozen uniformed and SWAT officers who were present during the standoff, Lombardo said.
The assistant sheriff said he agreed with Gillespie's assessment of the federal investigation.
"They have a certain standard of what they believe is a violation of the law," he said. "You can't expect the federal government to walk away."
The standoff occurred as the BLM, backed by federal court orders, had been seizing Bundy's cattle over his failure to pay the agency an estimated $1 million in grazing fees for two decades. Armed militia members flocked to Bundy's aid, creating a fierce debate that attracted national attention.
With rifles pointing toward each side and tensions reaching a critical level, federal land officials backed away and agreed to return Bundy's cattle.
The BLM said it decided to halt the roundup, fearing for the safety of its agents and the public.
Bundy became a hero to conservatives across the country as the debate raged over the cattle roundup until he made what were perceived as racist remarks to a New York Times reporter and then to local reporters.
Before his inflammatory remarks, Nevada's two U.S. senators were on opposite sides of the political debate. Democratic Senate Majority leader Harry Reid called Bundy's armed supporters domestic terrorists, and GOP Sen. Dean Heller said they were patriots
U.S. Capitol Police have launched an investigation into threats against Reid. Rep. Steven Horsford, D-Nev., has raised concerns about the presence of the armed militia members in Bunkerville and has urged authorities to take steps to remove them.
Contact Jeff German at jgerman@reviewjournal.com or 702-380-8135. Find him on Twitter @JGermanRJ.